In this mailing:
The Palestinian Authority's Inconvenient Truths
Western journalists, funders and decision-makers need to know that there are many truths being hidden from their eyes and ears.
The truth sometimes hurts; that is why the Palestinian Authority has been working hard to prevent the outside world from hearing about many occurrences that reflect negatively on its leaders or people.
In recent years, the Palestinian Authority leadership, often with the help of the mainstream media in the US and EU, has been successful in its effort to divert all attention only toward Israel.
Following are examples of some of the inconvenient truths that the Palestinian leadership in the West Bank do not want others to know about:
- Over 100 senior PLO and Fatah officials hold Israeli-issued VIP cards that grant them various privileges denied to most Palestinians. Among these privileges is the freedom to enter Israel and travel abroad at any time they wish. This privileging has existed since the signing of the Oslo Accords between Israel and the PLO in 1993.
- Out of the 600 Christians from the Gaza Strip who arrived in the West Bank in the past two weeks to celebrate Christmas, dozens have asked to move to Israel because they no longer feel comfortable living under the Palestinian Authority and Hamas.
- Dozens of Christian families from east Jerusalem have moved to Jewish neighborhoods in the the city because they too no longer feel comfortable living among Muslims.
- Palestinian Authority security forces in the West Bank continue to summon and arrest political opponents, journalists and bloggers who dare to criticize the Palestinian leadership.
- The Palestinian Authority government, which has been complaining about a severe financial crisis for the past few months, just cancelled outstanding electricity debts for Palestinians in the West Bank. Palestinians pay their bills to the Arab Jerusalem Electric Company, which buys electricity from the Israeli Electric Company; the Palestinians have not been paying their electricity bills and many have been stealing electricity from their Arab company.
- Tens of thousands of Palestinian Authority civil servants in the Gaza Strip receive salaries to stay at home and not work. The practice has been in effect since Hamas seized control over the Gaza Strip in 2007. According to Fatah spokesman Ahmed Assaf, the Palestinian Authority, which is funded mostly by American and European taxpayer money, spends around $120 million each month on the Hamas-controlled Gaza Strip.
- Mahmoud Abbas's ruling Fatah faction has allocated more than one million dollars for celebrations marking the 48th anniversary of the "launching of the revolution" -- a reference to the first armed attack carried out by Fatah against Israel.
- Despite the calls for an economic boycott of Israel, more than 40,000 Palestinians have received permits to work in Israel. Moreover, another 15,000 Palestinians continue to work in Jewish settlements in spite of an official ban.
- Top PLO and Fatah officials continue to do their shopping in Israeli-owned businesses both in the West Bank and Israel. Last week, for example, a member of the PLO Executive Committee and his family were spotted shopping in Jerusalem's Malha mall. Of course, the PLO official did not forget to bring along his private driver and maid.
- The wife of a senior PLO official recently spent $20,000 for dental treatment in Tel Aviv at a time when there is no shortage of renowned Palestinian dentists in Ramallah, Bethlehem and Nablus.
These are only some of the inconvenient truths that the Palestinian Authority does not want the outside world to know. Palestinian journalists often avoid reporting about such issues out of concern for their safety or for "ideological" reasons. These journalists have been taught that it is forbidden to hang out the dirty laundry.
Western journalists, funders and decision-makers who deal with the Israeli-Palestinian conflict need to know that there are many truths being completely ignored or hidden from their eyes and ears.
---
UK Textbook Wipes Israel Off the Map
Why is the British Council, sponsored by the British Foreign Office, endorsing a textbook that wipes Israel off the map and indoctrinates students with anti-Western material?
Ahmadinejad promised it. Now British textbooks are doing it. Israel has been wiped off the map by Garnet Education, an English-language teaching company in Britain, whose educational textbook 'Skills in English Writing Level 1', aimed at foreign students and immigrants to the UK, contains a map with "Occupied Palestine" in place of the Jewish State.
Speaking to
the Algemeiner
, the prominent American Jewish newspaper which broke the story, school teacher Liz Wiseman noted that the book is "one of the more popular and mainstream English language teaching (ELT) textbooks published by Garnet, which is quite popular and mainstream itself."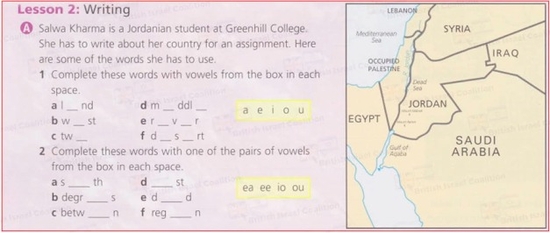 A number of neoconservative publications, such as The Commentator, have
picked up on the story
. Crucially, however, they missed a vital detail: Garnet Education is controlled by a Lebanese media empire owned by pro-Syrian Arab nationalist Tahseen Khayat, whose daughter runs the UK subsidiary companies, including Garnet Education.
An Arab media forum
describes
Khayat as "one of the most prominent publishers on both Arab and international levels and owns a number of publishing houses in the UK and France." Khayat runs the Tahseen Khayat Group, which
works closely
with Middle Eastern governments to educate Arab youth. The journalist Robert Fisk, while discussing Lebanese television channel
New TV
, which Khayat founded,
notes that
"the Khayat family's television station has always carried a Syrian 'point of view' – they were even allowed into the Syrian city of Deraa at the beginning of the Syrian revolution and their senior cameraman in Deraa was Shabaan."
Several years ago,
New TV
promoted the work of German writer Jürgen Cain Külbel, a conspiracy theorist who claims that Israeli spy agency Mossad was responsible for assassination of Lebanese President Rafic Hariri. In reality, four members of the Lebanese terrorist group Hezbollah have been indicted at the International Court of Justice for the crime.
Khayat's daughter, Nadia Khayat, runs the UK-based companies Garnet Education and Ithaca Press. Ithaca Press describes itself as the "leading publisher of academic books on Middle Eastern and Islamic Studies". Garnet Publishing, part of Garnet Education, produces fiction books that are also on Middle Eastern subjects. Many of these books deal with Arab resistance to putative Israeli and Western belligerence. One recently published fiction book by Garnet Publishing,
The Almond Tree
,
tells the reader
that Israeli soldiers murder Palestinians in cold blood and burn down their homes.
In posts on their websites, both Garnet and Ithaca
glorify the Lebanese terrorist group
Hezbollah: "For Lebanon it was a time of misfortune … Only Hezbollah – thanks to its August 2006 victory in the thirty-three day war over the reputedly invincible Israeli army – seems to have bucked the trend."
In 2003, Tahsin Khayat released a statement
proclaiming he is
"well-known as a patriot and an Arab nationalist. He deals with Israel and the US as enemies and not allies, especially when it comes to the Palestinian intifada..."
Garnet Education books are used to teach English to immigrants across the world. The British Council, set up by the UK Government and sponsored by the British Foreign Office, has run events with Garnet and endorses their material,
claiming Garnet has
"established a global reputation for quality and innovation." Why is the British government sponsoring such a company? Judges of the Duke of Edinburgh ESU English Language Award have
described the book
as "extremely well-planned and constructed and very impressive." Generations of students have been provided educational textbooks by this network of companies with a manifest hatred for Israel and the West.
Using textbooks as propaganda, however, is not a new story. In 2007, it emerged that the King Fahd Academy school in London was
using textbooks
encouraged by the Saudi Ministry for Education, which described Jews as "apes" and Christians as "pigs". According to the Evening Standard, pupils were allegedly heard saying they want to "kill Americans", praise 9/11 and idolise Osama bin Laden as their "hero".
In the same year, an investigation by
The Times
uncovered that Mahmood Chandia, a senior lecturer at the University of Central Lancashire,
was teaching that
music is a way in which Jews spread "the Satanic web" to corrupt young Muslims.
In 2010, it was revealed that the leading geography textbook for British school students encouraged students to
ask questions such as
"Why did the Jews seize land that is now Israel?" The textbook also sought to excuse terrorism, informing school students that "Palestinians feel powerless. They have no country, no government, no army and few resources - so they resort to bombing to make their point".
Sadly, these are but a few examples from many. For years, Islamist and Arabist groups have involved themselves in educational and social services, as terrorism expert Matthew Levitt notes, in order to "reshape the political consciousness of educated youth". Textbooks, designed to be sources of absolute fact, influence people of all ages and beliefs. The statements of government-approved educational textbooks do far more damage than the appeals of the street demagogue or the conspiracy theorist. Garnet Education chose to wipe Israel off the map. An entire nation was expunged. As a consequence, in the minds of the thousands of immigrants and foreign students learning English, there is no Jewish State; there is only "occupation". What would the British government say if Israel encouraged the use of a textbook that labeled the Falkland Islands as "occupied Argentina"? What would Britain say if a textbook were given to students across the world in which England, a sovereign nation, did not exist?