by Khaled Abu Toameh • March 6, 2017 at 5:00 am
It was not Abbas's meeting with the Arab Idol contestants that sparked a wave of denunciations from Palestinians. Rather, it was his failure to set foot in any of the refugee camps surrounding Beirut or in other parts of Lebanon.

Abbas knows very well that if he had so much as set foot in a refugee camp in Lebanon, it might have been the last step he would ever take.

The residents of the refugee camps are furious with their leaders, who have kept them there for decades, lying to them about a mythical return to their forbears' homes in Jaffa, Haifa, Acre and Ramle. That is the real reason Abbas and other Arab leaders stay as far as possible from these miserable holding-pens.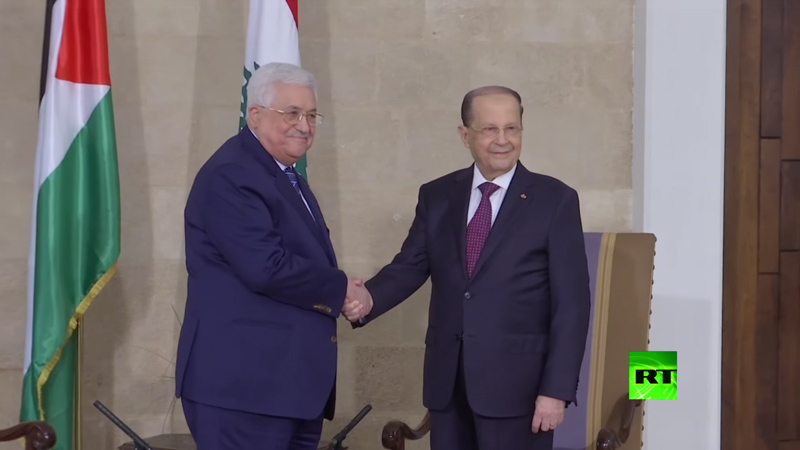 Palestinian Authority President Mahmoud Abbas (left) meets in Beirut with Lebanon's President Michel Aoun (right), on February 23, 2017. (Image source: RT video screenshot)
What could possibly be said against a leader who supports and encourages art, especially music, singing and dancing of youths? A leader who does so, particularly one from the Arab world, should be commended for such efforts.
The catch: except when a leader says that supporting singers and musicians takes precedence over solving basic problems facing hundreds of thousands of his people.
Take, for example, the case of Palestinian Authority (PA) President Mahmoud Abbas, who recently visited Beirut for talks with Lebanese leaders on a wide range of issues pertaining to bilateral relations and the status of more than 500,000 Palestinians living in extremely harsh conditions in numerous refugee camps throughout Lebanon. Many of the camps have long been "no-go zones" for the Lebanese security forces; this situation has turned them into bases for anarchy, lawlessness and a home for various rival armed gangs, which sometimes kill each other.
by Vijeta Uniyal • March 6, 2017 at 4:30 am
Germany's police and legal systems, which took weeks to prosecute anyone in the city of Cologne in the wake of the New Year's Eve mass sexual assaults, and then closed most of the cases after a year-long investigation, immediately swung into action against a group of small-town revellers.

In Merkel's Germany, you are allowed to walk free after setting fire to a synagogue, but not for mocking the Chancellor's "sacred" refugee policy.

While German police are busy raiding homes across the country and targeting citizens who write "hateful" or "offensive" Facebook postings, mosques in German are openly preaching anti-Semitism and ISIS-style jihadism.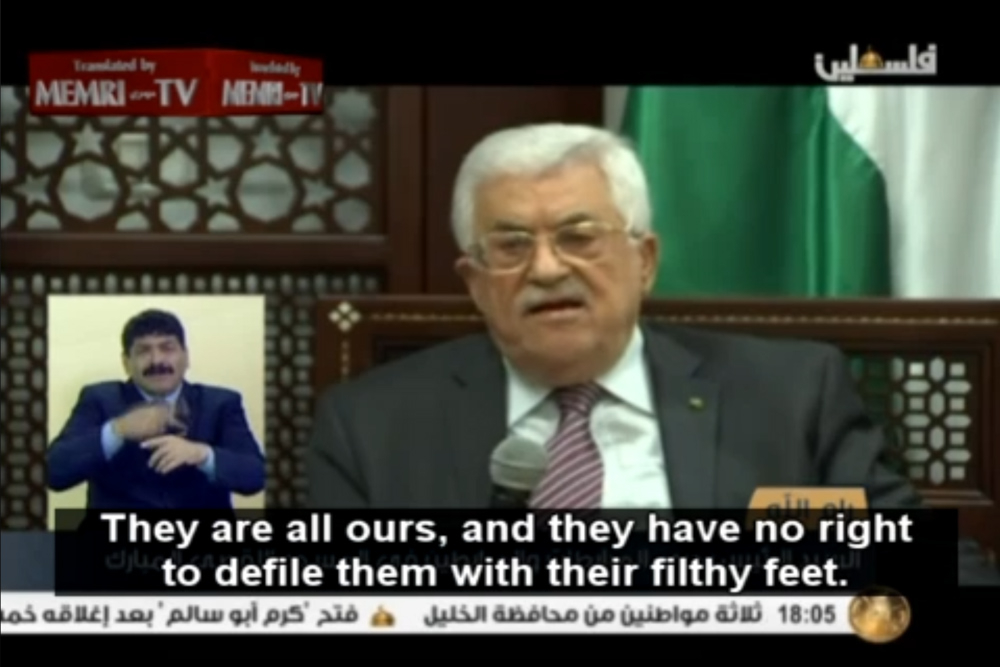 The Carnival parade float from Bad Bergzabern, Germany, that triggered an investigation by the police and State Attorney, showing Chancellor Angela Merkel behind prison bars, with the caption: "This is how traitors end up." (Image source: SWF video screenshot)
Carnival in Germany is a time for some light-hearted fun, fancy costumes and political satire. This year, many German cities held traditional float parades on Rosenmontag, or Rose Monday, many of which depicted political themes. Images of U.S. President Donald Trump took centre stage in many float processions, in some instances with his decapitated head held up high by the Statue of Liberty, in the style of an ISIS beheading.
Other floats went after nationalist European leaders and right-wing parties. In Düsseldorf, President Trump was shown standing next to a blond Hitler, joined by France's Marine Le Pen, and the Netherlands' Geert Wilders.
Germany prides in its traditional Narrenfreiheit ("jesters' freedom") to mock the high and mighty. This year, Germany's state-run Deutsche Welle news agency proudly proclaimed, "German jesters take on kings for 2017 Carnival."