Daniel
Pipes

January 31, 2012
You can follow Daniel Pipes and the Middle East Forum on their Facebook and Twitter pages.
Join Daniel Pipes on a Fact Finding Expedition to Israel (For full details click here)
---
Please take a moment to visit and log in at the subscriber area, and submit your city & country location. We will use this information in future to invite you to any events that we organize in your area.
The Middle East Forum: Strategy, not Advocacy
by Daniel Pipes
January 31, 2012
http://www.danielpipes.org/blog/2012/01/the-middle-east-forum-strategy-not-advocacy
Be the first of your friends to like this.
Given the many excellent organizations dealing with Middle Eastern and Islamic issues, what niches does the Middle East Forum's fill? We provide strategic counsel, as opposed to advocacy or apologetics. To understand what this means, look at the Arab-Israeli conflict, which attracts particularly intense attention and vehement views.
Advocates fill the news pages and airwaves with passionate statements of justification and condemnation. Their work involves morality: which of the combatants acts with justice, and which acts in evil ways? Those advocates who win this argument shape public opinion and that, in turn, influences or even determines government policies.
But morality and justice are not the only important debate; another one, more specialized, concerns strategy – not who is right or wrong, but how to win. This latter discussion focuses on an assessment of forces and offers ideas how to achieve one's goals. The strategist takes the goals for granted (i.e., a secure Israel) and focuses on achieving them.
Advocacy and strategy each have their role. The advocate speaks of right and wrong, the strategist deals with success and failure. Passion marks the former, ice runs in the latter's veins. The advocate would choke on presenting his adversary's viewpoint but the strategist routinely puts himself in his opponent's place (think of war games). For example, I have imagined myself in charge of the Islamist movement, figuring out what it should do so as to understand how best to stop it.
Like most research institutes, the Middle East Forum focuses primarily on strategic activities. This is, I believe, the best use of our having devoted years or even decades to the study of our topics. To defend our outlook, attack the views of our opponents, and convince the undecided are crucial tasks, but not ours. We focus on helping our side figure out how to win. Not being based in Washington, the Forum's work is directed primarily toward two audiences: (1) the public and (2) specialists who both share our outlook and seek information, analysis, and policy recommendations.
For example, when I discussed the media's biased coverage of Israel, I do so not to discredit it but to understand its logic and to suggest ways for those concerned with Israel's security and welfare to deal with it. Likewise, during the Gaza hostilities of 2008-09, I stayed away from justifying Israel's conduct or excoriating Hamas but instead criticized Israeli strategic ineptitude and offered an alternative approach.
Debates, responses, corrections, defenses, polemics, and apologetics have a crucial role; but the Forum is engaged in finding the path to victory. (January 31, 2012)
---
Anarchy, the New Threat
by Daniel Pipes
January 28, 2012
Cross-posted from National Review Online
http://www.danielpipes.org/blog/2012/01/anarchy-the-new-threat
Be the first of your friends to like this.
The scourge of the twentieth century was overly-powerful governments; could the looming problem of this century be too-weak governments?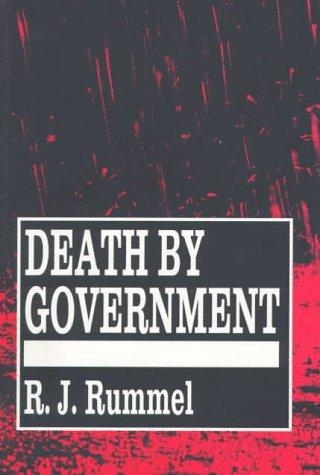 The political scientist R. J. Rummel estimates, in his evocatively titled study, Death by Government (New Brunswick, N.J.: Transaction, 1994) with revised numbers in 2005, that deaths at the hands of one's own government in the period 1900-87 amounted to 212 million persons, while deaths from warfare numbered 34 million. In other words, victims of their own government (what he calls democide) were in fact over six times greater than those killed in the century's wars.
The largest number of fatalities was 78 million killed by the Chinese Communists, then 62 million by the Soviet Communists, 21 million by the Nazis, 10 million by the Chinese nationalists, and 6 million by the Japanese militarists. Even this listing is incomplete; as Rummel puts it, "post-1987 democides by Iraq, Iran, Burundi, Serbia and Bosnian Serbs, Bosnia, Croatia, Sudan, Somalia, the Khmer Rouge guerrillas, Armenia, Azerbaijan, and others have not been included."
And while murderous regimes certainly continue to rule and massacre, there is a new danger looming – anarchy. Consider several cases in the Middle East in chronological order:
Afghanistan

: Since the coup d'état that overthrew the king in 1973, Afghanistan has not had a central government that could effectively control the country.

Lebanon

: Once called the "Switzerland of the Middle East," Lebanon has endured a mix of totalitarian rule by Syria and anarchy since the country's civil war began in 1975.

Somalia

: The Siad Barre regime fell in 1991 and has lacked anything remotely resembling a central government since then. The country's anarchy has led to a massive piracy problem in the Indian Ocean that already in 2007 was called "frightening and unacceptable" and since has grown yet worse.

Palestinian Authority

: Thanks to mismanagement and aggression, the Palestinian Authority has lost most of its authority since taking power in 1994. Half of its territory is under a hostile organization, Hamas.

Iraq

: The U.S. government made the mistake of disbanding Iraq's army after the defeat of Saddam Hussein in 2003 and the country has yet to tame the subsequent chaos.

Yemen

: It's difficult to pinpoint a date when the country became anarchic, but the Houthi War of 2009 offers a reasonable starting point.

Libya

: Since the uprising against Mu'ammar al-Qaddafi in early 2011, the country has not had a central power.
Syria is not yet anarchic but the regime has lost control of several towns (Zabadani, Saqba) and more could be on the way.
The same story holds in many countries of Africa, including Guinea-Bissau, Liberia, and Sierra Leone. Parts of Russia and Mexico suffer from anarchy. Piracy has grown to the point that it afflicts several parts of the world.
Because this pattern is so much at variance with the old problem of overweening central government, it tends not to be seen. But it is real and it needs to be recognized. (January 28, 2012)
Related Topics: Middle East patterns This text may be reposted or forwarded so long as it is presented as an integral whole with complete information provided about its author, date, place of publication, and original URL.

To subscribe to this list, go to http://www.danielpipes.org/list_subscribe.php
(Daniel Pipes sends out a mailing of his writings 1-2 times a week.)
Sign up for related (but non-duplicating) e-mail services:
Middle East Forum (media alerts, event reports, MEQ articles)
Campus Watch (research, news items, press releases)
at http://www.danielpipes.org/list_subscribe.php