| | |
| --- | --- |
| | |
In this mailing:
by Nonie Darwish • January 31, 2017 at 6:00 am
The interviewer seemed shocked to hear that I do not have any Arab or Muslim friends who are protesting President Trump's ban, and that many immigrants of Islamic origin support the ban and are fed up and embarrassed by what jihadists are doing.

The lesson America needs to know is that the West is not doing Muslims a favor by constantly treating them as children who should be shielded from reality. They hungry for the truth: that their educational system and mosque preaching are full of incitement, are abhorrent, hate-filled and the foundation upon which violent jihad is built.

Muslims need to know that the world does indeed have a justifiable and legitimate concern about Islam and actions done in the name of Islam by Muslims.

Muslims need to look at themselves in the mirror and see the world from the point of view of their victims. Instead, the West is sacrificing its culture, values, laws, pride and even self-respect.

It might compassion that leads the West to take in millions of Muslim refugees but it is reckless compassion. Do Westerners question the motivation of Islamic theocracies as to why ultra-rich Arab nations are sending us their refugees but taking in none?

Some "tough love" is urgently needed if Muslims are to be motivated to change and reform.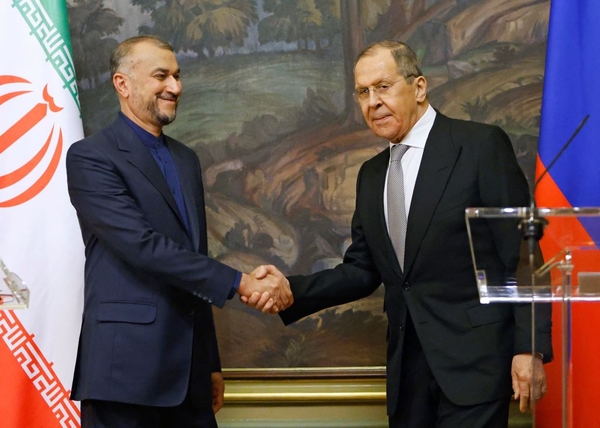 President Donald Trump signs an executive order restricting immigration, January 27, 2017. (Image source: Reuters video screenshot)
Early this morning an Arabic radio station in the Middle East called asking my opinion about President Trump's ban on refugees and citizens of seven Muslim nations. The radio host, who sounded angry over the ban, was a Christian Arab. She was surprised to hear that I supported the ban and think that it should have taken place the day after 9/11.
She then asked me if I knew any Arab American activist who was against the ban because she wanted to interview someone against the ban. She seemed shocked to hear that I do not have any Arab or Muslim friends who are protesting the ban, and that many immigrants of Islamic and Middle East origin support the ban and are fed up and embarrassed by what jihadists are doing.
by Thomas Quiggin • January 31, 2017 at 5:00 am
The 2008 Holy Land Relief terrorism funding criminal trial resulted in multiple convictions and was touted as the one of the largest terrorism financing trials in American history. Expectations were high that the 2008 trial would be followed by further trials involving the listed unindicted co-conspirators such as CAIR USA and the Islamic Society of North America.

However, with the appointment of Eric Holder as the U.S. Attorney General in 2009, all further actions on this file appear to have been frozen. Holder would later speak at a conference supporting one of the unindicted co-conspirators.

It is not clear if the ongoing criminal investigation focuses only on those individuals leading IRFAN at the time of its delisting as a charity and listing as a terrorism entity, or if the investigation also includes those who helped found IRFAN. This may be an important distinction, as the Canada Revenue Agency stated that IRFAN was deliberately created and designed to circumvent Canadian terrorism-funding rules.

It appears possible that the Trump Administration will crack down on Islamist extremist groups in the USA. This would likely have a spill-over effect into Canada and Europe, though greater attention to border security and issues of funding terrorism.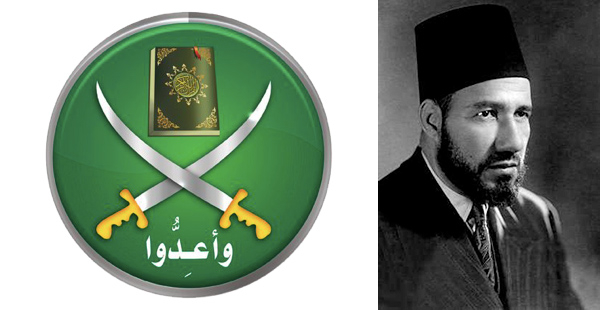 The emblem of the Muslim Brotherhood, and its founder, Hassan al-Banna.
U.S. Senator Ted Cruz last week submitted legislation to designated the Muslim Brotherhood as a Terrorist Organization.
Cruz (R-TX) earlier had a bill in the Senate which would not only ban the Muslim Brotherhood in the U.S. but also three of its front groups: Council for American Islamic Relations (CAIR) USA, Islamic Society of North America (ISNA) and the North American Islamic Trust (NAIT). These American-based front groups have corresponding chapters or organizations in Canada as well.
by Denis MacEoin • January 31, 2017 at 4:30 am
Secularism may be accepted in a Christian society but it can never enjoy a general acceptance in an Islamic society." — Yusuf al-Qaradawi.

The acceptance of a legislation formulated by humans means a preference of the humans' limited knowledge and experiences to the divine guidance: "Say! Do you know better than Allah?" (2:140).... For this reason, the call for secularism among Muslims is atheism and a rejection of Islam. Its acceptance as a basis for rule in place of Shari'ah is downright riddah [apostasy]...." — Yusuf al-Qaradawi.

We Muslims believe that Allah is the sole Creator and Sustainer of the Worlds.... If they do not [observe His injunctions and to judge according to them], then they commit kufr [unbelief], aggression, and transgression." — Yusuf al-Qaradawi.

There have never been any effective democracies in the Islamic world.

The idea that human beings can replace God as legislators is obnoxious to classical Islamic thought and to modern Islamist convictions. Men and women do not choose how to live: God has been there first.

Several of the ECFR's own pronouncements indicate an unwillingness to compromise with European norms.

"The Shari'ah is for all times to come, equally valid under all circumstances. The Muslim insistence on the immutability of the Shari'ah is highly puzzling to many people, but any other view would be inconsistent with its basic concept." — Yusuf al-Qaradawi.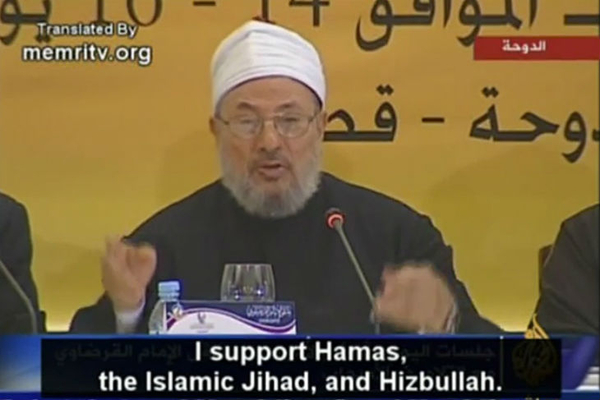 Yusuf al-Qaradawi (Image source: MEMRI video screenshot)
The European Council for Fatwa and Research (ECFR) plays an important role in the Fiqh al-'Aqalliyyat ("Jurisprudence for Minorities") world. It is now based in Dublin, having been founded in London in 1999 by the Federation of Islamic Organizations in Europe. Apart from issuing fatwas (principally those of leading Muslim Brotherhood ideologue, Shaykh Yusuf al-Qaradawi), it aims to supervise the education in Europe of local imams, to bring together Muslim scholars living in Europe, to resolve issues that arise on the continent (and UK) while operating with strict respect for shari'a law (which implies there should be no compromise), and to establish itself as an approved authority wherever Muslims live as minorities. This latter aim would suggest that the ECFR might one day possess an authority that would override that of local and national shari'a councils, and its members would expect to be the first and perhaps only voice to which parliaments and parliamentary bodies would lend an ear in their deliberations on how to treat their Muslim minority communities.
by Heshmat Alavi • January 31, 2017 at 4:00 am
The solution is clear. Nearly two dozen former senior American government officials hand-delivered a letter to President Donald Trump urging his administration to work with the Iranian opposition: Iran's exiled resistance, the National Council of Resistance of Iran (NCRI).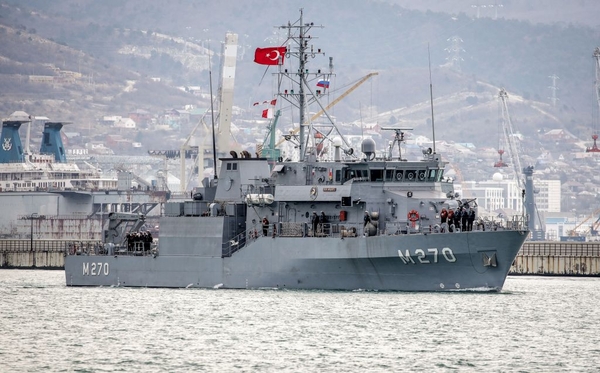 Concessions provided to Iran by U.S. President Barack Obama and Secretary of State John Kerry were troubling, even among those who supported the Joint Comprehensive Plan of Action (JCPOA).
Cash from Washington to Tehran for the release of Americans held in Iran came first. Second was Kerry advocating in Iran's favor to provide the mullahs access to the U.S. banking system. Third came America's top diplomat cajoling businesses to open shop in Iran.
Alongside these measures came a trend of passivity and neglect. The Obama administration chose not to respond to Iran's missile tests, ongoing support for terrorism, atrocious human rights record and the Syria genocide it did nothing to stop or even alleviate.
Most recently, Iran violated yet again an obligation to limit its heavy water storage to less than 130 metric tons. And the Ayatollahs are continuing their production, evidently feeling good after their excess amount was purchased by Washington.
14 East 60 St., Suite 1001, New York, NY 10022