by Soeren Kern • April 19, 2019 at 5:00 am
"The external enemies want to tell us how to run our country.... Angela Merkel and her fellow travelers, George Soros, the immigration mafias, believe that they can tell us who can and cannot enter our country. They demand that our boats pluck so-called castaways out of the sea, transfer them to our ports and shower them with money. Who do they think we are?" — Ortega Smith, Secretary General of the Vox party, Spain.

"These.... groups stand out not because of prejudice ('Islamophobia' or racism) but due to their being the least assimilable of foreigners, an array of problems associated with them, such as not working and criminal activity, and a fear that they will impose their ways on Europe.... Other concerns deal with Muslim attitudes toward non-Muslims, including Christophobia and Judeophobia, jihadi violence, and the insistence that Islam enjoy a privileged status vis-à-vis other religions" — Daniel Pipes, historian, "Europe's Civilizationist Parties," Commentary, November 2018.
"We all know about the lack of freedom, if not direct persecution, suffered by women and Christians in Islamic countries, while here they enjoy the generosity characteristic of freedom, democracy and reciprocity, of course, all of which they systematically deny...." — Santiago Abascal, President of the Vox party, "Trojan Horse," Libertad Digital, December 2014.
"The left defends any gratuitous offense, even the most beastly ones, against Christians as 'freedom of expression.' At the same time, the mere fact of criticizing Islam is branded as 'Islamophobia.' .... Is this still Spain or are we in Iran?" — Elantir, blogger, Contando Estrelas.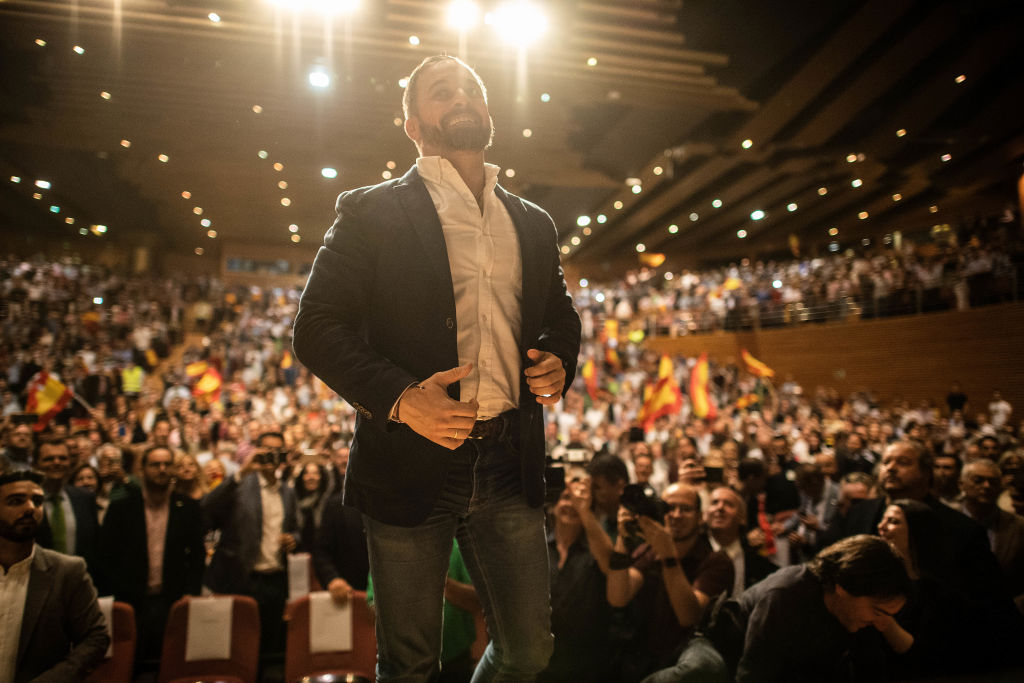 Vox, a fast-rising Spanish populist party, describes itself as is a socially conservative political project aimed at defending traditional Spanish values from the challenges posed by mass migration, multiculturalism and globalism. Vox's foundational mission statement affirms that the party is dedicated to constitutional democracy, free-market capitalism and the rule of law. Pictured: Santiago Abascal, President of Vox, arrives at a party rally in Granada, Spain on April 17, 2019. (Image source: David Ramos/Getty Images)
Spanish prosecutors have opened a criminal investigation to determine whether the secretary general of Vox, a fast-rising Spanish populist party, is guilty of hate speech for warning of an "Islamist invasion."
The criminal inquiry, based on a complaint from a Muslim activist group, appears aimed at silencing critical discussion of Islam ahead of national elections on April 28. More broadly, however, the case poses a potentially immeasurable threat to the exercise of free speech in Spain.
Prosecutors in Valencia, the third-largest city in Spain, said that they were investigating Javier Ortega Smith, the second-ranking leader of Vox, for an alleged hate crime after they received a complaint from a Muslim group called "Muslims Against Islamophobia" (Musulmanes Contra la Islamofobia).
At a rally in Valencia on September 16, 2018, Ortega Smith declared that Europe's "common enemy" is the "Islamist invasion":