Khaled Abu Toameh

: Palestinian Threats to Arab Normalization with Israel

Raymond Ibrahim

: How Saudi "Donations" to American Universities Whitewash Its Religion
by Khaled Abu Toameh • November 7, 2018 at 5:00 am
"There's no place for the [Israeli] enemy on the map." — Ismail Haniyeh, Hamas leader, October 29, 2018.

A number of senior Fatah officials, including Munir al-Jaghoob and Mohammed Shtayyeh, have condemned Oman for hosting Netanyahu. They have also condemned the UAE for allowing Israelis to participate in the judo competition.

So, Fatah and Hamas cannot agree to pay their workers, they cannot agree on supplying electricity to the Gaza Strip, and they cannot agree on providing medical supplies to hospitals there. They do agree, however, on inflicting more harm and damage on their people. If they go on like this, the day will come when the Palestinians will discover that their friends and brothers have become their biggest enemies.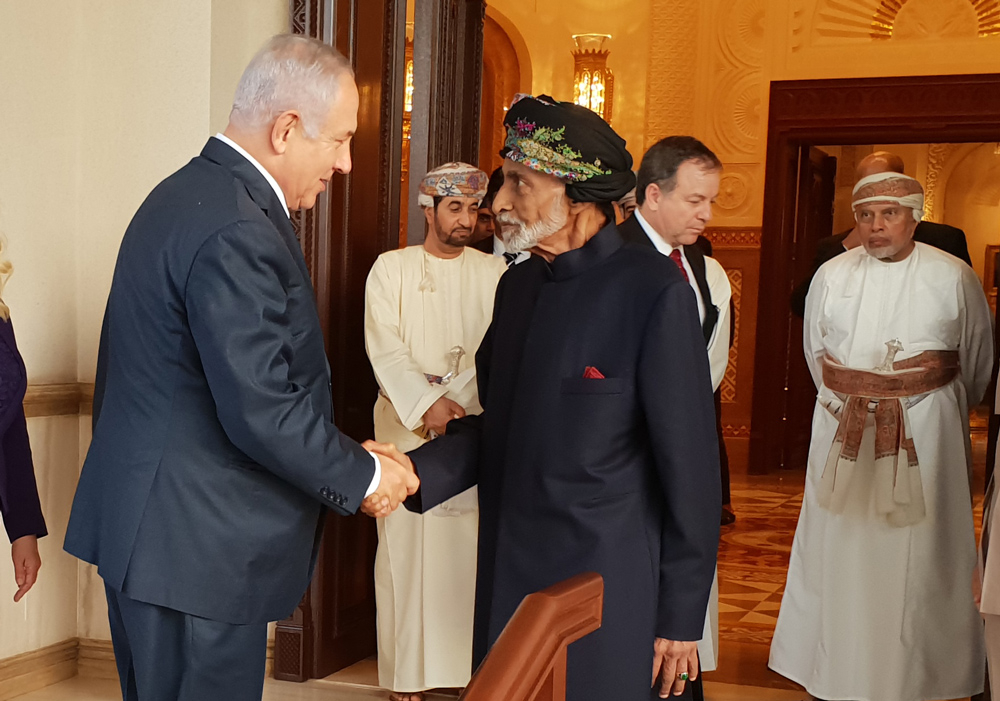 Recent statements issued by Hamas and Fatah have strongly condemned Arab countries for "rushing" to normalize relations with Israel before the Israeli-Palestinian conflict is resolved. Pictured: Israeli Prime Minister Benjamin Netanyahu shakes hands with Oman's Sultan Qaboos bin Said, during Netanyahu's official visit to Oman, October 26, 2018. (Image source: Israel PM's Office)
For more than 10 years now, Hamas and Palestinian Authority President Mahmoud Abbas's ruling Fatah faction have been at war with each other. Attempts by their Arab brothers, including Egypt, Saudi Arabia and Qatar, to solve the power struggle between the two rival Palestinian groups have thus far failed and are unlikely to succeed in the foreseeable future. The gap between Hamas and Fatah remains as wide as ever: the two parties despise each other. Fatah wants to return to the Gaza Strip; Hamas says it out loud: no. Fatah wants Hamas to disarm and cede control over the Gaza Strip; Hamas says no.
On one particular issue, however, the two sides lay aside their differences and see eye to eye. When it comes to Israel, one would be hard-pressed to distinguish between Fatah and Hamas.
by Raymond Ibrahim • November 7, 2018 at 4:00 am
Saudi funding of an American academic "doesn't mean that he's bought and paid for." Rather, "there is a kind of silencing effect. It's more about what doesn't get written about... there may be some self-censoring on certain topics you don't raise unnecessarily, topics that are sensitive to the Saudis." — from a Washington, DC "insider," quoted in Vox.

"The Kingdom of Saudi Arabia is the heartland of Islam, the birthplace of its history, the site of the two holy mosques and the focus of Islamic devotion and prayer. Saudi Arabia is committed to preserving the Islamic tradition in all areas of government and society..... The Holy Qur'an is the constitution of the Kingdom and Shari'ah (Islamic law) is the basis of the Saudi legal system." — Website of the Saudi Arabian Embassy, Washington, DC.

A Saudi fatwa — in Arabic only — entitled, "Duty to Hate Jews, Polytheists, and Other Infidels," was written by Sheikh Abd al-Aziz ibn Baz (d. 1999), former grand mufti and highest religious authority in the government. It comes from the fatwa wing of the government, meaning it has the full weight of the government behind it.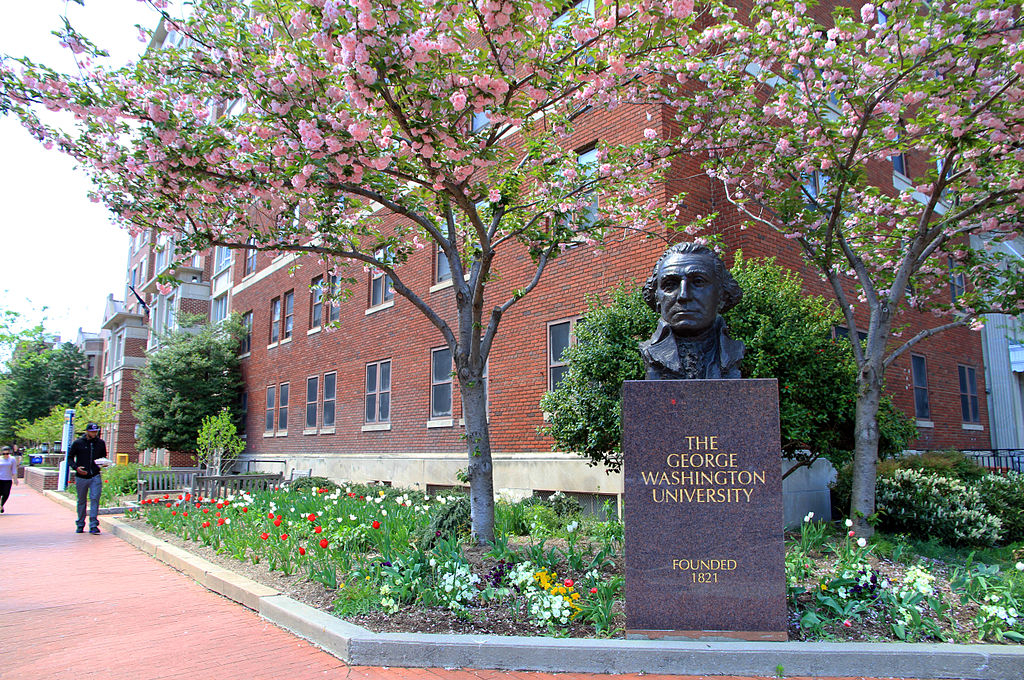 George Mason University and George Washington University (pictured) in the Washington, D.C. area, have each received tens of millions of dollars in Saudi-affiliated funding, according to a report in the Daily Caller. (Image source: Ingfbruno/Wikimedia Commons)
Why would the center of illiberalism, religious fanaticism, and misogyny ever sponsor the center of liberalism, secularism, and gender equality?
This is the question that crops up when one considers the largesse that human-rights-abusing Saudi Arabia bestows on the leading universities — those putative bastions of progressive, free thinking — in the United States.
According to a recent report in the Daily Caller:
"... elite U.S. universities took more than half a billion dollars from the country [Saudi Arabia] and its affiliates between 2011 and 2017. Saudi Arabian interests paid $614 million to U.S. universities over a six-year period, more than every country but Qatar and the United Kingdom."