Guy Millière

: France in Free Fall

Amir Taheri

: Iran's Schizophrenia Heats Up the Debate
by Guy Millière • January 6, 2019 at 6:00 am
French officials evidently understand that the terrorists are engaged in a long war and that it will be difficult to stop them; so they seem to have given in. These officials are no doubt aware that young French Muslims are being radicalized in increasing numbers. The response, however, has been to strengthen Muslim institutions in France.

At the time President Macron was speaking, one of his emissaries was in Morocco to sign the UN Global Compact for Safe, Orderly and Regular Migration, which defines immigration as "beneficial" for the host countries. Under it, signatory states pledge to "strengthen migrant-inclusive service delivery systems."

A group of retired generals published an open letter, saying that signing the Global Compact was a further step towards "the abandonment of national sovereignty" and noted that "80% of the French population think that immigration must be halted or regulated drastically".

The author Éric Zemmour described the "yellow vests" revolt as the result of the "despair of people who feel humiliated, forgotten, dispossessed of their own country by the decisions of a contemptuous caste".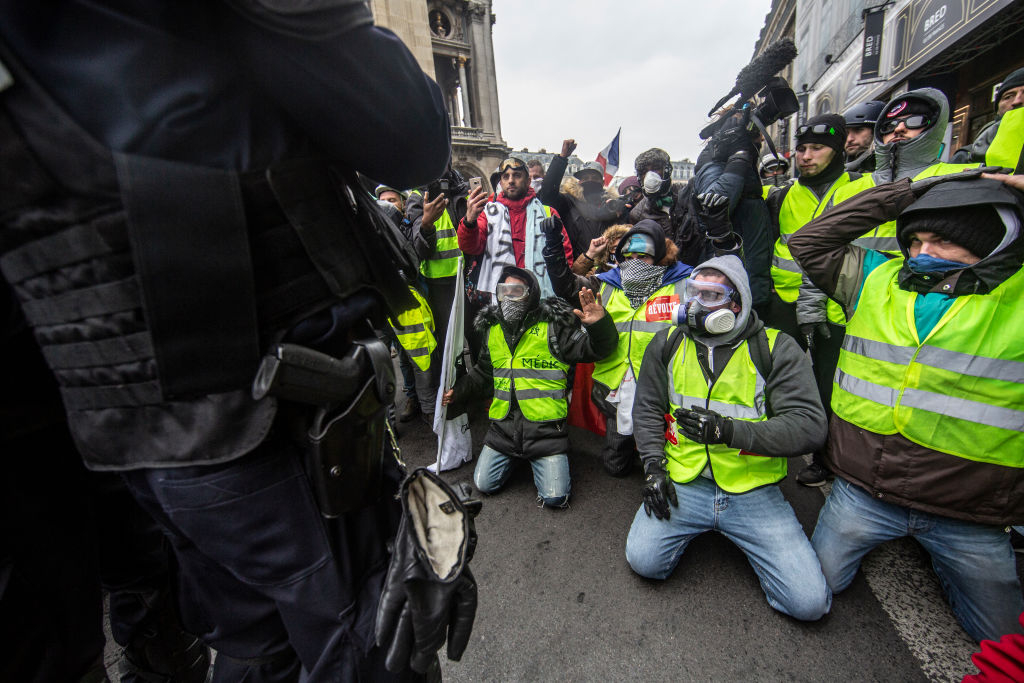 French President Emmanuel Macron seems to hope that weariness will lead the "yellow vests" protestors to give up, but there seems no sign of it yet. On the contrary, the "yellow vests" seem dedicated to bringing him down. Pictured: "Yellow vests" protesters on December 15, 2018 in Paris, France. (Photo by Veronique de Viguerie/Getty Images)
Strasbourg, France. Christmas market. December 11th, 8pm. A man shouting, "Allahu Akbar" ("Allah is the greatest") shoots at passersby, then wounds several with a knife. He murders three people on the spot and wounds a dozen others, some severely. Two will later die of their wounds. The murderer escapes. Two days later, the police shoot him dead.
He was known to the police. When members of the General Directorate of Internal Security and some gendarmes came to his home a few hours earlier, he had escaped. Although they knew he was an armed and dangerous Islamist ready to act, and that Christmas markets had been, and could be, likely targets, no surveillance was in place.
by Amir Taheri • January 6, 2019 at 4:00 am
The Khomeinist revolution in Iran has failed to "export" its model to a single country, while making Iran poorer and more vulnerable than it had been under the Shah.

The political schizophrenia gives the impression that one is dealing with two Irans: one Iran as a state and another as a revolution. The good news is that, perhaps out of necessity, a new political culture is taking shape inside Iran, one that instinctively links politics to concrete issues of real life rather than abstract notions linked to revolutionary utopias.

What millions of Iranians demand is a restoration of the authority of their state which, in turn, requires, the closure of the revolutionary chapter.
Over the past two years, Iran has witnessed more than 100 strikes by people from virtually all walks of life. It has also been shaken by two nationwide uprisings mobilizing millions of protesters. Pictured: Anti-regime protestors in Kermanshah, Iran, on December 29, 2017. (Image source: VOA News/Wikimedia Commons)
As the leadership in Tehran prepares to mark the 40th anniversary of the Khomeinist revolution, a growing number of Iranians are wondering whether the time has come for their country to close that chapter and resume its historic path as a nation-state.
The need for Iran to move beyond the Khomeinist revolution was the theme of a seminar last month at Westminster University in London where the return of Iran as a nation-state was highlighted as an urgent need for regional peace and stability.
The Khomeinist revolution in Iran has failed to "export" its model to a single country, while making Iran poorer and more vulnerable than it had been under the Shah.