| | |
| --- | --- |
| | |
In this mailing:
by Douglas Murray • February 28, 2017 at 6:00 am
Once again, an American has pointed to a failing in European society, and instead of focusing on the problem identified or even admitting that there is a problem, the European response has been to point at the American and blame him for creating the problem he has in fact merely identified.

We are being given an accurate representation of a serious problem.

If the response to every problem is denial, and the response to anyone pointing to the problem is opprobrium, legal threats or hilarity, it suggests that Europe is not going to make the softer-landing it could yet give itself in addressing these issues.

It might make us feel better, but every time we attack or laugh at the messenger, rather than addressing the message, we ensure that our own future will be less funny.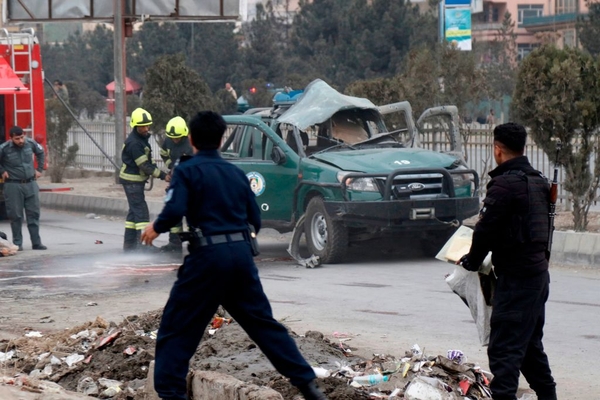 In response to US President Donald Trump's recent reference to "what's happening" in Sweden, Swedish Twitter users mocked him by posting photos of people putting IKEA furniture together. The joke would have been funnier had a failed asylum seeker from Eritrea not murdered Carola Herlin (left) and her son in an IKEA store in Västerås, Sweden, in August 2015.
How can one excavate the minds of so many European officials and the extraordinary mental gymnastics of denial to which they have become prone?
One of the finest demonstrations of this trend occurred in January 2015, after France was assailed by Islamist gunmen in the offices of the satirical magazine Charlie Hebdo and then in a Jewish supermarket. In the days after those attacks, Fox News in the U.S. ran an interview with a guest who said that Paris, and France, as a whole, had "no-go zones" where the authorities -- including emergency services -- did not dare to go. In the wake of these comments, the Mayor of Paris, Anne Hidalgo, chose to make a stand. She announced that she was suing Fox News because the "honour of Paris" was at stake.
It appeared that Mayor Hidalgo was rightly concerned about the image of her city around the world, presumably worrying in particular about the potential effects on tourism.
by Grégoire Canlorbe • February 28, 2017 at 5:00 am
According to a 2016 investigation by Balkan journalists Marko Vesovic, Vladimir Otasevic and Hasan Haydar Diyab, the Montenegrin government is indirectly involved in the funding of Islamic terrorism.

Charges were dropped due to former PM and President Milo Đukanović's diplomatic immunity, but not before he admitted his involvement in the criminal enterprise. In other words, while Đukanović was signing the accession protocol with NATO, boatloads of illegal cigarettes from Montenegro were apparently making their way into ISIS-controlled areas.

For all his talk of rethinking America's foreign commitments, it appears that President Donald Trump has also made the decision to endorse Montenegro's membership bid.

While Đukanović stepped down in October in favor of Duško Marković, a former intelligence chief and a close ally, he is widely believed to be the power behind the throne and to be planning a comeback in the 2018 presidential elections.

Between its apparent links to the funding Islamic terrorism, its flawed democracy, and its still-insufficiently developed army, Montenegro is not yet a reliable partner for the West.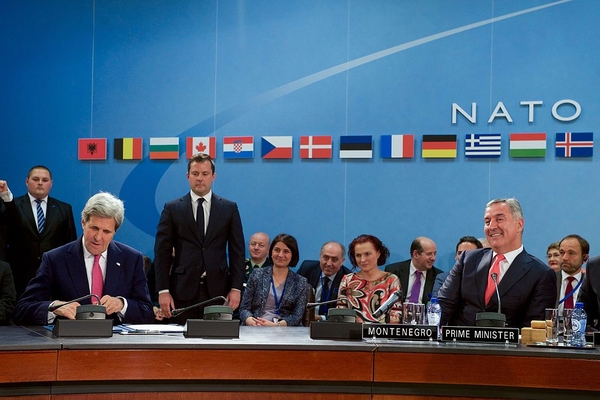 While then Prime Minister Milo Đukanović of Montenegro (sitting behind the table, at right) was busy signing the accession protocol with NATO in Brussels on May 19, 2016, boatloads of illegal cigarettes from Montenegro were apparently making their way into ISIS-controlled areas. (Image source: U.S. State Department)
Does a country involved in financing Islamic terrorism deserve to be invited to join the world's biggest military alliance, and receive all the perks that come with it? Many may argue this is the case with the small Balkan state of Montenegro, whose NATO membership will soon be taken up for consideration by the U.S. Senate.
by Saied Shoaaib • February 28, 2017 at 4:30 am
In every Muslim-majority country, especially in the Middle East, the Islamic terrorist genie came out from under the ashes, built the Islamic state and threatened the West -- both with terrorist operations and from inside, in a more surreptitious, seemingly peaceful manner, as the Muslim Brotherhood does.

It is important to understand that Islam is a religion that includes, in its structure, political power that governs and controls and spreads the force of arms.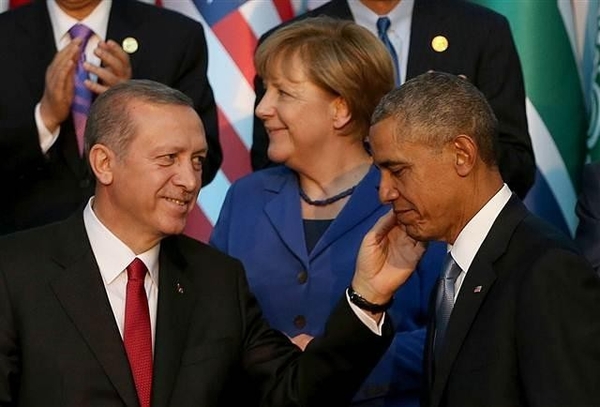 Many Western politicians have cooperated with Islamists and Islamist organizations. (Image source: RT video screenshot)
US President Donald J. Trump has succeeded in naming a jihadi problem, political Islam, but it is hard to single out defective products from the factory without closing the factory -- if one does not want them to appear again.
This does not mean that what Trump intends to do is not important; on the contrary, we need him after most Western politicians faced Islamic terrorism awkwardly, if they faced it at all. Sometimes they even cooperated with these terrorist organizations, invited their members to the White House; to Iftar dinners during Ramadan, and hugging what they falsely call "moderate Islam" -- especially the Muslim Brotherhood, the incubator that most terrorist organizations come out of -- instead of the true "moderate Muslims" who have been struggling to be heard above the crush of "influence," infiltration and petro-dollars.
14 East 60 St., Suite 1001, New York, NY 10022