| | |
| --- | --- |
| | |
In this mailing:
by Khaled Abu Toameh • February 27, 2017 at 5:00 am
Many Palestinians sometimes refer to Arab leaders and regimes as the "real enemies" of the Palestinians. They would rather have France, Sweden, Norway and Belgium oversee a peace process with Israel than any of the Arab countries.

Hani al-Masr, a prominent Palestinian political analyst, echoed this skepticism. He, in fact, believes the Arabs want to help Israel "liquidate" the Palestinian cause.

The Jordanians are worried that a "regional solution" would promote the idea of replacing the Hashemite kingdom with a Palestinian state. Former Jordanian Minister of Information Saleh al-Qallab denounced the talk of a "regional conference" as a "poisonous gift and conspiracy" against Jordan and the Palestinians.

The Lebanese have for decades dreamed of the day they could rid themselves of the Palestinian refugee camps and their inhabitants, who have long been subjected to apartheid and discriminatory laws.

Israel as a Jewish state is anathema to Palestinian aspirations. Any Arab or Palestinian leader who promotes such compromise is taking his life in his hands. And Palestinian history will record him as a "traitor" who sold out to the Jews and surrendered to American and Israeli pressure.

Abbas and his Ramallah cohorts are already up at night worrying about the talking between Israel and some Arab countries, particularly Saudi Arabia and other Gulf states. Such "normalization", in the view of the PA, is to be reserved for after Israel submits to its demands.

Any "regional solution" involving Arab countries would be doomed to fail because the Palestinians and their Arab brethren hate each other. Any solution offered by the Arab governments will always be regarded as an "American-Zionist dictate."

Here is what Palestinians really want: to use the Europeans to impose a "solution" on Israel.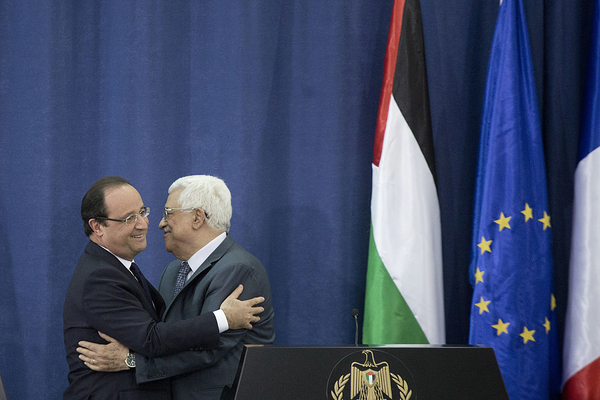 Palestinian leaders would rather have France, Sweden, Norway and Belgium oversee a peace process with Israel than any of the Arab countries. Palestinians simply do not trust their Arab brothers. Pictured: French President François Hollande (L) hugs Palestinian Authority President Mahmoud Abbas during a press conference in Ramallah, on November 18, 2013. (Image source: Oren Ziv/Getty Images)
Here is a fundamental misapprehension: Arab countries can help achieve peace in the Middle East by persuading, or rather pressuring, the Palestinians to make concessions to Israel.
This misapprehension is both misleading and baseless.
Recently, officials in Israel and Washington started talking about a "regional approach" to solving the Israeli-Palestinian conflict. In this view, as many Arab countries as possible would be directly involved in the effort to achieve a lasting and comprehensive peace agreement between Israel and the Palestinians. Advocates of the "regional approach" believe that Arab countries such as Jordan, Egypt, Lebanon, Qatar and Saudi Arabia have enough leverage with the Palestinians to compel them accept a peace agreement with Israel.
by Timon Dias • February 26, 2017
At its core, what is the EU? And why, despite its vast resources, does it seem perpetually unable to make sense of the world and meet its objectives? The two answers lie hidden in the EU's very DNA.
First, there's the EU's primary internal contradiction: EU federalism is an ideology that propagates post-ideologism; a culturally amorphous post-ideological world.
A cosmopolitan easy going agnostic world, in which the single market and currency have made nationalism obsolete. Indeed, a world where the European Parliament invites a long haired bearded shemale to perform in front of its building and announces him/her as "The voice of Europe" singing for equality, without anyone batting an eye.
The EU's core problem, however, is that in its way of viewing and engaging the world beyond Brussels' boundaries, it is acting as if the world has already arrived at this so badly coveted post-cultural/ideological end station.
14 East 60 St., Suite 1001, New York, NY 10022