Soeren Kern

: A Month of Islam and Multiculturalism in France: June 2017

Majid Rafizadeh

: Deny the Holocaust, but Don't Question Sharia?

Amir Taheri

: Trump Kicks the Iranian 'Can' Down the Road
by Soeren Kern • July 23, 2017 at 5:00 am
"I am in fundamental disagreement with these left-wing people who do everything to dissociate fundamentalism from Islam. Islam has been radicalized for fifty years. On the Shiite side, there was Imam Khomeini and his Islamic revolution. In the Sunni world, there was Saudi Arabia, which used its immense resources to finance the spread of this fanaticism of Wahhabism. But this historical evolution took place within Islam and not outside. When the people of the Islamic State attack, they do it by saying 'Allahu Akbar.' So how can we then say that this has nothing to do with Islam? It must be stopped." — Sir Salman Rushdie, author of the novel The Satanic Verses, who has been hunted to be killed by Muslim extremists for nearly 30 years.

Residents of the Paris suburb of Mée-sur-Seine complained that a mosque was blasting prayers on outdoor loudspeakers well beyond midnight each night during Ramadan. Mourad Salah, a local Muslim leader, said the city council was to blame for the noise because of its failure to provide Muslims with a larger mosque: "The ball is in the mayor's court. Until we have a place of prayer worthy of the name, with a greater capacity, things will be difficult."

An online petition — "Women: An Endangered Species in the Heart of Paris" — accused Paris Mayor Anne Hidalgo of allowing a large swathe of the city to become a no-go zone for women. Every night, hundreds of migrants from Africa and the Middle East line the pavements to form an intimidating gauntlet for women walking from the Gare du Nord and Gare de l'Est railway stations to their homes, the petition said. Shouts of "bitch" and "dirty whore" are common.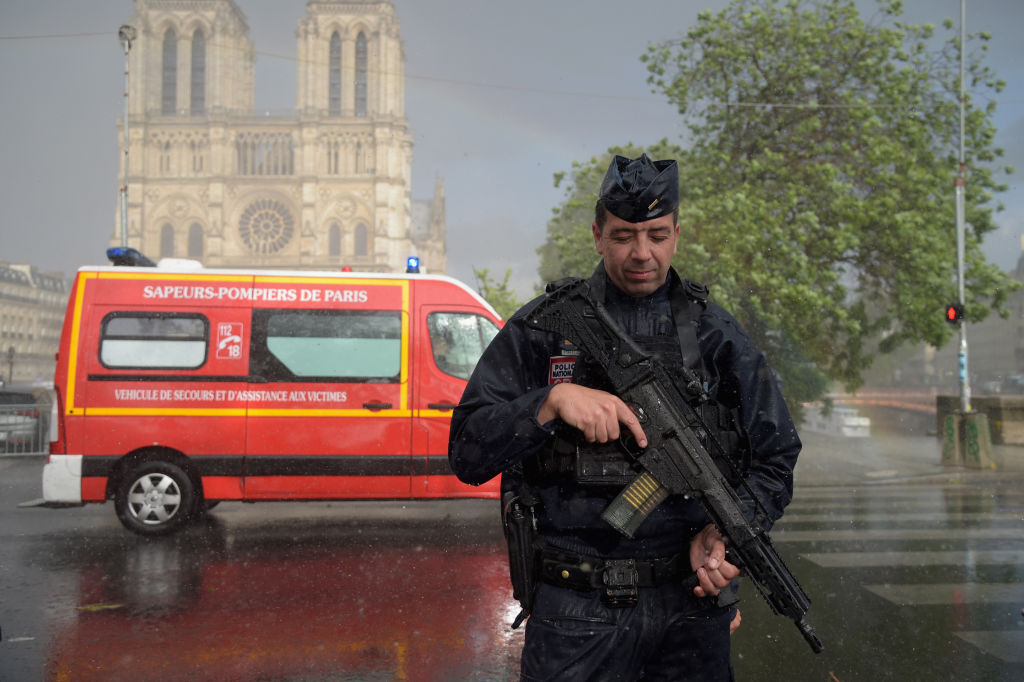 A policeman stands guard near Notre-Dame Cathedral in Paris, France, on June 6, 2017, after Farid Ikken, a 40-year-old Algerian, attempted to murder a police officer at the site. (Photo by Pascal Le Segretain/Getty Images)
June 1. Saber Lahmar, a 48-year-old Algerian who has lived in Bordeaux since his release from Guantánamo Bay in 2009, was charged with "terrorist association" and placed in pre-trial detention. He is suspected of providing financial, logistical and doctrinal aid to French jihadists who were planning to travel to Iraq and Syria. Lahmar was arrested in Bosnia in 2001 after being accused of plotting to bomb the American embassy in Sarajevo. In November 2008, U.S. District Judge Richard J. Leon ordered Lahmar to be released from Guantánamo because there was insufficient reason to hold him. In December 2009, Robert C. Kirsch, a lawyer at the firm of WilmerHale, which represented Lahmar in federal court, said: "We are grateful for the courage and generosity of the French people and government, and for the ongoing effort by President Obama... which will now give Mr. Lahmar a chance to rebuild his life in France."
by Majid Rafizadeh • July 23, 2017 at 4:30 am
Why is it encouraged, even praised, to deny the unimaginable suffering that millions went through during the Holocaust, but if anyone dares to question Sharia their lives are in danger?

If you dare even to joke about Islam, your punishment can range from torture, long terms of imprisonment, to swift death sentences, either judicial or from mob violence.

"They have created a myth in the name of the Holocaust and consider it above God, religion and the prophets," — Former Iranian President Mahmoud Ahmadinejad, on Iranian state television.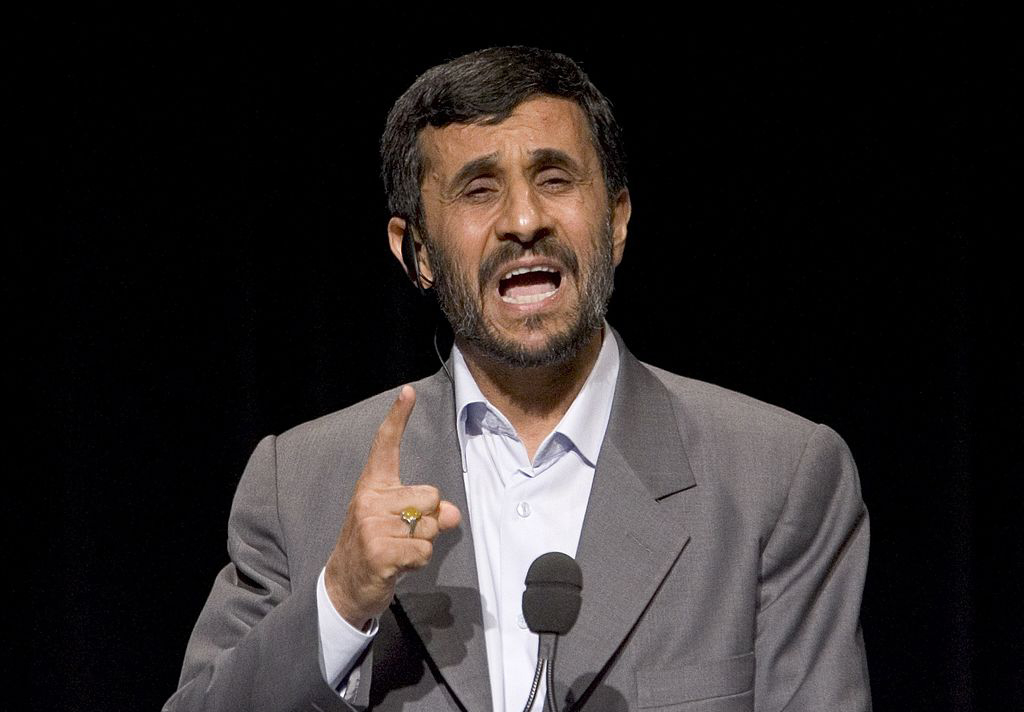 Former Iranian President Mahmoud Ahmadinejad has said that his Holocaust denial was his biggest achievement. Pictured: Then-President Ahmadinejad speaks at Columbia University in New York City, on September 24, 2007. (Photo by Stephen Chernin-Pool/Getty Images)
If you grew up between Iran and Syria, as I did, you would have lived underneath the iron rule of dictators such as Bashar Assad, Ayatollah Khamenei, Mahmoud Ahmadinejad, and Akbar Hashemi Rafsanjani. In addition to the fear and oppression they maintained over their people, all of these rulers appeared to have another "tradition" in common They are all deny the Holocaust.
It was common to hear from whoever worked for the Iranian regime that the Holocaust did not exist. Despite the mountain of clear facts before them, they chose, and continue to choose, not only to believe that the Holocaust was a fabrication, but to spread this belief to their people.
by Amir Taheri • July 23, 2017 at 4:00 am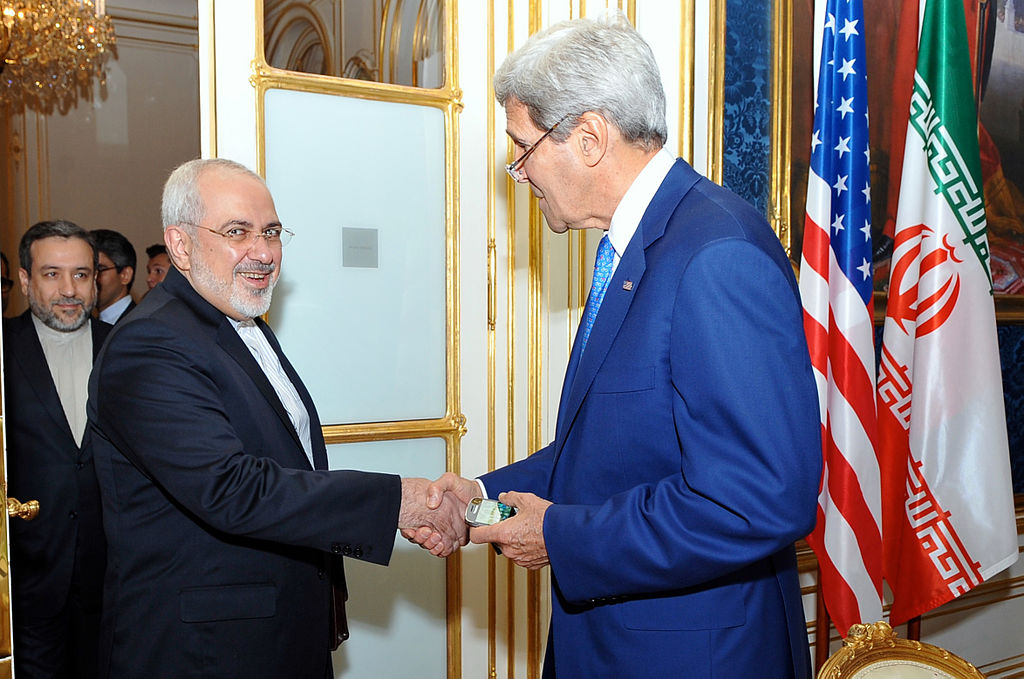 Then US Secretary of State John Kerry shakes hands with Iranian Foreign Minister Mohammad Javad Zarif in Vienna, Austria, on July 14, 2014, during negotiations that led to the drafting of the Joint Comprehensive Plan of Action (JCPOA). (Image source: US State Department)
Over the past six months, in one way or another, President Donald Trump has kicked several of the cans inherited from Barack Obama down the road.
After several attempts at abolishing it, the so-called Obamacare has been kicked into legislative oblivion. Obama's policy of courting the Castro brothers has been slightly modified but not scrapped. The Paris Climate Accord has been verbally dismissed but not definitely buried, if only because it won't become binding until 2020.
The latest can to be kicked down the road is the so-called Joint Comprehensive Plan of Action (JCPOA), the curious press release which enumerates things that Iran must do about its controversial nuclear project in exchange for the temporary suspension of sanctions.