Douglas Murray

: UK Terrorism: 'Enough' is Not 'Enough'

Samuel Westrop

: Silicon Valley Censorship
by Douglas Murray • July 26, 2017 at 5:00 am
Were terror attacks like this simply something that the British public would have to get used to, as the Mayor of London, Sadiq Khan, had suggested? What if the public did not want to get used to them?

That the UK authorities allowed the "Al-Quds Day" march to proceed through the streets of London and for Palestine Expo to assemble such an array of speakers just down the road from one of this year's terror attacks, suggests that all that has happened this year in Britain is extremely very far from "enough".

So, rather than expecting resilience, the British people will have to be prepared to accept still more terror -- and doubtless more pointless platitudes to follow each attack -- as surely as they have followed all the attacks before.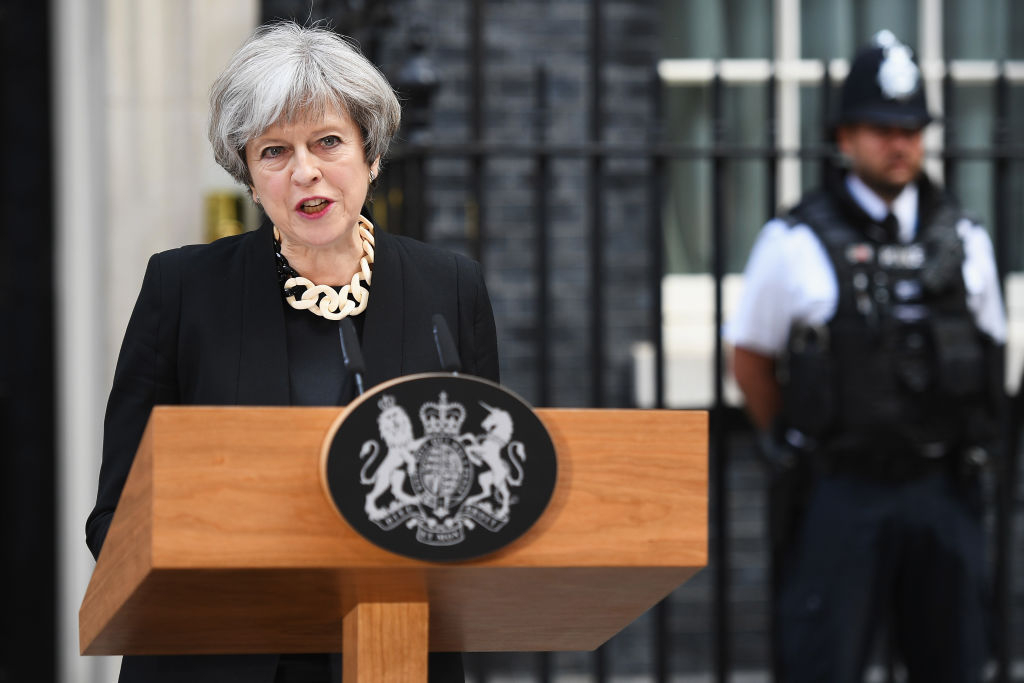 Nearly two months on from British Prime Minister Theresa May's comments, following the Westminster terror attack, that there is "far too much tolerance of extremism" in the UK and that "Enough is enough", it is worth noting that what Britain has gone through this year has been, in fact, no wake-up call at all, and that to date there are no signs that "enough" has been "enough". (Photo by Leon Neal/Getty Images)
On June 3, Britain underwent its third Islamist terror assault in just ten weeks. Following on from a suicide bombing at Manchester Arena and a car- and knife-attack in Westminster, the London Bridge attacks seemed as if they might finally tip Britain into recognising the full reality of Islamist terror.
The attackers that night on London Bridge behaved as such attackers have before, in France, Germany and Israel. They used a van to ram into pedestrians, and then leapt from the vehicle and began to stab passers-by at random. Chasing across London Bridge and into the popular Borough Market, eye-witnesses recorded that the three men, as they slit the throats of Londoners and tourists, shouted "This is for Allah."
by Samuel Westrop • July 26, 2017 at 4:00 am
If it is ever "toxic" to deem ISIS a terrorist organization, then -- regardless of whether that is the result of human bias or an under-developed algorithm -- the potential for abuse, and for widespread censorship, will always exist. The problem lies with the very concept of the idea. Why does Silicon Valley believe it should decide what is valid speech and what is not?

Conservative news, it seems, is considered fake news. Liberals should oppose this dogma before their own news comes under attack. Again, the most serious problem with attempting to eliminate hate speech, fake news or terrorist content by censorship is not about the efficacy of the censorship; it is the very premise that is dangerous.

Under the guidance of faulty algorithms or prejudiced Silicon Valley programmers, when the New York Times starts to delete or automatically hide comments that criticize extremist clerics, or Facebook designates articles by anti-Islamist activists as "fake news," Islamists will prosper and moderate Muslims will suffer.

Google's Perspective application, which is being used by major media outlets to identify the "toxicity level" of comments published online, has much potential for abuse and widespread censorship.
Google's latest project is an application called Perspective, which, as Wired reports, brings the tech company "a step closer to its goal of helping to foster troll-free discussion online, and filtering out the abusive comments that silence vulnerable voices." In other words, Google is teaching computers how to censor.
If Google's plans are not quite Orwellian enough for you, the practical results are rather more frightening. Released in February, Perspective's partners include the New York Times, the Guardian, Wikipedia and the Economist. Google, whose motto is "Do the Right Thing," is aiming its bowdlerism at public comment sections on newspaper websites, but the potential is far broader.