Bassam Tawil

: Palestinians: Metal Detectors or Lie Detectors - Who Is Violating What?

Peter Huessy

: Modernizing America's Nuclear Capabilities Is a Must
by Bassam Tawil • July 27, 2017 at 5:00 am
Crucially, and contrary to Palestinian claims, there has been no Israeli decision to ban Muslims from entering the Temple Mount. For the first time since 1967, the Palestinians are denying Muslim worshippers free access to the Al-Aqsa Mosque.

The Palestinians and the Islamic religious authorities are protesting against security measures that are intended to save the lives of Muslim worshippers and prevent the desecration of their holy sites by terrorists and rioters. They are protesting because Israel is trying to make it hard for them to murder Jews.

To clarify what is actually going on: it is not the security measures that really anger the Palestinians; for them, this crisis is not about a metal detector or a security camera. It is not the security measures that the Palestinians want dismantled. It is Israel that they want dismantled.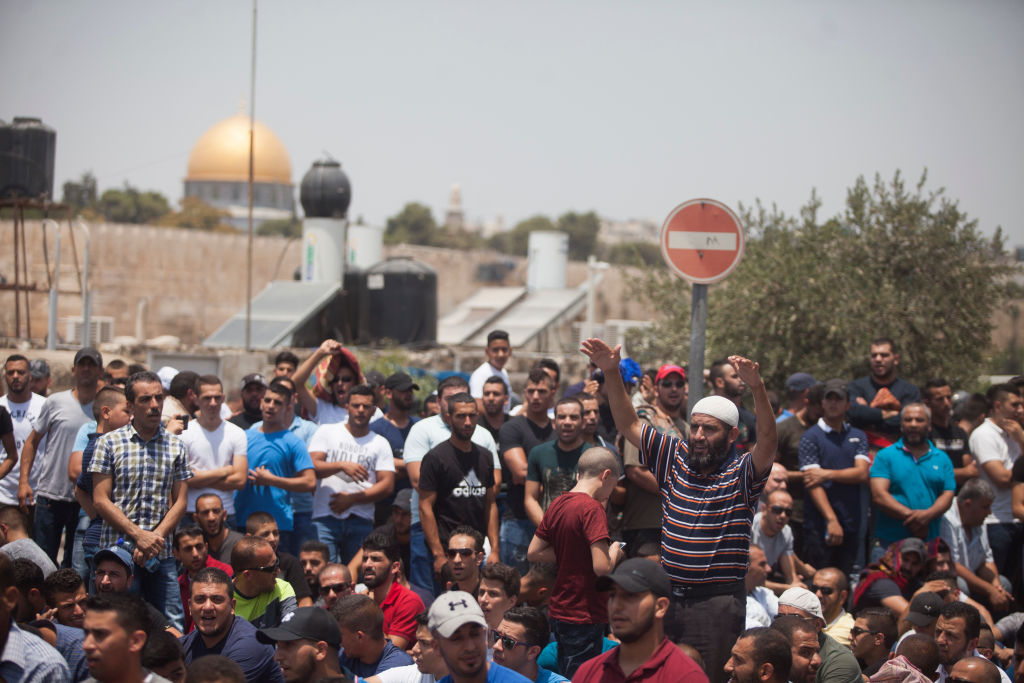 Palestinians near Jerusalem's Old City protest Israel's installation of metal detectors at entrances to the Temple Mount, on July 21, 2017. (Photo by Lior Mizrahi/Getty Images)
The metal detectors that were supposed to prevent Muslims from smuggling weapons into the Temple Mount compound, and which were removed by the Israeli authorities this week, have a more accurate name: "lie detectors." They have exposed Palestinian lies and the real reason behind Palestinian anger.
Israel apparently removed the metal detectors from the gates of the Temple Mount as part of a deal to end an unexpected crisis with Jordan over the killing of two Jordanian men by an Israeli embassy security officer in Amman. The security officer says he was acting in self-defense after being attacked by one of the Jordanians with a screwdriver.
by Peter Huessy • July 27, 2017 at 4:00 am
In 1989, America had 1,000 nuclear missile silos, and a small number of additional bomber and submarine bases and submarines at sea, facing 13,500 Soviet warheads. Today, the U.S. has 450 such silos facing 1,750 Russian warheads. That is a switch from a ratio of 13 Russian warheads to every U.S. missile silo, to a ratio of 4 Russian warheads to every U.S. missile silo. Getting rid of Minuteman ICBMs would reverse that progress and make the ratio even worse, with 175 Russian warheads to every U.S. missile silo. How is that an improvement?

The U.S. "cannot afford to delay modernization initiatives" while the "American people and our allies are counting on congressional action to fund our nuclear enterprise modernization efforts." — General Robin Rand, the commander of the Air Force Global Strike Command.

America's ability to defend itself is at stake.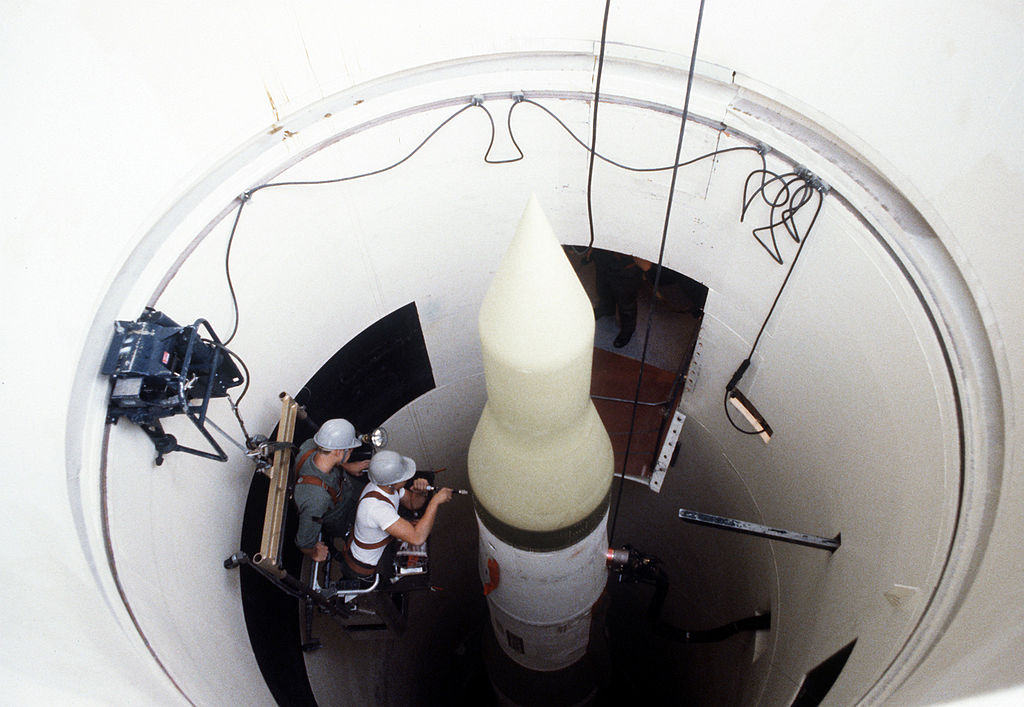 A Minuteman III intercontinental ballistic missile in its silo in Whiteman Air Force Base, Missouri, circa 1980. (Image source: U.S. Department of Defense)
In April 2017, the Pentagon launched the U.S. Defense Department's legislatively mandated quadrennial Nuclear Posture Review to determine American policy, strategy and capabilities. The process now underway involves testimony from experts arguing over how the estimated $27 billion spent annually (growing over the next decade by an additional $10 billion a year) on America's nuclear arsenal should be allocated.
One claim, made by a number of experts, is that investing in the effort to upgrade America's exiting nuclear arsenal -- the land-based intercontinental ballistic missiles (ICBMs) -- would be destabilizing and wasteful. They are, it is claimed, highly vulnerable to enemy attack and therefore do not provide deterrence. Among the 40 House members who suggest killing the land-based missiles is the ranking Democratic member of the House Armed Services Committee.