by Giulio Meotti • March 26, 2017 at 5:00 am
Jihadists seem to be leading an assault against freedom and against secular democracies.

Sunni Islam's most prominent preacher, Yusuf al Qaradawi, declared that the day will come when, like Constantinople, Rome will be Islamized.

It is Islam, not Christianity, that now saturates Europe's landscape and imagination.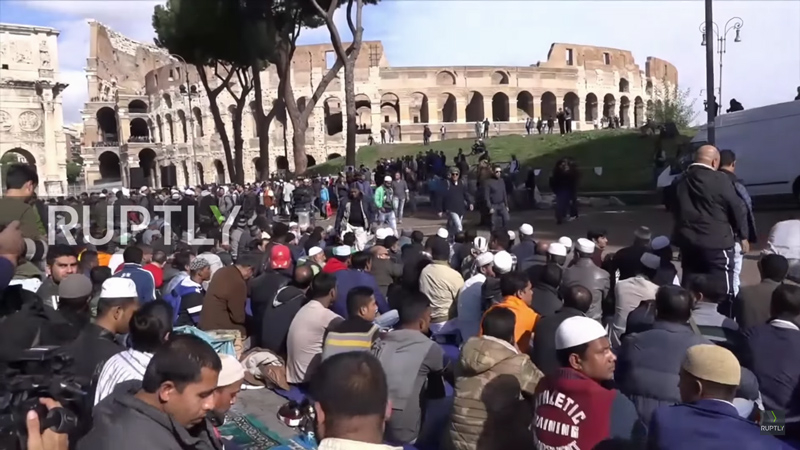 Hundreds of Muslims engage in a mass prayer service next to the Coliseum in Rome, on October 21, 2016. (Image source: Ruptly video screenshot)
According to US President Trump's strategic advisor Steve Bannon, the "Judeo-Christian West is collapsing, it is imploding. And it's imploding on our watch. And the blowback of that is going to be tremendous".
The impotence and the fragility of our civilization is haunting many Europeans as well.
by Amir George • March 26, 2017 at 4:00 am
"We fought against them [Americans] and instead of harming us, they fed, clothed and rebuilt us. If it had been the Russians who had won the war instead, we would now be like North Korea." — Owner of a noodle shop, Japan.

Now is not the time to withdraw from the world, but to love, support and build a hurting and needy world that simply needs to know there is hope.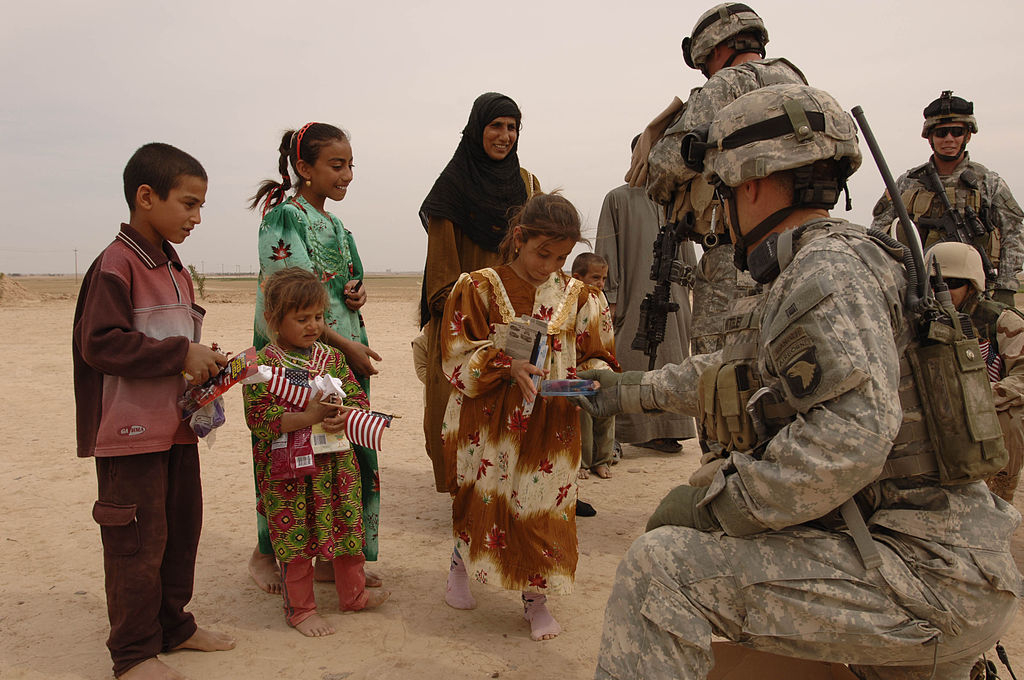 Soldiers from the U.S. Army's 4th Battalion hand out small American flags and gifts to children during a goodwill visit to a village outside of Tikrit, Iraq, on April 1, 2006. (Image source: U.S. Army)
People may be familiar with the term "The Greatest Generation," now almost past, who fought World War II and rebuilt America in the shadow of the Great Depression.
Now there is "The Grateful Generation" -- those who were touched by "The Greatest Generation," their kindness and love in rebuilding the world after World War II. We in Asia and parts of the Middle East have a special place in our hearts for America.
From the graves of brave Americans at Normandy to freeing East Germany from Soviet domination, the United States has been the major force in leading the world for good.
After the end of World War II, General Douglas McArthur put out a call for 10,000 young men and women to help rebuild postwar Japan. Decades of abuse under a terrible dictator began slowly to heal.
My parents came to Japan, separately, from the West, met in Japan, married there, had their family and served the country for nearly 60 years.