by Bassam Tawil • March 29, 2017 at 5:00 am
The Palestinian Authority (PA) and Hamas wish to continue teaching children that the conflict with Israel is not over a two-state solution, but the "liberation of Palestine, from the river to the sea," which means the annihilation of Israel. The goal is for the students to believe that Israel is one big settlement that has no place in the Middle East.

Along with Hamas, Abbas and his PA plan to continue inculcating Palestinian children with the idea that they should look to terrorists who kill Jews as their role models. It might be illuminating if the conversation between Trump and Abbas were to be informed by these uncomfortable facts.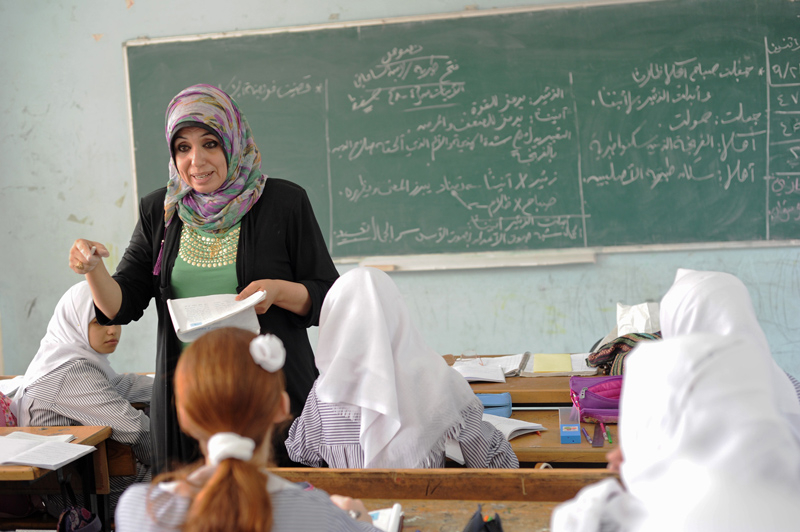 A girls' school run by the United Nations Relief and Works Agency for Palestinian Refugees. (Image source: UNRWA)
In an ironic turnaround, the United Nations Relief and Works Agency for Palestinian Refugees (UNRWA) is now the object of intimidation and threats made by many Palestinians.
UNRWA is reportedly planning to introduce some changes to the curriculum in its schools in the West Bank and Gaza Strip, and the Palestinians are rather unhappy about it. They claim that UNRWA has "succumbed" to Israeli pressure to make the changes.
The proposed changes are based on leaks to Palestinians and have not been confirmed by UNRWA. Palestinians claim that they learned about the plans to introduce the changes during meetings with senior UNRWA officials.
According to the Palestinians, the changes are intended to "eradicate" their "national identity" and "history" and distort their "struggle" against Israel.
by Giulio Meotti • March 29, 2017 at 4:00 am
"The problem in Europe is that there are far too many people in uniform, and too few of them able to go into action." — NATO Secretary General Lord Robertson.

"A majority of the German public opposes combat missions, and supports the Bundeswehr [German military] only as a quasi-humanitarian organization, a kind of Médecins Sans Frontières with guns". — Konstantin Richter, Politico.eu.

The relative abundance enjoyed by the Western post-war generations have created a kind of shame instead of pride.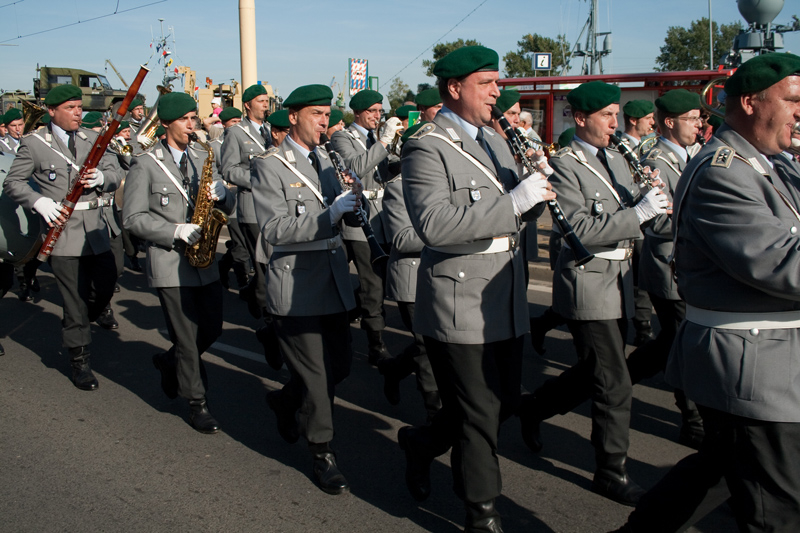 Soldiers of the German army on parade in 2009. (Image source: Włodi/Flickr)
It has been said that when German Chancellor Konrad Adenauer signed the reconstitution of the military in 1955, he proclaimed: "It is crazy, gentlemen, that I have to create a German army, it is just crazy".
Sixty years have passed, but that sentiment still seems very strong in Germany. A few days ago Sigmar Gabriel, the German foreign minister, said: "We have to be a bit careful here that we don't over-interpret the 2 percent target." Gabriel then became clearer: "Maintain perspective, stay focused on the target, but avoid being consumed by the bliss of a new rearmament spiral!"
A few days earlier, Germany had made an announcement: to raise the number of soldiers from 170,000 to 198,000 by 2024 -- a modest "rearmament".