Yves Mamou

: Europe: "Big Business" Colludes with Islamism

John R. Bolton

: America Needs a Post-ISIS Strategy
by Yves Mamou • July 1, 2017 at 5:00 am
For "Big Business," the more things that are declared "forbidden" in the name of Islam, the more products declared "permitted" must be produced for "good Muslims" to buy.

In the 1970s, Iran and Saudi Arabia, which were engaged in a competition to spread their vision of Islam worldwide, found help from multinationals such as Nestlé, which had in mind the creation of the large global halal food market.

The next stage is that if most Muslims consider a veil and halal food an Islamic obligation, they will soon ask for sharia law and Islamic courts -- as in Great Britain.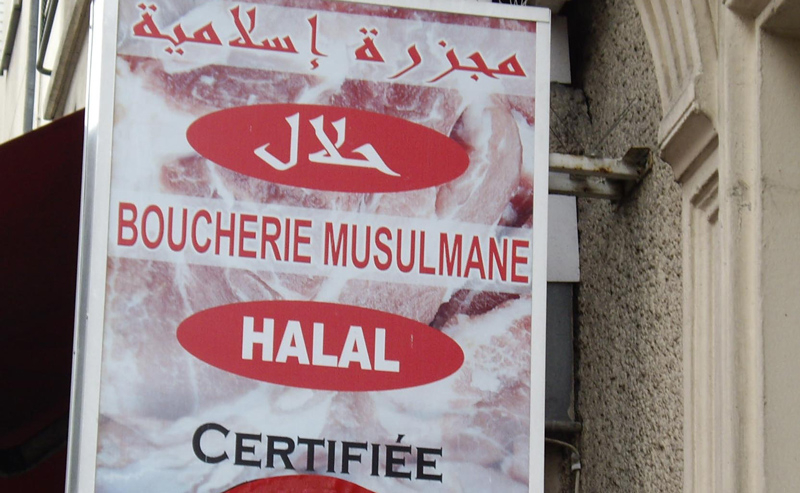 Shop sign in French and Arabic for a halal butcher's shop in Rue de Patay, Paris. (Image source: Wikimedia Commons / Mu)
When there is a profit to be made, capitalism has no political spirit and can collude with any ideology -- from democracies to totalitarian tyrannies. This view was most recently set forth by the French anthropologist Florence Bergeaud-Blackler in her book, "Le marché halal ou l'invention d'une tradition" ("The Halal Market or the Invention of a Tradition").
Bergeaud-Blackler claims in her book that "halal" food (food that, in Islam, is religiously permitted) was "recently invented" as a label and as a potential commercial market, in a collusion between Iranian fundamentalists and multinational agrifood businesses. In an interview with the French daily newspaper, Liberation, she said:
by John R. Bolton • June 30, 2017 at 10:00 am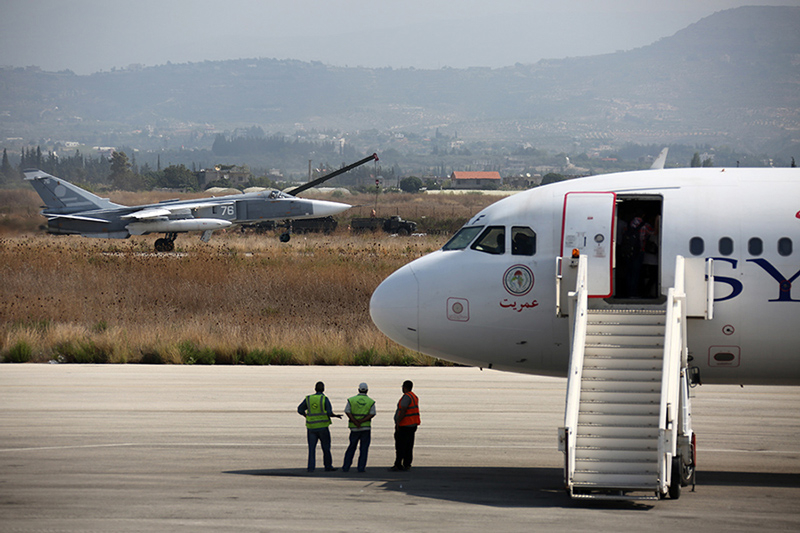 Russia has a new air base at Latakia, Syria, is involved in combat operations, and issues diktats about where American warplanes in the region may fly. Pictured: A Russian Air Force Su-24 passes a Syrianair Airbus A320 at Latakia. (Image source: mil.ru/Wikimedia Commons)
The headlines out of Syria are eye-catching: There are signs the Assad government may be planning another chemical attack. American pilots have struck forces threatening our allies and shot down a Syrian plane and Iranian-made drones. The probability of direct military confrontation between the U.S. and Russia has risen. Yet the coverage of these incidents and the tactical responses that have been suggested obscure the broader story: The slow-moving campaign against Islamic State is finally nearing its conclusion — yet major, long-range strategic issues remain unresolved.