Shireen Qudosi

: Jew-Hating Imams Need to be Removed

A.Z. Mohamed

: McMaster's Misunderstanding of the Middle East
by Shireen Qudosi • August 10, 2017 at 5:00 am
For Muslims in other parts of the world, inflammatory outrage -- often based on spurious charges -- against Israel, has always been given immediate priority, while serious human rights violations by Muslim nations, dictators, and mobs are shrugged off as problems "over there."

This silent refusal by many Muslims to condemn attacks that are openly inspired by Islam does not come from aggression, but from a fear of challenging religious authority or needfully holding our own community accountable. In a post-Trump era, Muslims are not worried about what Jews, Americans or a new administration will do. Many of us fear first and foremost our own community for the ostracism and harassment we risk if we rise as a dissenting voice.

Extremist ideology will only change once we remove the imams and the mosque leadership who are complicit and who have unfettered access to a powerful platform. These are not people of faith; they are not spiritual leaders. They are dangerous propagandists and they need to be removed.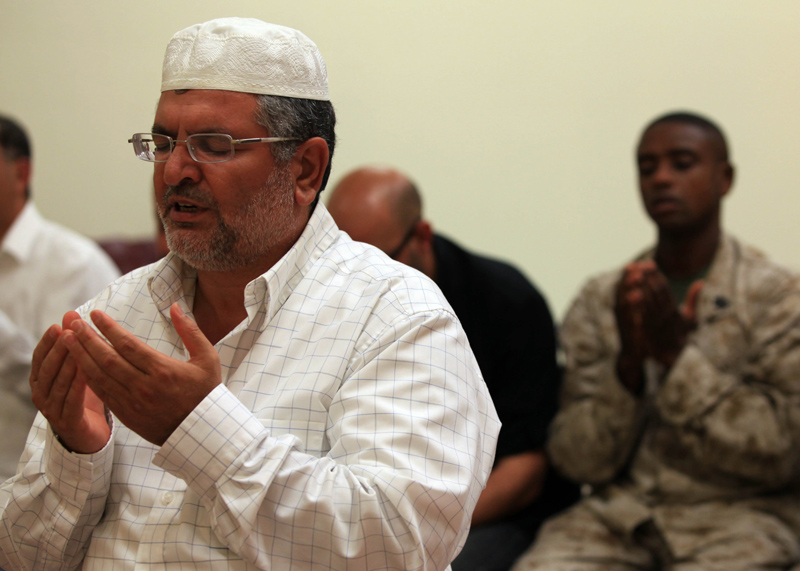 Imam Mahmoud Harmoush (left), of the Islamic Center of Temecula Valley, in Riverside, California, recently gave a Jew-hating public sermon. (Image source: US Marin Corps/Lance Cpl. Derrick Irions)
From Lebanon to Norway -- now most recently in California -- pulpits at mosques are ripe with raw Jew-hate. This hate is not denounced by the immediate community. When news broke recently that Imam Ammar Shahin of the Islamic Center in Davis, California, delivered a one- hour war-drum sermon against Jews concerning the Al Aqsa mosque in Jerusalem, the imam and the members of mosque stood shamelessly behind his bidding to "Liberate the Al Aqsa mosque from the filth of the Jews. Annihilate them down to the very last one."
That is a call for genocide.
On the same day, in front of a congregation of Friday worshippers, another imam, Mahmoud Harmoush, in Riverside, California, also gave a Jew-hating sermon. Harmoush openly said:
by A.Z. Mohamed • August 10, 2017 at 4:00 am
If H.R. McMaster, President Trump's national security adviser, were merely exhibiting a misunderstanding of how things work in the Middle East, it would be bad enough. Yet this is not the greatest problem with his attitude towards Israel and the Palestinians. More serious is his anti-Israel, pro-Palestinian bias, as an article in the Conservative Report, based on comments by senior West Wing and defense officials, reveals.
According to the piece, "McMaster has emerged as a man fiercely opposed to strengthening the U.S. alliance with the Jewish state" -- one who "constantly refers to the [historically false] existence of a Palestinian state before 1947," and "who describes Israel as an 'illegitimate,' 'occupying power.'" More recently, as a source told the Conservative Report, after the terrorist attack on the Temple Mount in Jerusalem on July 14, 2017 -- committed by three Arab Israelis against two Druze Israeli Border Police officers -- McMaster called Israel's placement of metal detectors at the site "just another excuse by the Israelis to repress the Arabs."

As Middle East scholar Daniel Pipes explains, peace is achieved through victory over one's enemies, not by appeasement or dangerous compromises.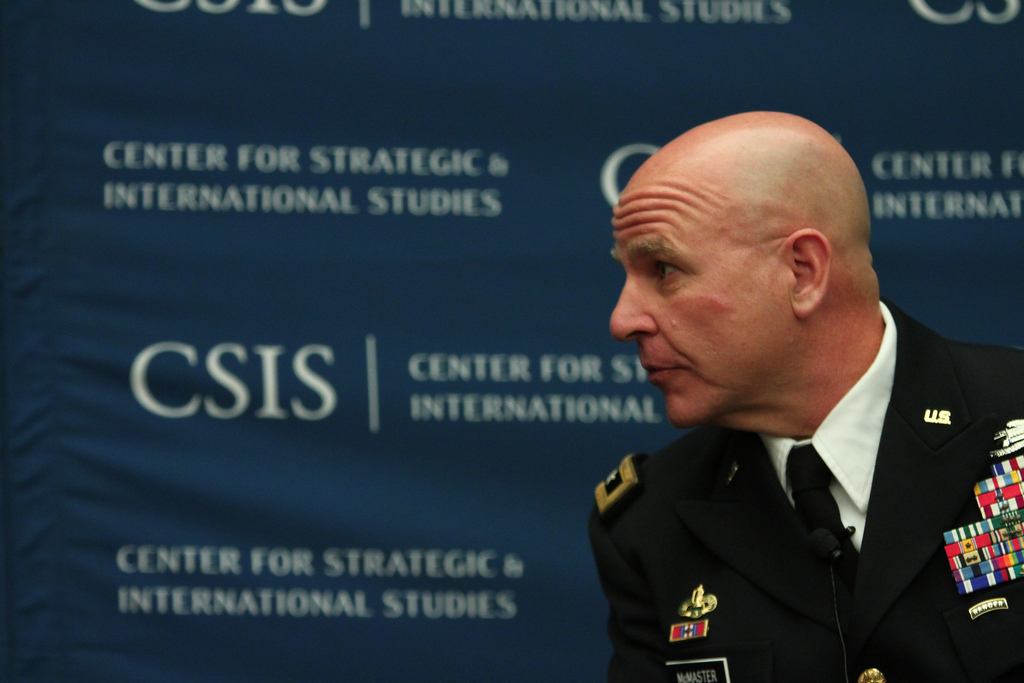 H.R. McMaster, pictured in 2013. (Image source: CSIS/Flickr)
In his address to the American Jewish Committee's Global Forum in Washington on June 4, 2017, U.S. President Donald Trump's national security adviser, H.R. McMaster, pointed to a "reassessment of regional relationships, most notably between Israel and a number of our Arab partners -- all friends of America, but too often adversaries of each other."
McMaster was referring to the counter-terrorism initiative that President Donald Trump launched two weeks earlier in Saudi Arabia. McMaster called the move "an opportunity."
Judging by his previous statements -- for example, during a speech in honor of Israel Independence Day at the Israeli Embassy in Washington in May -- McMaster considers one aspect of this opportunity to be a resolution to the Palestinian-Israeli conflict. This is where his approach is misguided, if not totally counter-productive.