Bassam Tawil

: The Foreign Press Association's Unlimited Bias

John R. Bolton

: The Military Options for North Korea
by Bassam Tawil • August 4, 2017 at 5:00 am
The truth is that in nearly most Arab and Muslim countries, there is no such thing as a "Foreign Press Association." That is because Arab and Islamic dictatorships do not allow such organizations to operate in their countries.

The second question that comes to mind in light of the Foreign Press Association's opposition to Israel's security measures is: What exactly are the foreign journalists demanding from Israel? That Israeli authorities allow them to run around freely while Palestinian rioters are hurling stones and firebombs at police officers? Are the journalists saying that Israelis have no right to safeguard their own lives?

Outrageously, the FPA is nearly stone-deaf when it comes to wrongdoing by Palestinians. Where is the outcry of the organization when a Palestinian journalist is arrested or assaulted by the Palestinian Authority (PA) in the West Bank or Hamas in the Gaza Strip? Where is the outcry over PA President Mahmoud Abbas's recent decision to block more than 20 news websites?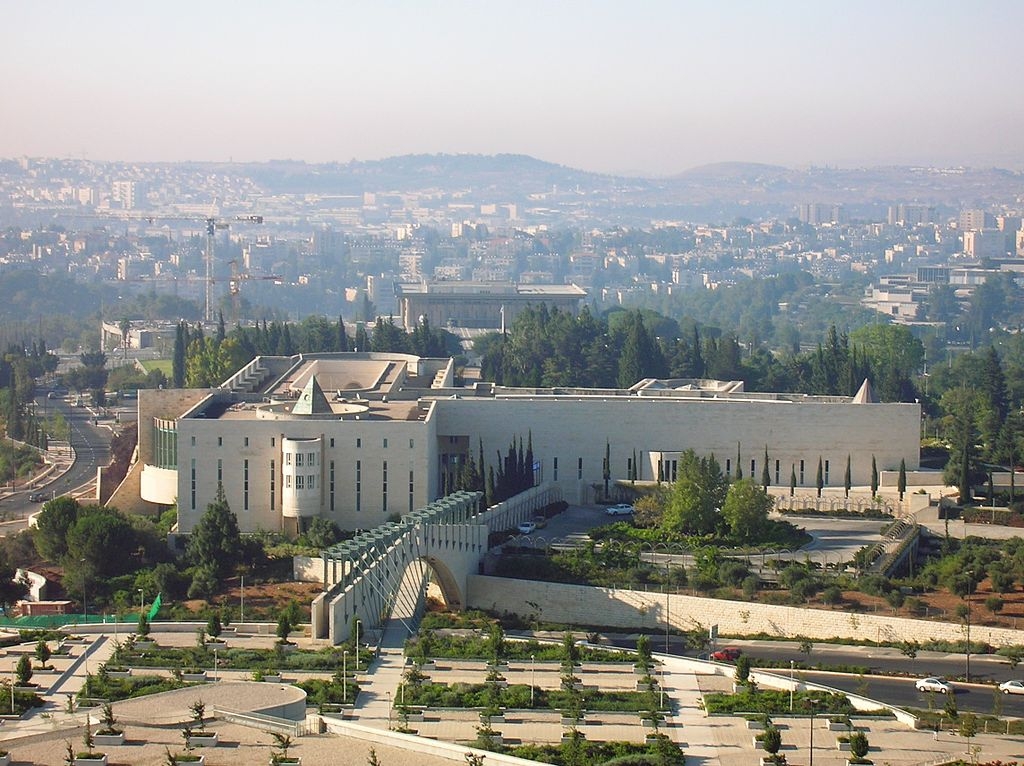 The Foreign Press Association in Israel, which has often served as a platform for airing anti-Israeli sentiments, this week filed a petition to Israel's High Court of Justice (pictured) challenging the actions and behavior of Israeli security forces toward journalists during Palestinian riots. (Image source: Almog/Wikimedia Commons)
The Foreign Press Association (FPA), an organization representing hundreds of foreign journalists who work for various media outlets in Israel, is upset. What seems to be the problem? In their view, recent Israeli security measures in Jerusalem are preventing reporters from doing their jobs. The FPA's position, expressed in at least two statements during the past three weeks, came in response to Israeli security measures enforced in the city after Muslim terrorists murdered two police officers at the Temple Mount on July 14.
by John R. Bolton • August 3, 2017 at 10:00 am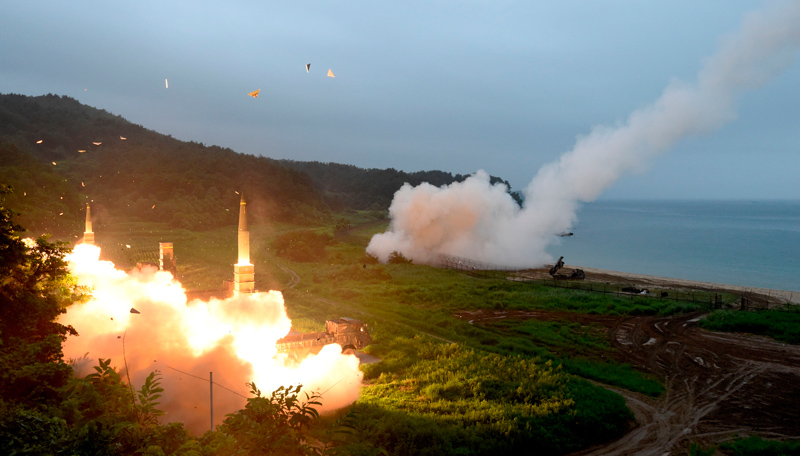 The U.S. and South Korean militaries fire missiles into the East Sea during a South Korea-U.S. joint missile drill aimed to counter North Korea's ICBM test on July 29, 2017. (Photo by South Korean Defense Ministry)
North Korea test-launched on Friday its first ballistic missile potentially capable of hitting America's East Coast. It thereby proved the failure of 25 years of U.S. nonproliferation policy. A single-minded rogue state can pocket diplomatic concessions and withstand sustained economic sanctions to build deliverable nuclear weapons. It is past time for Washington to bury this ineffective "carrots and sticks" approach.
America's policy makers, especially those who still support the 2015 Iran nuclear deal, should take careful note. If Tehran's long collusion with Pyongyang on ballistic missiles is even partly mirrored in the nuclear field, the Iranian threat is nearly as imminent as North Korea's. Whatever the extent of their collaboration thus far, Iran could undoubtedly use its now-unfrozen assets and cash from oil-investment deals to buy nuclear hardware from North Korea, one of the world's poorest nations.