Khaled Abu Toameh

: The Palestinians' "Creativity for Hate"

Maher Gabra

: Imam Who Called for Annihilation of All Jews Is in Fact Routine
by Khaled Abu Toameh • August 8, 2017 at 5:00 am
The angry reactions to the joint Palestinian-Israeli summer camp in the US should be seen in the context of the Palestinians' strong opposition to all forms of "normalization" with Israel.

Most comments posted by Palestinians and other Arabs in response to the joint Palestinian-Israeli camp vilify the Palestinian girls and their families. The postings brand them as traitors, sluts, filthy people who are not ashamed to be seen in the company of Israeli girls. Then there is the barrage of abuse that is not fit for print.

Such campaigns will surely warn any Palestinian leader against seeking real peace with Israel.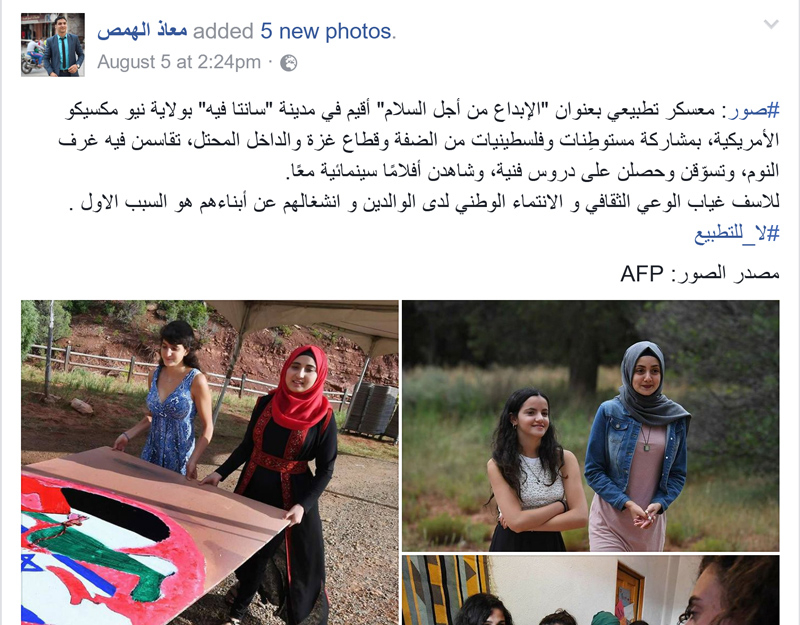 Mu'ath Al-Hims' remarks on Facebook, criticizing the parents of Palestinian girls who allowed their daughters to socialize with Israeli girls.
Palestinian teenage girls are facing ridicule and hate for attending a summer camp for coexistence in the US The camp, which brings Palestinian and Israeli girls together, is organized by Creativity for Peace, an organization in Santa Fe, New Mexico. Since 2003, up to 20 Israeli and Palestinian girls, aged 15 to 17, each year have participated in the Creativity for Peace camp.
Photos of the Israeli and Palestinian girls enjoying their time together have enraged many Palestinians and other Arabs, who took to social media to express their disgust and outrage over the event and hurl abuse at the Palestinian participants.
by Maher Gabra • August 8, 2017 at 4:00 am
In fact, many prominent Islamic scholars argue that even if the current Israeli-Palestinian conflict did not exist, hating Jews would remain an Islamic duty.

In short, what the Egyptian-American imam repeated is simply what he learned at Al-Azhar University in Cairo. The US should look more in depth at what Al-Azhar teaches, before it allows more Azhar graduates to spread their radical ideology.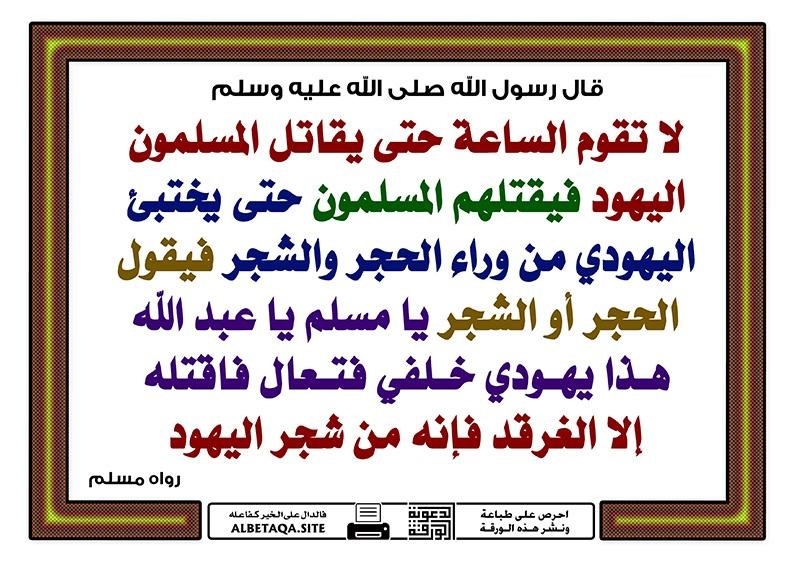 A poster of the hadith calling on Muslims to fight the Jews and kill them. The fine print at bottom encourages people to print and distribute it.
On July 21, 2017, Imam Ammar Shahin, in a sermon at Davis Mosque in California, called for the annihilation of all Jewish people. He used a hadith (record of the traditions or sayings of the Prophet Muhammad) that quoted the prophet Mohammed:
"The last hour won't come before the Muslims would fight the Jews and the Muslims will kill them so Jews would hide behind rocks and trees. Then the rocks and trees would call: Oh Muslim, oh servant of God! There is a Jew behind me, come and kill him, except the "gharqad" tree, it is of Jews' trees."
The Middle East Media Research Institute (MEMRI) translated what he said, and then some media outlets (mostly conservative) spoke about it. Shireen Qudosi, a Muslim reformer started a petition, which I signed, urging the mosque to fire him.