by Giulio Meotti • March 19, 2017 at 5:00 am
"Erasmus... came to Holland because it was a haven for freedom of thought." — Han ten Broeke, candidate for foreign minister in Prime Minister Mark Rutte's government.

The Islamic supremacists in the Netherlands see themselves as redeemers, rescuing the West from Fortuyn's "decadence": drugs, prostitution, gay life, a blasphemous press. But will the Dutch establishment be able to defend these freedoms?
You can be gay, decadent and willing to fight for your freedoms. If you are just gay and decadent, you are doomed.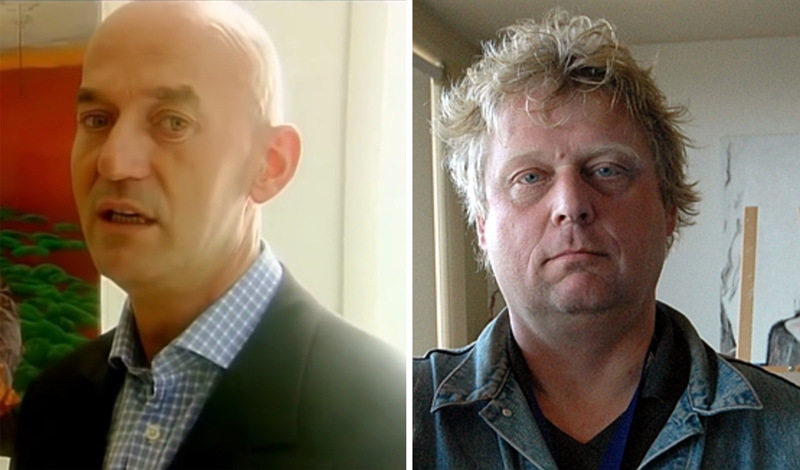 The Netherlands has already had two political assassinations related to Islam: the politician Pim Fortuyn (left), and Theo van Gogh (right), a filmmaker. (Image sources: Van Gogh - Wikimedia Commons; Fortuyn - Forza! Nederland video screenshot)
General elections in the Netherlands are over, but now begins a much bigger campaign: who will defend the famous Dutch freedoms?
Only in the Netherlands is it conceivable that a politician such as Geert Wilders, a brave maverick who for 13 years, 24 hours a day, has lived under police protection; held rallies while wearing a bulletproof vest; moved from one secret location to another one and was guarded as if he were an Asian potentate. The country has already had two political assassinations related to Islam: the politician Pim Fortuyn, and the filmmaker, Theo van Gogh. Another Dutch MP at the time, Ayaan Hirsi Ali -- whose name, with Wilders's, was next on the hit-list pinned with a knife to van Gogh's corpse -- ended up fleeing to the United States. Only Wilders's protection, generously provided by the Dutch government, has so far avoided a third political murder.
by Jacobus E. Lato • March 19, 2017 at 4:00 am
The doctrine, "all Muslims are your brothers and sisters," was now everywhere.

Community prayers, Friday prayers, newspapers and television programs started roaring the idea of Islamic supremacy.

At community prayer meetings, one often hears discussion on how to behave as Muslims. Now many seminars, conventions, and newspapers, especially during Ramadan, discuss the greatness of Muslims and Islam.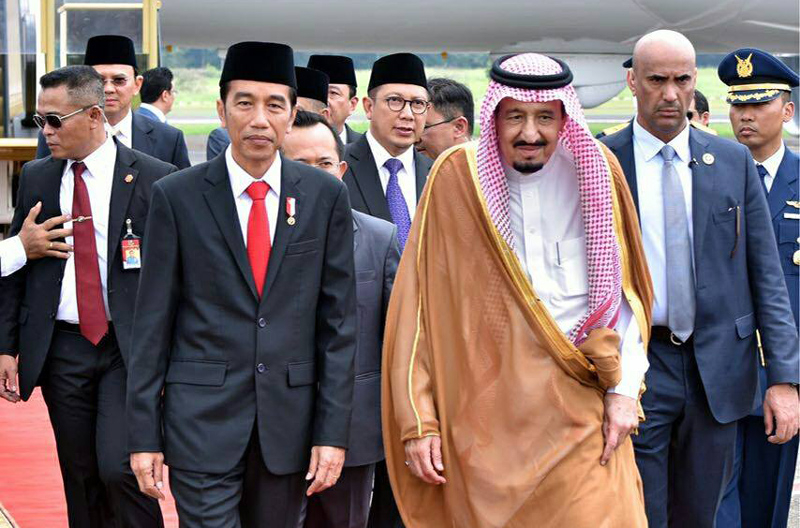 President Joko Widodo of Indonesia (foreground, left) meets with King Salman of Saudi Arabia (foreground, right), at Halim Perdanakusuma Airport in Indonesia. (Image source: Indonesian Presidential Palace)
My kampong [village] lies in the suburbs of Surabaya, the second biggest city in Indonesia. Densely packed in a narrow alley, it consists of more than forty houses, stacked like logs, with no gaps at all to sneak in between. A handful of residents work for the government or public schools; some run small household shops. Most residents are Muslim, except for three families who are Christian.
A handful of plants provide us with green, but just down the road scattered stores have been soaring: a big franchise department store, a gas station, banks with long rows of automatic teller machines and facilities that make us feel like a small part of growing Indonesia.