Vijeta Uniyal

: Germany's Quest for 'Liberal' Islam

Masha Gabriel

: Will El País Stop Its "Spanish Inquisition"?
by Vijeta Uniyal • July 6, 2017 at 5:00 am
However, the media-driven PR campaign backfired as the news of the opening of the Berlin 'liberal mosque' reached Muslim communities in Germany and abroad. The liberal utopian dream quickly turned into an Islamist nightmare.

Why do Muslim organizations in Germany fail to mobilize within their communities and denounce Islamist terrorism? Because, if there really is a belief that "international terrorism should not be depicted as a problem belonging to Muslims alone" this view seems to indicate that, in general, Muslims do not see it as their problem.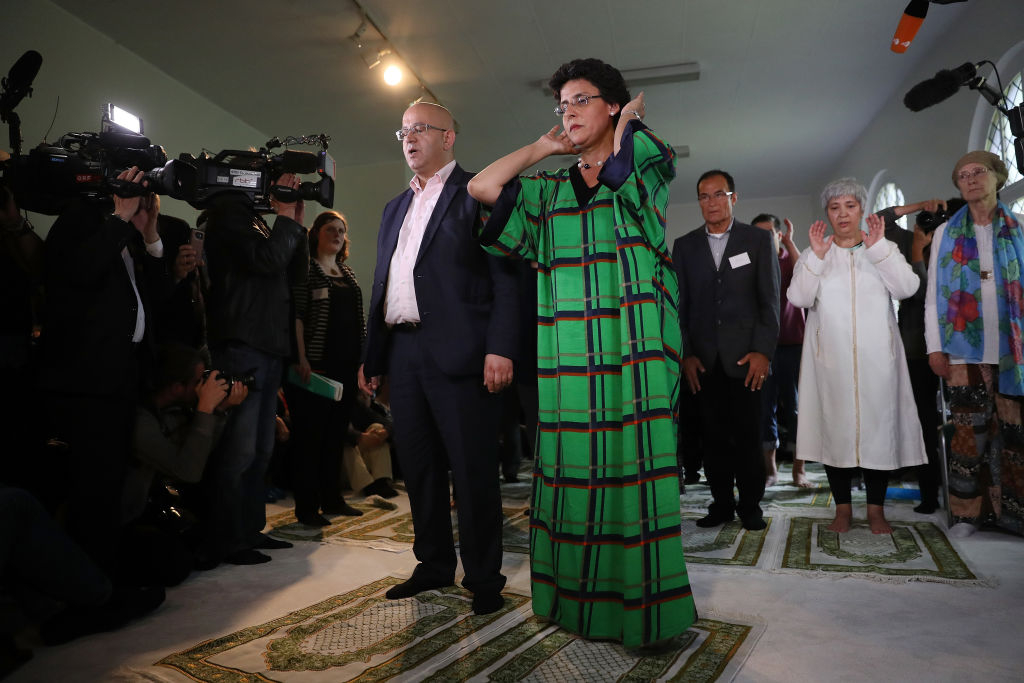 Prayers at the opening of the Ibn-Rushd-Goethe Mosque in Berlin, Germany on June 16, 2017. Seyran Ates, the mosque's female imam, is pictured in the second row, wearing a white robe. (Photo by Sean Gallup/Getty Images)
The newly unveiled 'liberal mosque' in Berlin was supposed to showcase a 'gentler' Islam. An Islam that could be reformed and modernized while it emerges as the dominant demographic force in Europe. German public broadcaster Deutsche Welle touted the opening of the mosque as a "world event in the heart of Berlin."
"Everyone is welcome at Berlin's Ibn Rushd-Goethe Mosque," Deutsche Welle wrote, announcing the grand opening last month. "Women and men shall pray together and preach together at the mosque, while the Koran is to be interpreted 'historically and critically.'"
German reporters and press photographers, eager to give glowing coverage, thronged to witness the mosque's opening on July 16 and easily outnumbered the handful of Muslim worshipers. Deutsche Welle reported: "fervent enthusiasm in the media and political realm."
by Masha Gabriel • July 6, 2017 at 4:00 am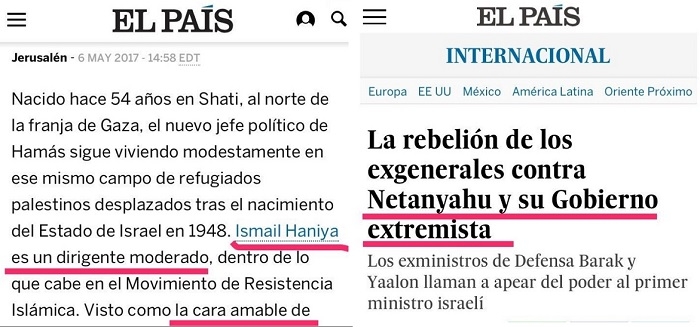 Ismail Haniyeh, a senior official of Hamas, the terrorist organization that controls the Gaza Strip, was referred to by El País as "moderate" and "pragmatic," while Israeli Prime Minister Benjamin Netanyahu was described by the paper as the leader of a "radical" and "extremist" government.
Over the past year, Spain's flagship newspaper, El País, has reemerged as the anti-Israel publication that it used to be. Until 2009, when it changed its approach to coverage of the Middle East, El País was so openly hostile to the Jewish state that 14 members of the US. Congress sent a letter to then-Spanish Prime Minister José Luis Rodríguez Zapatero, to express concern over the systematic publication of "articles and cartoons conveying crude anti-Semitic canards and stereotypes" in the pages of El País.
That year, the paper began to present a more balanced view of the Israeli-Palestinian conflict, and even ceased the practice of referring to Tel Aviv -- rather than Jerusalem -- as the Israeli capital. It continued in this vein for the next seven years.
In 2016, however, El País reverted to its old ways, as the following three examples illustrate: