by Dr. M. Zuhdi Jasser • June 26, 2017 at 8:30 pm
Any cutting or prick upon a female's genitalia that is not actually, absolutely medically necessary, but rather demanded by twisted interpretation of religion and misogynistic manifestations of culture, is abuse.

Even if, one were to submit that the medical part of the procedure could possibly be done with no physical trauma (and that is a big fictitious 'if'), the whole intent of the procedure is ceremonially to desexualize women and place their bodies under patriarchal control. No physician or modern culture that respects the equality of men and women should agree to participate in a procedure based in hate or supremacy....There is no compromise for the free world with the misogyny, abuse, and torture of the familial, community and individual oppressive forces involved in the draconian Islamist behaviors around FGM. It was a false compromise and a false moral equivalency with male circumcision.

The AMA Board of Trustees six months later returned an opinion in our favor in June 2017, which basically stood by existing AMA policy that any and all forms of FGM including nicking were prohibited by the AMA and thus deemed to be entirely inappropriate and unethical...Some courtroom reports in the government's case against Dr. Nagarwala in Detroit are that in fact some of the 7–year-old girls suffered significant physical harm and scarring despite the defendant's claim of only a pin-prick.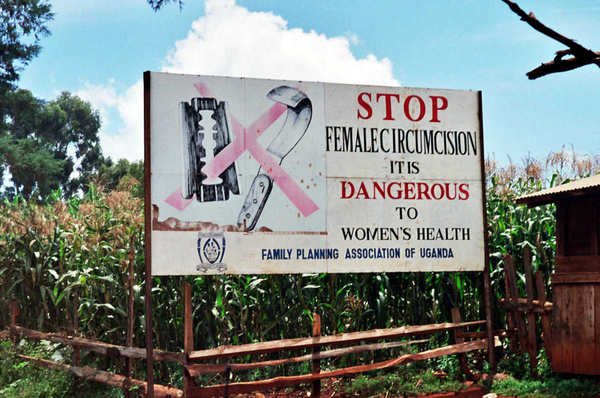 A campaign against female genital mutilation – a road sign near Kapchorwa, Uganda. (Photo from Wikimedia Commons)
Some of America's most respected attorneys have been willing to earn the ire of their colleagues and critics for the sake of what is right and good defending the rights of Muslims. Many Americans have also defended the rights of Muslims to pray and to have access to halal food. These positions, while not always popular in certain circles, are consistent with America's commitment to religious liberty and the first amendment of the Constitution. Many of us Muslims have appreciated and applauded these outspoken heroes for their commitment to religious liberty and principled positions on matters pertaining to free speech and human rights. They have often taken stances representative of the best of America's commitment to freedom.