Bassam Tawil

: Palestinians: Why Abbas Cannot Stop Funding Terrorists

Maria Polizoidou

: Greece: A Drug-Smuggling Case with Global Implications
by Bassam Tawil • June 26, 2017 at 5:00 am
This is their way of expressing their gratitude to those who have chosen to "sacrifice" their lives by trying to murder Jews. It is also their way of encouraging young people to join the war of terrorism against Israel. The financial aid sends a specific message: Palestinians who are prepared to die in the service of murdering Jews need not worry about the welfare of their families.

The more years a Fatah terrorist serves in Israeli prison, the higher the salary he or she receives. Some Fatah terrorists held in Israeli prison are said to receive monthly stipends of up to $4,000. Many of them are also rewarded with top jobs in both Fatah and the Palestinian Authority (PA). Why should any Palestinian go to university and search for a job when he can make a "decent living" murdering Jews?

Such a plan to dry up the funds that support terrorists and their families, is doomed from the start unless these leaders reverse their behavior and embark on a process of de-radicalizing their people.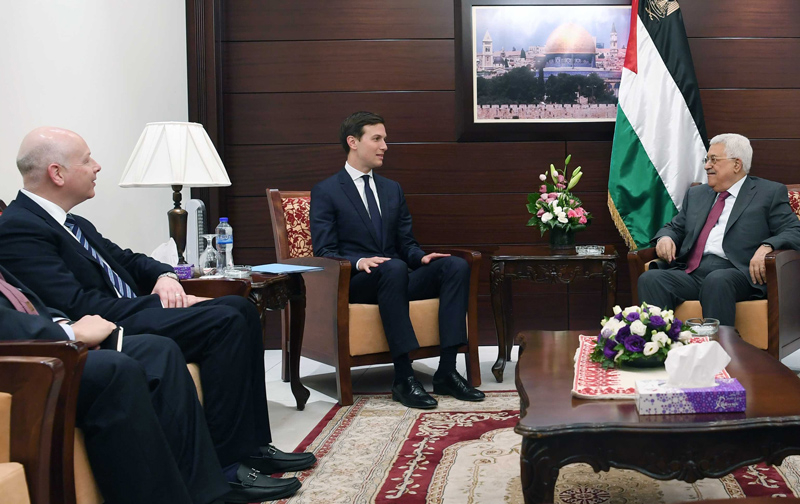 In his recent meeting with US presidential envoys Jason Greenblatt (left) and Jared Kushner (center) in Ramallah, an enraged Mahmoud Abbas (right) rejected their demand that he halt payments to terrorists and their families. (Photo by Thaer Ghanaim/PPO via Getty Images)
For the record, this is not a defense of Palestinian Authority (PA) President Mahmoud Abbas or of funding terrorists. It is simply an explanation of what is taking place. Nonetheless, it is worth noting that the idea of ending payments to Palestinian terrorists and their families is a challenging one, to say the least. Old habits, especially of hate, are hard to break.
The practice of paying salaries to terrorists and the families of "martyrs" is as old as the Palestine Liberation Organization (PLO), which was founded in 1964. It did not start after the establishment of the Palestinian Authority (PA) in 1994. Nor did this practice start after Abbas was elected as president of the PA in January 2005.
Prior to the establishment of the PA, the PLO relied solely on Arab and Islamic financial aid to pay salaries to imprisoned terrorists and the families of those killed in terror attacks against Israel.
by Maria Polizoidou • June 26, 2017 at 4:00 am
If even the partial information that Efthimios (Makis) Yiannousakis revealed during the interviews is true, the upper echelons of Greek society have good reason to want to silence him.

The true culprit, however, is the "deep state" and its links to Iran, through the drug trade. It is an open secret by now that heroin revenues are used by Middle East regimes to fund terrorist and other questionable organizations, such as ISIS, Hezbollah, Hamas and the Muslim Brotherhood. The case of the Noor 1 illustrates one of the ways that both the drugs themselves and terrorist operations are exported to Europe.

The possible direct and indirect involvement of figures at the highest levels of Greek society makes it nearly impossible for the government alone to get to the bottom of the case, and protect key witnesses from bodily harm. It needs help now, preferably from the U.S. Justice Department and security agencies. The complete dismantling of the drug-terrorism circuit is not only a pressing issue for Greece. It is an international security imperative.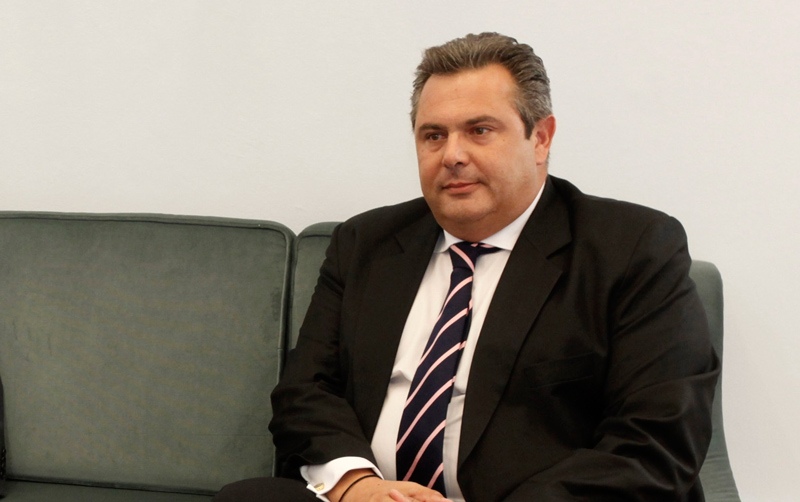 Greek Defense Minister Panos Kammenos. (Photo by Yorgos Karahalis-POOL/Getty Images)
New details surrounding a three-year-old drug-smuggling case in Greece are causing a political storm that could have global implications.
In June 2014, the Greek Coast Guard uncovered and seized 986 kilograms of heroin stashed in a warehouse in a suburb of Athens, and another 1,133 kilograms in two other locations, claiming that the more than two tons of drugs -- valued at $30 million -- had been smuggled on a tanker, the "Noor 1," from the "territorial waters between Oman and Pakistan."
As was reported by Gatestone last December, the heroin, which was to be distributed throughout Europe -- in addition to 18 tons of oil also smuggled on the Noor 1 -- originated in Iran. Two years later, in August 2016, a criminal court in Piraeus sentenced five of the defendants, two Greeks and three foreign nationals, to life imprisonment. Among these was the (now former) owner of the Noor 1, Efthimios (Makis) Yiannousakis.