Judith Bergman

: Europe: Journalists Against Free Speech

John R. Bolton

: Thanks to Obama, America is two steps behind Iran in Middle East

A. Z. Mohamed

: Canada's Anti-Islamophobia Motion
by Judith Bergman • October 24, 2017 at 5:00 am
Gone is all pretense that journalism is about reporting the facts. These are the aims of a political actor.

Being bought and paid for by the EU apparently counts as "press freedom" these days.

According to the guidelines, journalists should, among other things, "Provide an appropriate range of opinions, including those belonging to migrants and members of minorities, but... not... extremist perspectives just to 'show the other side'.... Don't allow extremists' claims about acting 'in the name of Islam' to stand unchallenged.... where it is necessary and newsworthy to report hateful comments against Muslims, mediate the information."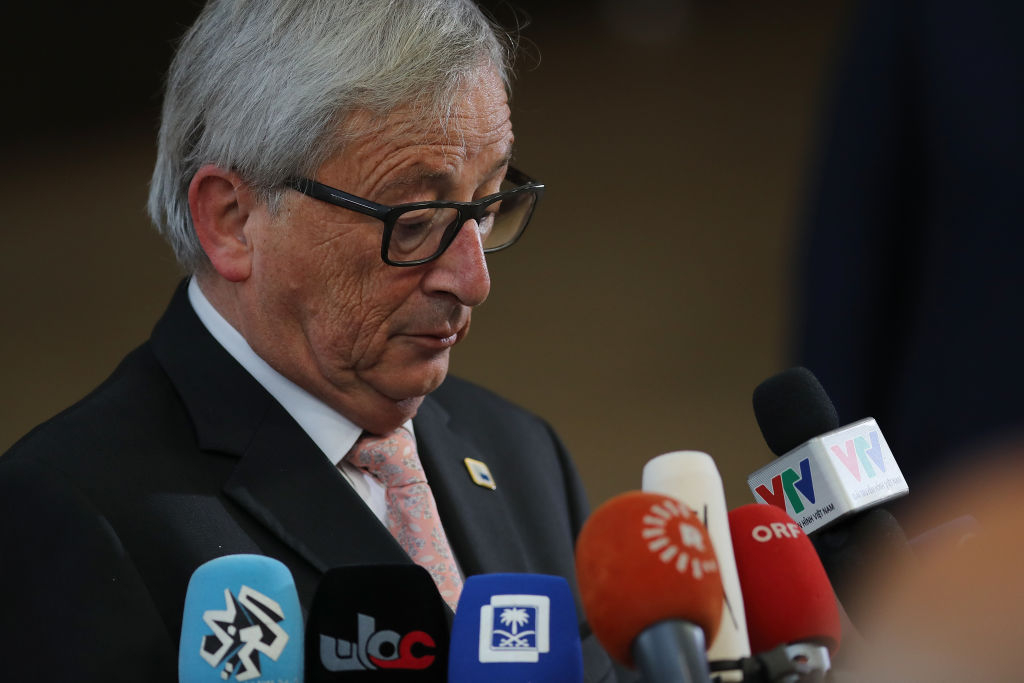 The EU, the biggest political player Europe, works openly at influencing the "free press" with its own political agendas. In September, EU Commission President Jean-Claude Juncker (pictured) made it clear that whatever Europeans may think -- polls repeatedly show that the majority of Europeans do not want any more migrants -- the EU has no intention of putting a stop to migration. (Photo by Dan Kitwood/Getty Images)
The European Federation of Journalists (EJF), "the largest organization of journalists in Europe, represents over 320,000 journalists in 71 journalists' organizations across 43 countries," according to its website. The EJF, a powerful player, also leads a Europe-wide campaign called "Media against Hate."
The "Media against Hate" campaign aims to:
"counter hate speech[1] and discrimination in the media, both on and offline... media and journalists play a crucial role in informing...policy ... regarding migration and refugees. As hate speech and stereotypes targeting migrants proliferate across Europe... #MediaAgainstHate campaign aims to: improve media coverage related to migration, refugees, religion and marginalised groups... counter hate speech, intolerance, racism and discrimination... improve implementation of legal frameworks regulating hate speech and freedom of speech..."
by John R. Bolton • October 24, 2017 at 4:00 am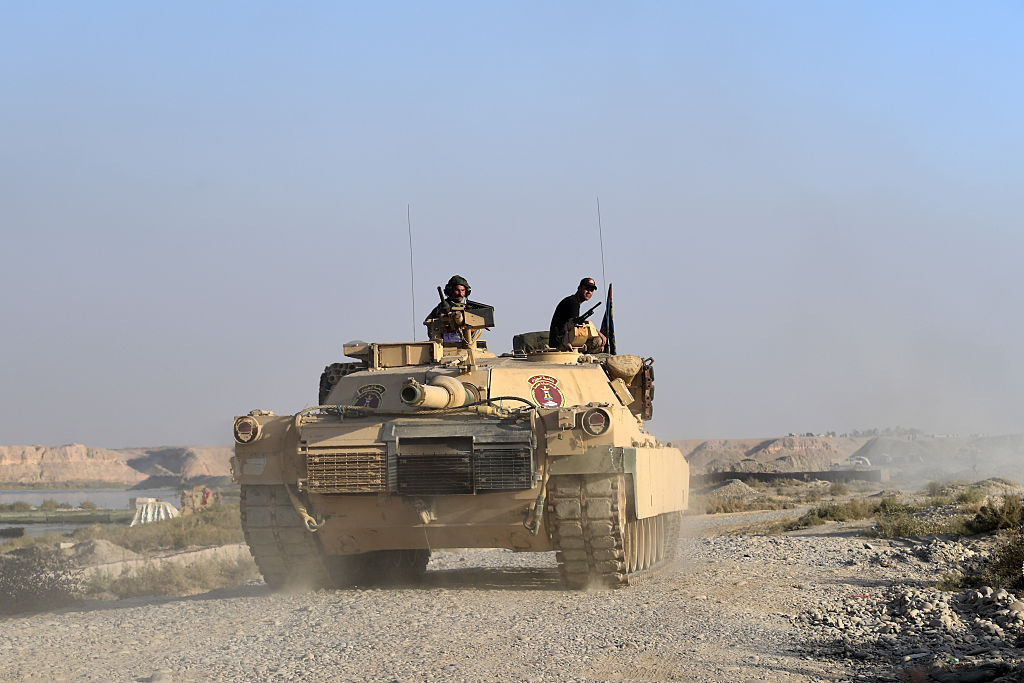 Washington should recognize Kurdish independence and urgently supply training and equipment, particularly armor and artillery which the Kurds need to withstand the U.S. equipment previously supplied to Baghdad's forces. Pictured: An Iraqi army M1 Abrams tank, supplied by the United States. (Photo by Carl Court/Getty Images)
The fall of Raqqa, capital of the Islamic State's "caliphate" in Syria and Iraq, is unarguably an important politico-military milestone, albeit long overdue. Nonetheless, ISIS, a metastasized version of Al Qaeda, remains a global terrorist threat, and prospects for Middle Eastern stability and security for America's interests and allies are still remote.
Even as ISIS was losing Raqqa, Iraqi regular armed forces and Shia militia were attacking Kirkuk and its environs, held by Iraqi Kurds since June 2014, when ISIS burst out of Syria and seized large swathes of territory from Baghdad's collapsing army.
by A. Z. Mohamed • October 24, 2017 at 4:00 am
Even though at this stage, M-103 is non-binding, as one of its supporters -- Samer Majzoub, president of the Canadian Muslim Forum and affiliated with the Muslim Brotherhood -- wrote, "Now that Islamophobia has been condemned, this is not the end, but rather the beginning."

It sounds as if the next step is to try to make a non-binding resolution binding; and as if the eventual aim is to reinforce and legitimize the term Islamophobia, to limit freedom of speech, and to prevent Canadians from criticizing radical Islam, Islamic sharia, and practices such as wife- beating, honor killing and female genital mutilation (FGM).

Fear or anger toward radical Islam and Muslims are unlikely to be caused by an "irrational hatred and fear of Islam," or "Islamophobia". They are, however, likely to be triggered by global radical Islamic terrorist attacks and as more people become aware of the aggressive and intolerant nature of many Quranic verses, of the Muslims Prophet's hadiths, of what Canadian Muslim clerics (imams) are preaching and of radical Islam.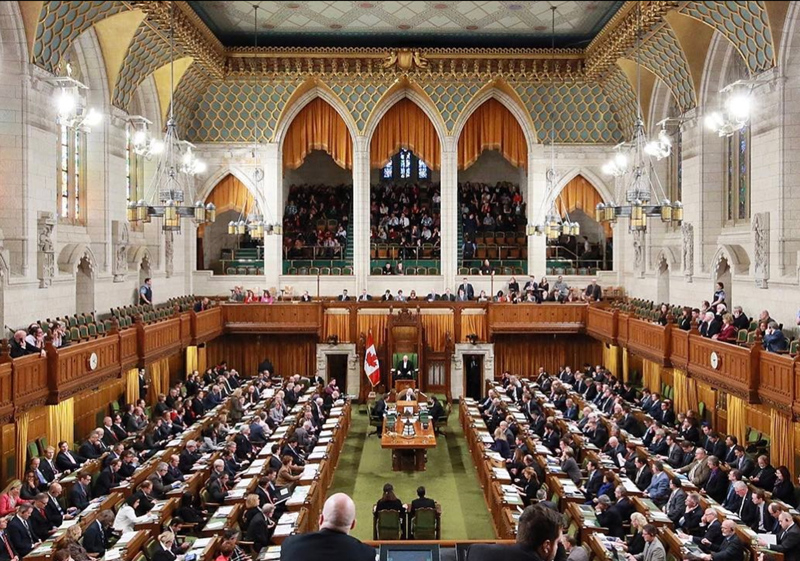 (Image source: Parliament of Canada)
The Canadian Liberal Party's anti-Islamophobia motion, M-103, is not a law; it is a non-binding formal proposal, an opinion by Parliament. The motion's text calls on the government to "condemn Islamophobia and all forms of systemic racism and religious discrimination."
However, the House of Commons Heritage Committee heard on September 27 that it is more likely to lead to "thought control, oppression, disharmony and criminalization of non-Muslims, " according to the National Post.
The hearing also revealed that there are many doubts about the motion's vague language. Committee members spent much of the time, the National Post added, trying to explain exactly what M-103 means.
The controversial motion passed 201 votes to 91 in March, after months of bitter debate, and protests and counter-protests, across Canada, and in the aftermath of the January 29 mosque shooting in Quebec City, where six Muslim men were murdered.