by Khaled Abu Toameh • October 27, 2017 at 5:00 am
The notion that Hamas would ever dismantle its security apparatus and deliver the Gaza Strip to Mahmoud Abbas's forces is a fantasy.

It is estimated that there are about 50 different militias operating in the Gaza Strip. These militias are said to be in possession of about a million pieces of weaponry.

If Hamas refuses to disarm, that is one thing, but when Abbas's supposed loyalists also come out with similar statements, that this is akin to spitting in the face of the Palestinian Authority president.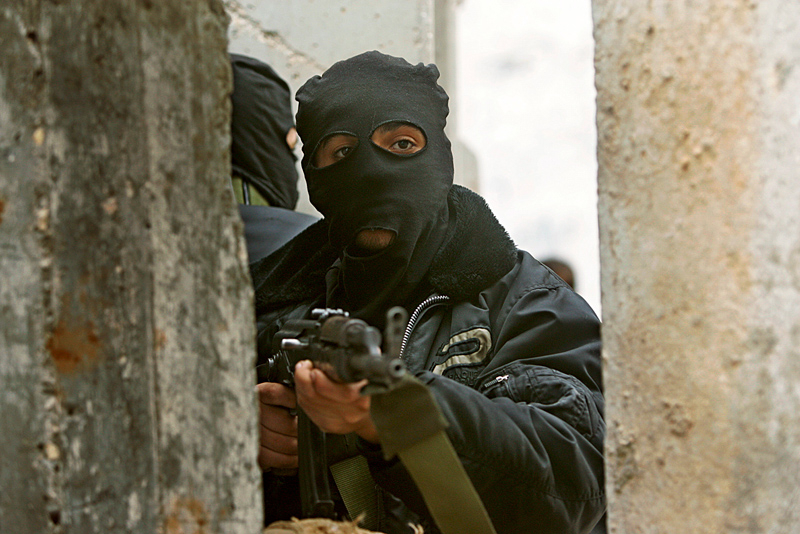 Masked gunmen from a Fatah militia are pictured on January 30, 2007 in Jabalia, in the northern Gaza Strip, during a period of armed clashes between Fatah and Hamas. Later that year, Hamas expelled Fatah and seized complete control of the Gaza Strip. (Photo by Abid Katib/Getty Images)
Palestinian Authority (PA) President Mahmoud Abbas says he does not want to see "militias" in the Gaza Strip if and when the "reconciliation" agreement he reached with Hamas is implemented. "The Palestinian leadership will not accept the model of militias in the Gaza Strip because it isn't a successful one," Abbas told the Chinese news agency Xinhua. "There should be one authority, one law and one weapon, with no militias."
Hamas, for its part, has already rejected Abbas's demand. Hamas has said it has no intention of disarming despite the "reconciliation" agreement recently signed in Cairo. "We can't give up our weapons and because the Palestinian people are still in the phase of national liberation," said Yehya Sinwar, the Hamas leader in the Gaza Strip. "We also can't and won't recognize Israel."