Giulio Meotti

: Europe's New Official History Erases Christianity, Promotes Islam

Peter Huessy

: Win-Win: How Tax Reform Will Help Defense Spending and the Economy
by Giulio Meotti • October 18, 2017 at 5:00 am
"The patrons of the false Europe are bewitched by superstitions of inevitable progress. They believe that History is on their side, and this faith makes them haughty and disdainful, unable to acknowledge the defects in the post-national, post-cultural world they are constructing." — The Paris Statement, signed by ten respected European scholars.

German Interior Minister Thomas de Maizière's proposal to introduce Muslim public holidays shows that when it comes to Islam, Europe's official "post-Christian" secularism is simply missing in action.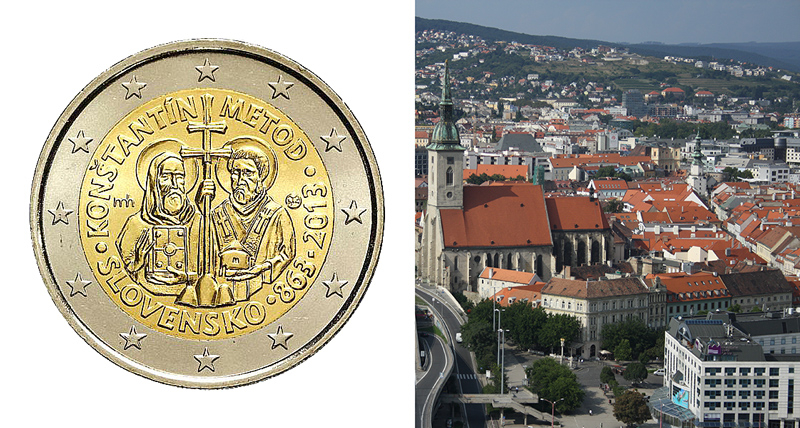 The European Commission ordered Slovakia to redesign its commemorative coins by eliminating the Christian Saints Cyril and Methonius. (Image sources: Coin - European Commission; Bratislava, Slovakia - Frettie/Wikimedia Commons)
A few days ago, some of Europe's most important intellectuals -- including British philosopher Roger Scruton, former Polish Education Minister Ryszard Legutko, German scholar Robert Spaemann and Professor Rémi Brague from the Sorbonne in France -- issued "The Paris Statement". In their ambitious statement, they rejected the "false Christendom of universal human rights" and the "utopian, pseudo-religious crusade for a borderless world". Instead, they called for a Europe based on "Christian roots", drawing inspiration from the "Classical tradition" and rejecting multiculturalism:
by Peter Huessy • October 18, 2017 at 4:00 am
While America's adversaries have been increasing their defense budgets and the power of their armed forces, the United States has been doing the opposite.

Although the Senate and House Armed Services Committees passed a bill for 2018 that would exceed President Trump's defense budget request, there is still the problem of the 2011 Budget Control Act, which caps defense spending at an extremely low level. Modernization has been curtailed significantly.

Unfortunately, there remains a widely held assumption that unless tax reform is "revenue-neutral," deficits will increase. The trouble with this assumption is that although revenue-neutral tax reform may make the system more efficient or fair, it neither increases government revenue nor generates additional investment in the private sector. The purpose of the new tax-reform plan is to do both: increase revenue and spur economic growth at the same time.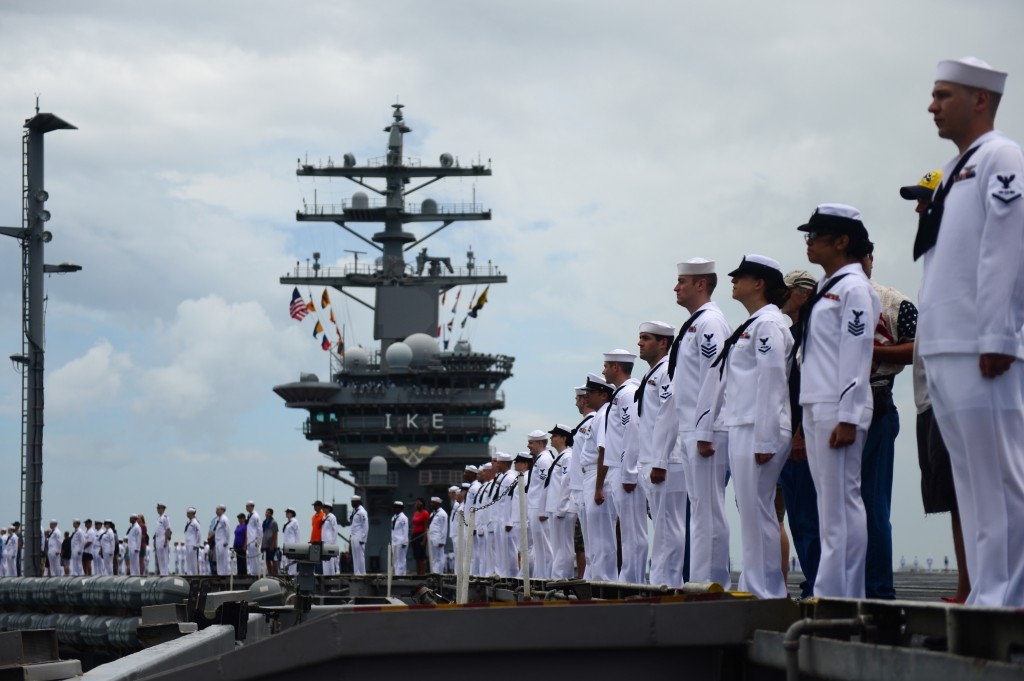 (Image source: U.S. Navy)
One crucial aspect of the new tax reform bill, unveiled by President Donald Trump and the "Big Six" group of Republican tax negotiators at the end of September, is the potentially positive effect it will have on the US defense budget, which is sorely in need of an increase.
The assertion made by former President Barack Obama during his final State of the Union address in January 2016, that the United States spends "more on our military than the next eight nations combined," bolstered the belief that America's national-security needs are beyond being met. However, as a recent Heritage Foundation report reveals, such claims, which have led to the conclusion that the United States allocates an excessive amount to the defense budget, are "disingenuous," as they "give no consideration to the decisions driving defense spending or the factors contributing to costs across national economies."