Judith Bergman

: Ramadan: "A Month of Great Conquests"

Denis MacEoin

: UK Government to Hold Pro-Terrorism Expo in London?

Soeren Kern

: Germany: Wave of Muslim Honor Killings
by Soeren Kern • May 30, 2017 at 5:00 am
The court heard how Amer K. stabbed the mother of his three children in the chest and neck more than twenty times with a large kitchen knife, because he thought she wanted to divorce him.

"Then he takes the knife and plunges it into her chest, [penetrating] the pericardium and heart muscle. A second stab opens the left abdominal cavity. Nurettin B. then pulls out the ax. With the blunt side he hits her head, cracking her skull. Then he grabs the rope. On one end he ties a gibbet knot around her neck, then he ties the other end to the trailer hitch on [his car].. He races through the streets at 80 km/h [until] the rope breaks." — State Prosecutor Ann-Kristin Fröhlich, reconstructing the husband's actions.

In Ahaus, a 27-year-old Nigerian asylum seeker stabbed to death a 22-year-old woman after she seemingly offended his honor by rejecting his romantic advances.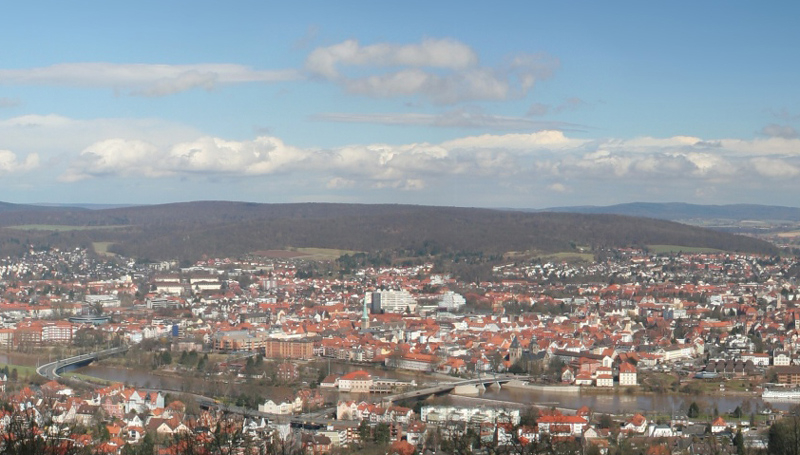 The picturesque town of Hamelin, Germany was the scene of horrific honor violence, when a Turkish-born Kurd named Nurettin B. attempted to murder one of his three wives. (Image source: Martin Möller/Wikimedia Commons)
The trial of a Kurdish man who tied one of his three wives to the back of a car and dragged her through the streets of a town in Lower Saxony has drawn attention to an outbreak of Muslim honor violence in Germany.
Honor violence — ranging from emotional abuse to physical and sexual violence to murder — is usually carried out by male family members against female family members who are perceived to have brought shame upon a family or clan.
Offenses include refusing to agree to an arranged marriage, entering into a relationship with a non-Muslim or someone not approved by the family, refusing to stay in an abusive marriage or living an excessively Western lifestyle. In practice, however, the lines between crimes of honor and crimes of passion are often blurred and any challenge to male authority can elicit retribution, which is sometimes staggeringly brutal.
by Denis MacEoin • May 30, 2017 at 4:30 am
"'Friends of Al-Aqsa' is one of the more extremist Islamist organizations at work in Britain today. It supports the Muslim Brotherhood-linked charity 'Interpal' (proscribed by the US Treasury) and advertises it on its website. It collaborates with the Khomenist Iranian-funded faux human rights organization known as the Islamic Human Rights Commission in organizing events such as Al Quds day at which public support is expressed for the Iranian proxy militia Hizbollah." — UK Media Watch.

Under these definitions, Hamas is exposed as a terrorist organization both by its repeated use of indiscriminate killing and the contents of its two Charters from 1988 and 2017.

"There is no solution for the Palestinian problem except through jihad..." — Hamas Charters of 1988 and 2017, Articles 18 and 21.

Hamas is not the only extremist organization to which Friends of Al-Aqsa has lent its support.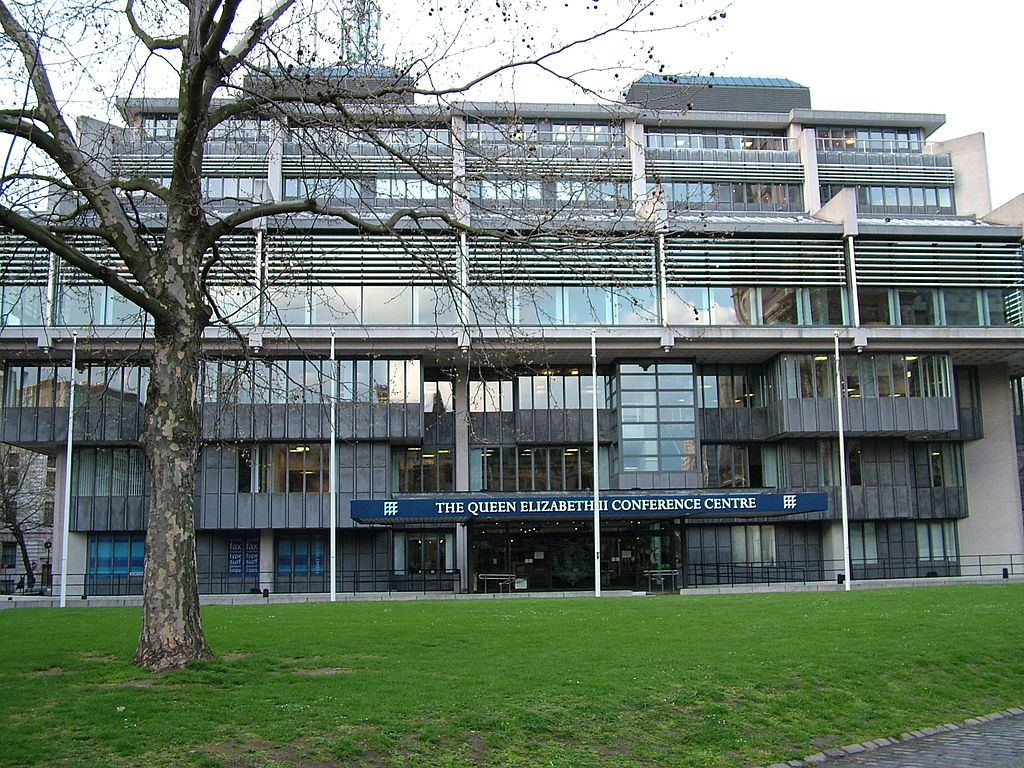 The Queen Elizabeth II Centre is the venue for the upcoming "Palestine Expo 2017", organized by the anti-Semitic pro-Hamas activist group, "Friends of Al-Aqsa". (Image source: Jdforrester/Wikimedia Commons)
Mere weeks after the terrorist attacks in Britain -- on May 22 in Manchester and earlier in Westminster -- there is planned in London, on July 8-9, a major event which its organizers describe as:
Palestine Expo: the biggest social, cultural and entertainment event on Palestine to ever take place in Europe. In a year of immense significance for Palestine, we are pleased to announce, Palestine Expo 2017
by Judith Bergman • May 30, 2017 at 4:00 am
"Ramadan has been not only a month of worship and of growing close to Allah the Almighty, but also a month of action and jihad aimed at spreading this great religion... throughout [Muslim] history, Ramadan has been a month of great conquests....". — 'Ali Gum'a, then Grand mufti of Egypt, Al-Ahram in July 2012.
"According to Islamic practice, sacrifice during Ramadan can be considered more valuable than that made at other times, so a call to martyrdom during the month may hold a special allure to some." — Report by the U.S. State Department-led Overseas Security Advisory Council, The Independent, June 9, 2016.

"Jihad in the Arabic language... means: ...striving... where the cause/objective is goodness & justice...Holy war [is] not an expression in the Qur'an: War is NEVER holy." — Anna Cole, 'inclusion specialist' for the UK Association of School and College Leaders (ASCL), which represents more than 18,000 head teachers and college leaders.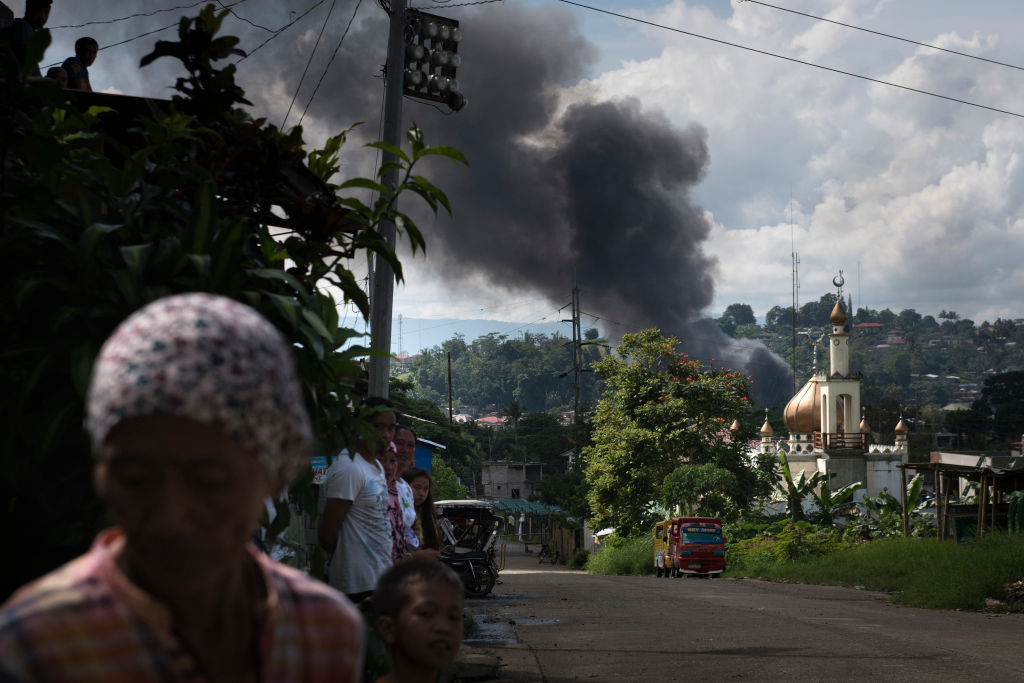 Smoke rises from the scene of fighting in Marawi city, southern Philippines, on May 30 The Philippine Army is fighting the Islamic Abu Sayyaf terrorist group in the streets of the city. Abu Sayyaf murdered 14 Christians and wounded more than 50 in bombing attacks since Ramadan began on May 26. (Image source: Jes Aznar/Getty Images)
"Our fight is Jihad and an obligatory worship. And every obligatory act of worship has 70 times more reward in Ramadan," said Zabihullah Mujahid, spokesman for the Taliban, rejecting U.N.-led calls for halting hostilities during Ramadan.
ISIS also just released a YouTube message -- quoting the Quran -- urging its supporters to attack the "infidels... in their homes, their markets, their roads and their forums..."
"double your efforts and intensify your operations... Do not despise the work. Your targeting of the so-called innocents and civilians is beloved by us and the most effective, so go forth and may you get a great reward or martyrdom in Ramadan".
An article in the Ramadan issue of ISIS' Rumiyah magazine told readers to use the month of Ramadan to "maximise the benefit you receive on the day of judgement".