Travel Ban Supporters Note Concert Bomber from Country on List…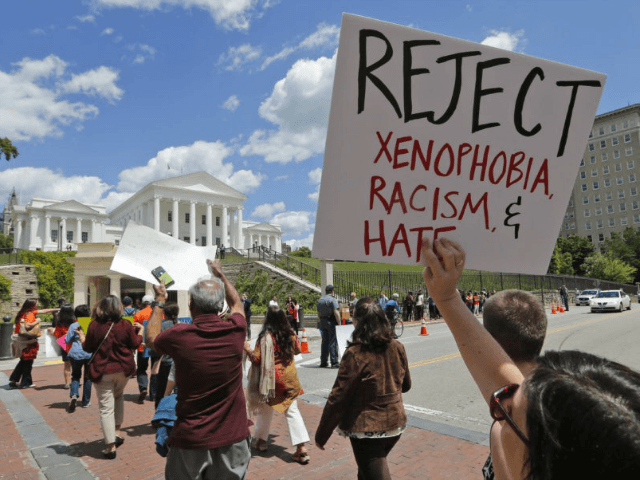 As the UK hunts down members and friends of a Libyan immigrant family after one of its British-born sons committed the worst terrorist atrocity on U.K. soil in 12 years, across the Atlantic the atrocity also highlights the dangers that made President Trump include Libya on the list of countries included in his much-maligned travel ban.
Salman Abedi, who was born in Britain in 1994 after his family fled from Libya to escape the regime of Dictator Muammar Gaddafi, detonated a bomb Monday at Manchester Arena at the end of an Ariana Grande concert. Abedi killed 22 people and injured dozens, many of whom were teenage girls and children.


While it was initially thought that Abedi may have been a lone wolf, by Wednesday Greater Manchester Police Chief Constable Ian Hopkins told reporters authorities are now investigating a "network" of terrorists and have arrested six people in the UK – including Abedi's older brother.
While some outlets were hyping up Abedi's supposed Britishness, ("He was a fan of Manchester United, like many in his soccer-obsessed hometown" began a New York Times profile on the Islamic jihadist), others have honed in on Abedi's Libyan roots as a possible key to both his motivation and possible collaborators.
Neighbours told reporters of Libyan flags being flown outside the home, as well as Abedi's penchant for praying in the street in Arabic. Abedi travelled back to Libya just weeks before the attack, purportedly to visit his parents. Abedi's father, Ramadan, was arrested by local authorities in Libya, as was one of Abedi's brothers – who Libyan authorities say travelled to Libya from Britain and who was a member of Islamic State, The New York Times reported.
In the U.K., questions have been raised about terror-related problems with Libyans in South Manchester, where Abedi was from. As Breitbart News reported Tuesday, areas such as Fallowfield, Longsight, Rusholme, and Levenshulme, have high concentrations of Muslims – with 2011 census data registering a 53.8 per cent Muslim population in Longsight, near where Abedi lived in Fallowfield.
Abdalraouf Abdallah, a Libyan refugee, was convicted last year of terror offences after helping a convert to Islam to travel to Syria to join Islamic State. A family friend told The Guardian that Abdallah and Abedi knew one another. The Daily Telegraph, in an article called "The Manchester Libyan connection — a recruiting ground for jihadists" puts South Manchester's terror problem in stark terms:

In total at least 16 jihadists, who have either been convicted of offences, have travelled to Syria or have died while fighting with [Islamic State], hail from a three mile radius around the south Manchester district which was home to Abedi.
These problems are the kind Trump was seeking to prevent in the U.S. by restricting immigration from terror hotspots – an issue which became a central part of his campaign. In January, Trump signed an executive order and a revised order after a court challenge in March, restricting immigration from a number of terror-prone countries – including Syria, Somalia, Iran, Sudan, Yemen, and Libya.
However, Trump's order is still challenged in court, and new data shows worrying signs of illegal immigration amongst immigrants from the North African country currently being torn apart by violence. A Department of Homeland Security report on visa overstays released this week found that in FY 2016, 43 percent of Libyan students in the U.S. on student visas overstayed their visas — suggesting monitoring of those in the U.S. is in need of improvement.
In the U.K. meanwhile, questions are being raised about not only the connection to Libya, but also how Abedi and his brothers – despite being monitored by security officials – were able to travel back and forth from the area without any alarm bells ringing.
Additionally, while many politicians and commentators in the U.K. initially attacked Trump for his travel ban, some believe that in the wake of the attack, the British public will be questioning its own policies when it comes to Muslim immigration.
"The public will, I think rightly, be wondering: 'OK we took this couple in as asylum seekers fleeing Gaddafi's Libya, and how did we get repaid? By their son going to Manchester Arena last Monday evening," Douglas Murray, author of The Strange Death of Europe, said on a podcast for The Spectator.
"And this now is going to the root of a very big, underlying, bubbling problem across our whole continent, which is this fear: 'What if this is the future? What if even our acts of goodness get repaid in this way?'" he said.
Adam Shaw is a politics reporter for Breitbart News based in New York. Follow Adam on Twitter: @AdamShawNY