Judith Bergman

: From Monty Python to Allah: London's New Mega Mosque

Nonie Darwish

: The Old Arab Fear Tactic That Came to Washington
by Judith Bergman • October 17, 2017 at 5:00 am
"We do not know what they are preaching as [it is] all in Arabic." — A petitioner against the Hussainiyat Al-Rasool Al-Adham mosque, in the middle of one of London's two largely Jewish areas.
"[Ayatollah Syed Mohammed Al-Shirazi]... would constantly encourage the establishment of Hussaini centers across the world, especially in non-Islamic countries... so we can propagate the teachings of the Ahlulbayt." — Leading members of the Hussainiyat Al-Rasool Al-Adham mosque describing its 30-year history and why it was established.
The Ayatollah Sayed Sadiq Hussaini Al-Shirazi, a leading Iranian cleric who resides in the city of Qom, has a list of religious centers and mosques with which he appears to be involved. Among them is the Hussainiyat Al-Rasool Al-Adham in London.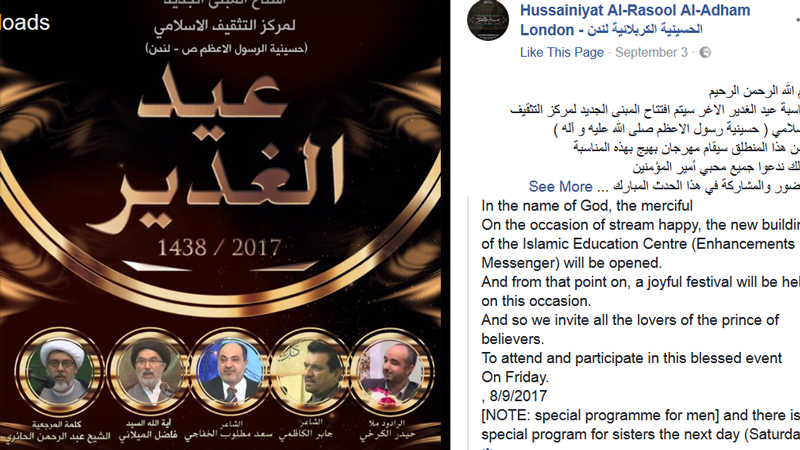 A partial screenshot of a post from the Hussainiyat Al-Rasool Al-Adham Facebook page, advertising the opening of the new mega mosque.
A new Shia Muslim mega mosque and Islamic center – measuring over 3,500 square meters and with room for 3,000 people -- has opened in Golders Green, one of only two largely Jewish areas in London. The Shia Muslim religious center, Hussainiyat Al-Rasool Al-Adham, owns the mosque.
by Nonie Darwish • October 17, 2017 at 4:00 am
The true threat to the US, the West, and even stable Arab governments, as Egypt is realizing, is political Islam as furthered by groups such the Muslim Brotherhood, ISIS, al-Qaeda and their offshoots.

This real threat has become a terrible burden to every Muslim head of state and is behind all the political chaos, coups and revolutions currently raging throughout the Islamic world.

In a chaotic, propaganda-prone area of the world, Qatar's Al Jazeera has always reported sympathetically about Islamist groups and promoters of sharia, and against moderate Arab leaders. No moderate leader could survive under such conditions.

It is unfortunate that the tactics of the Arab media -- to accuse people of collusion in order to silence any opposition -- have now moved into US mainstream media regarding Trump and Russia, which the US media would apparently like to regard as their new "enemies." This the same media that defends sharia law and inaccurately insists that Muslim terrorists who shout "Allahu Akbar" have "nothing to do with Islam."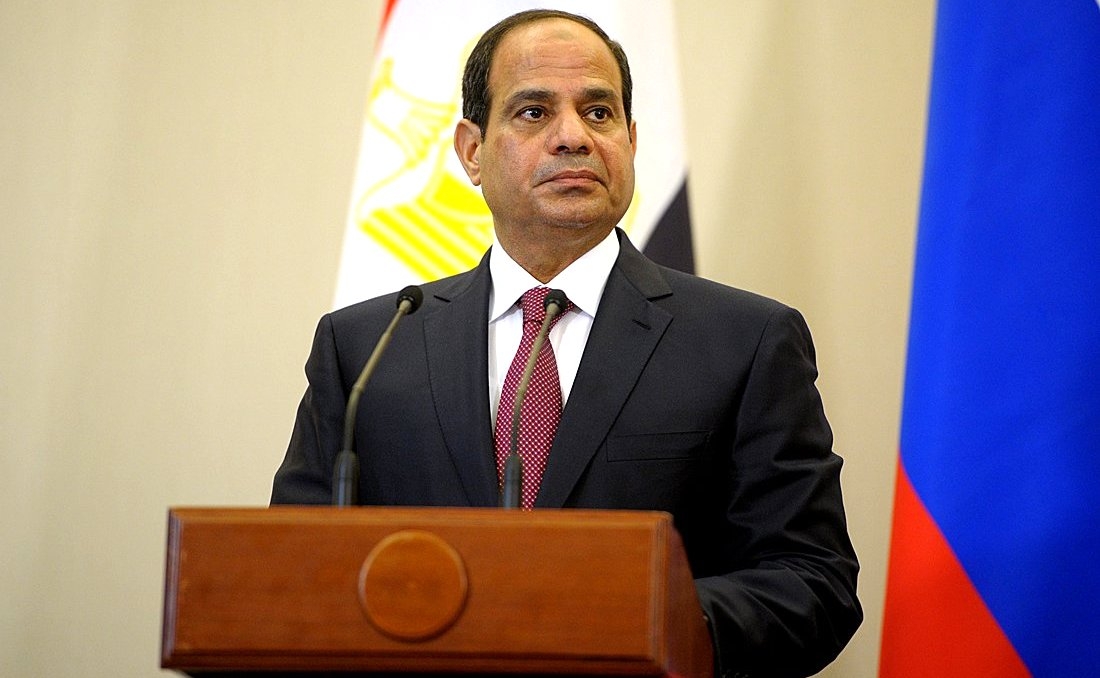 Egypt's President Abdel Fattah el-Sisi seems to want to encourage Egyptians to develop a fear of succumbing to radical propaganda that aims to bring down moderate governments. (Image source: Wikimedia Commons)
Now that the note supposedly showing "collusion" between the Trump campaign and Russia has been outed by Foreign Policy as mainly an attempted Russian hit-job on William Browder, what is the true threat to the United States?
For months, the lawless FBI has snubbing subpoenas (is complying with subpoenas optional?), and avoiding transparency under Special Counsel Robert Mueller[1] and his equally lawless, crime-"challenged" "investigation." The true threat to the United states -- if not Mueller and the FBI itself -- is not the president, his campaign or even the Russians. Moreover, it is not exactly a news-flash that many countries have been spying on one another for ages.
"Collusion with Russia" was just the the newest dirty word in American politics created by anti-Trump political operatives and the media. It seems intended to confuse the public in order to tarnish Trump's reputation and bring down his administration. It is an extremely old ruse.