Khaled Abu Toameh

: Palestinians: Victims of Arab Apartheid

Ruthie Blum

: Gaza Media Coverage: Snipers and Lies
by Khaled Abu Toameh • June 18, 2018 at 5:00 am
Tens of thousands of Palestinians are now living in a Lebanese ghetto called Ain Al-Hilweh, and the world seems to be fine with that.

No one cares when an Arab country mistreats and discriminates and kills Palestinians. But when something happens in the West Bank or Gaza Strip, the international media and community suddenly wake up. Why? Because they do not want to miss an opportunity to condemn Israel. One can only imagine the uproar in the world were Israel to pass a law denying Arabs jobs or the right to inherit property.

There are no protests on the streets of London or Paris. The UN Security Council has not -- and will not -- hold an emergency session to condemn Lebanon. Of course, the mainstream media in the West is not going to report about Arab apartheid and repressive measures against Palestinians. As for the leaders of the Palestinians in the West Bank and Gaza Strip, they do not have time to address the problems of the camp residents. The Palestinian Authority and Hamas are too busy fighting each other, and the last thing they have on their minds are the interests and well-being of their people.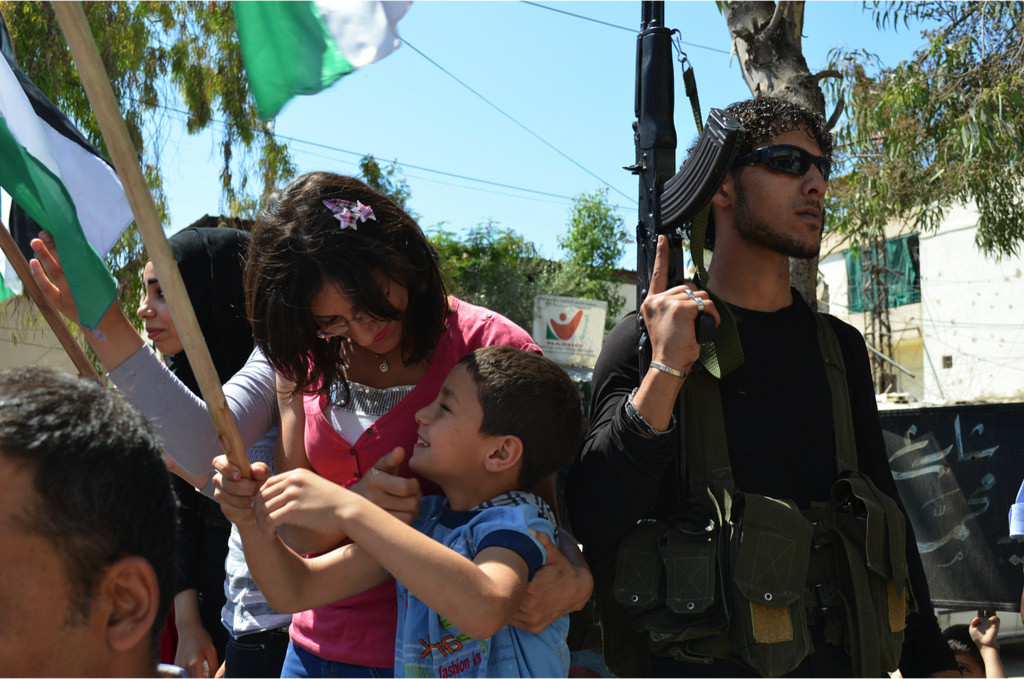 A July 2015 street celebration in Lebanon's Ain al-Hilweh camp. (Image source: Geneva Call/Flickr)
Lebanon is one of several Arab countries where Palestinians are subjected to discriminatory and apartheid laws and measures. The plight of Palestinians in Arab countries, however, is apparently of no interest to the international community, and pro-Palestinian activists and groups around the world.
Recently, the Lebanese authorities placed electronic screening gates at all entrances to Ain Al-Hilweh, the largest Palestinian refugee camp in Lebanon. The move has sparked a wave of protests in Ain Al-Hilweh and among Palestinians living in other refugee camps in Lebanon, who are describing the installation of the electronic gates as collective punishment.
Until a few years ago, Ain Al-Hilweh had a population of 75,000. However, with the influx of refugees from Syria, which began in 2011, the camp's population is now estimated at more than 160,000.
by Ruthie Blum • June 18, 2018 at 4:00 am
"We will take down the border [with Israel] and we will tear their hearts from their bodies." — Yahya Sinwar, Hamas political leader.

"[W]hen we talk about 'peaceful resistance,' we are deceiving the public. This is a peaceful resistance bolstered by a military force and by security agencies, and enjoying tremendous popular support." — Mahmoud Al-Zahar, senior Hamas official, on Al Jazeera.

When a doctor in Gaza announced that a congenital heart defect was likely the cause of her death, the Gaza health ministry removed her name from the list of those killed in clashes with Israel, pending an autopsy.

"Hamas' goal is to have Israel kill as many Gazans as possible so that the headlines always begin, and often end, with the body count. Hamas deliberately sends women and children to the front line, while their own fighters hide behind these human shields." — Alan Dershowitz, Esq.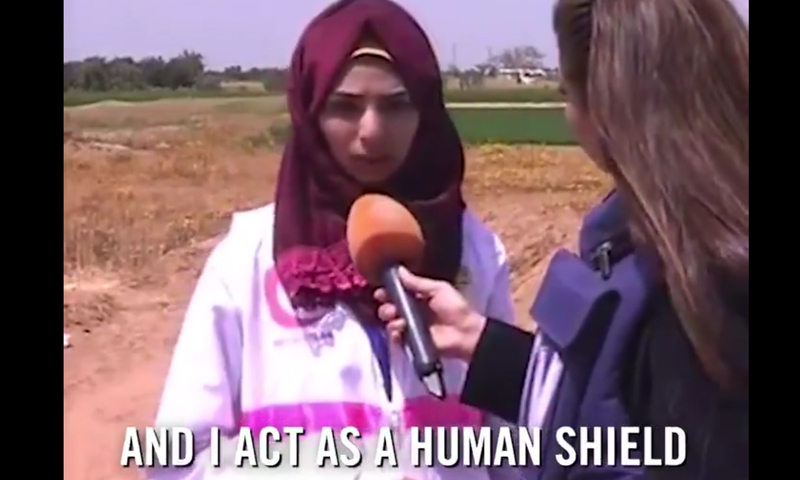 Razan al-Najjar, a 21-year-old Palestinian paramedic who was killed during a violent riot along the Gaza-Israel border, declared during a television interview at the scene of the riot that she was there to "act as a human shield" for the rioters. (Image source: IDF video screenshot)
On May 14, as United States officials ceremoniously relocated the American Embassy in Israel from Tel Aviv to Jerusalem, tens of thousands of Palestinians in Gaza -- many of them members of Hamas and Iran-linked Islamic Jihad, along with other residents paid to participate -- engaged in violent demonstrations along the Gaza-Israel border fence. Dubbed the "Great March of Return," these protests were launched on March 30 and timed to crescendo six weeks later, on the day of the U.S. Embassy move, which coincided with the 70th anniversary of the establishment of the state of Israel.
For weeks, rioters stormed the border, firing weapons and hurling Molotov cocktails and rocks at the Israeli soldiers who guard the area to prevent terrorist incursions into southern Israel.