by Guy Millière • June 13, 2018 at 5:00 am
Trump has shown the strength of the United States and restored its credibility in a region where strength and force determine credibility.

Trump more broadly laid the foundation for a new alliance of the United States with the Sunni Arab world, but he put two conditions on it: a cessation of all Sunni Arab support for Islamic terrorism and an openness to the prospect of a regional peace that included Israel.

Secretary of State Pompeo spoke of the "Palestinians", not of the Palestinian Authority, as in Iran, possibly to emphasize the distinction between the people and their leadership, and that the leadership in both situations, may no longer be part of the solution. Hamas, for the US, is clearly not part of any solution.

Netanyahu rightly said that Palestinian leaders, whoever they may be, do not want peace with Israel, but "peace without Israel". What instead could take place would be peace without the Palestinian leaders. What could also take place would be peace without the Iranian mullahs.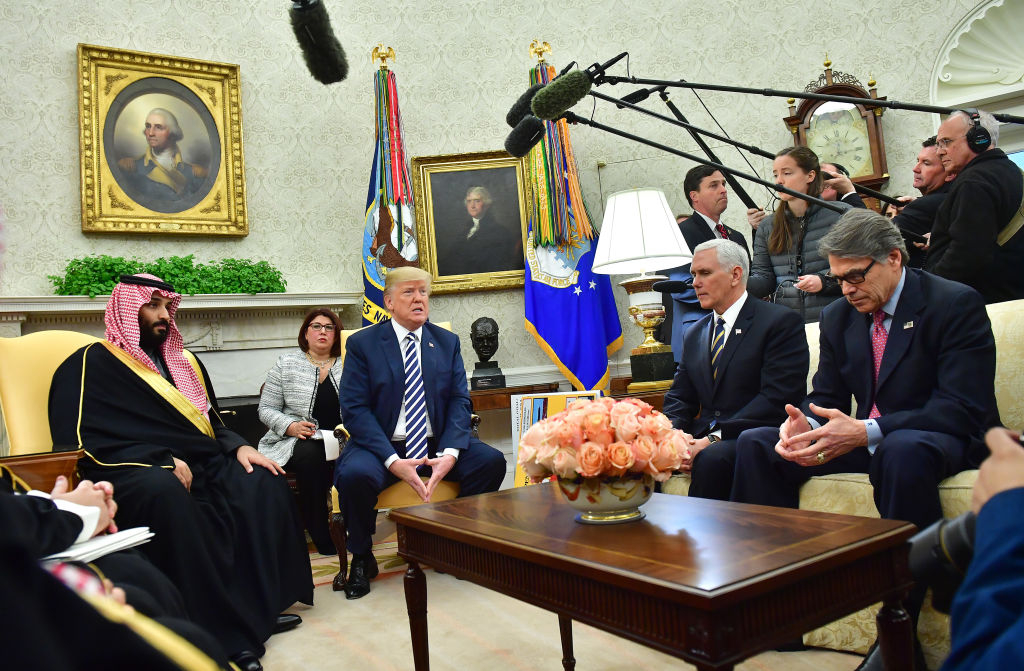 Pictured: President Donald Trump hosts Saudi Crown Prince Mohammed bin Salman at the White House on March 20, 2018, in Washington, D.C. (Photo by Kevin Dietsch-Pool/Getty Images)
After three successive American Presidents had used a six-month waiver to defer moving the US Embassy to Jerusalem for more than two decades, President Donald J. Trump decided not to wait any longer. On December 7, 2017, he declared that the United States recognizes Jerusalem as the capital of Israel; the official embassy transfer took place on May 14th, the day of Israel's 70th anniversary.
From the moment of Trump's declaration, leaders of the Muslim world expressed anger and announced major trouble. An Islamic summit conference was convened in Istanbul a week later, and ended with statements about a "crime against Palestine". Western European leaders followed suit. Germany's Chancellor Angela Merkel said that President Trump's decision was a "serious mistake" and could have huge "consequences". French President Emmanuel Macron, going further, declared that the decision could provoke a "war".