| | |
| --- | --- |
| | |
In this mailing:
by Soeren Kern • October 26, 2016 at 5:00 am
Despite the mounting human toll, most of the crimes are still being downplayed by German authorities and the media, apparently to avoid fueling anti-immigration sentiments.

"The police are not interested in stigmatizing but rather in educating the public. The impression that we are engaging in censorship is devastating to the public's confidence in the police. Sharing information about suspects is also important for developing prevention strategies. We must be allowed to talk openly about the problems of this country." — Arnold Plickert, director of the GdP Police Union in North Rhine-Westphalia.

"The Press Council believes that editorial offices in Germany should ultimately treat their readers like children by depriving them of relevant information. We think this is wrong because when people realize that something is being concealed from them, they react with mistrust. And this mistrust is a hazard." — Tanit Koch, editor-in-chief of Bild, the most-read newspaper in Germany.

On October 24, a YouGov poll found that 68% of Germans believe that security in the country has deteriorated over the past two or three years. Also, 68% of respondents said they fear for their lives and property in German train stations and subways, while 63% feel unsafe at large public events.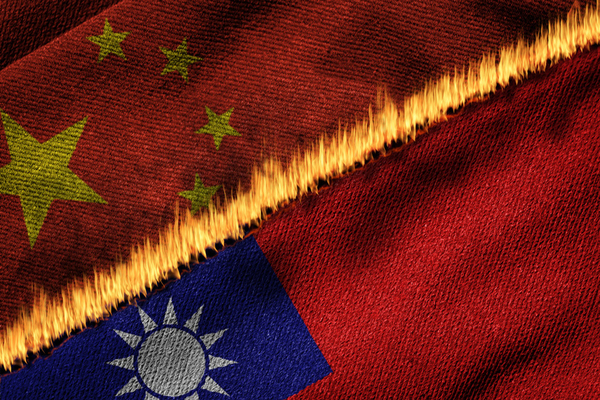 An angry crowd of German protestors in Cologne repeatedly yell "Where were you New Year's Eve?" at police on January 9, 2016, referring to the mass sexual attacks perpetrated in the city by migrants on New Year's Eve, in which more than 450 women were sexually assaulted in one night.
A group of Serbian teenagers in the northern German city of Hamburg were handed suspended sentences for gang-raping a 14-year-old girl and leaving her for dead in sub-zero temperatures.
The judge said that although "the penalties may seem mild to the public," the teens had all made confessions, appeared remorseful and longer posed a danger to society.
The October 24 ruling, which effectively allowed the rapists to walk free, provoked a rare moment of public outrage over the problem of migrant sex crimes in Germany. An online petition calling for the teens to see time in prison has garnered more than 80,000 signatures, and prosecutors are appealing the verdict.
Thousands of women and children have been raped or sexually assaulted in Germany since Chancellor Angela Merkel welcomed into the country more than one million mostly male migrants from Africa, Asia and the Middle East.
by Burak Bekdil • October 26, 2016 at 4:30 am
Erdogan fights anyone and anything outside the sphere of his understanding of Sunni Islamism. His arguments typically reflect an Islamist's angry inner thoughts, feelings of "defeat against the non-Muslim West" and a "powerful urge to reverse the world order in favor of political Islam."

Erdogan is not honest even when he insists on a Muslim contingent in the UN Security Council. He would be angry if the UN, as he passionately suggests, agreed on a Muslim seat and gave it to Shiite Iran. No, he wants a Sunni seat.

That is at the core of Erdogan's not-so-silent (and never-ending) war with the West: (Sunni) Muslim nations should be deciding on matters shaping world politics, not others.

Erdogan's Turkey is a solitary nation. It does not belong to Europe, hence its failure to join the EU. Theoretically it is a NATO ally and a "strategic partner" of the US. In reality, it is hostile to Western civilization and the US is only a tactical partner -- as long as it helps Islamists advance their political ambitions, not a partner with shared democratic values.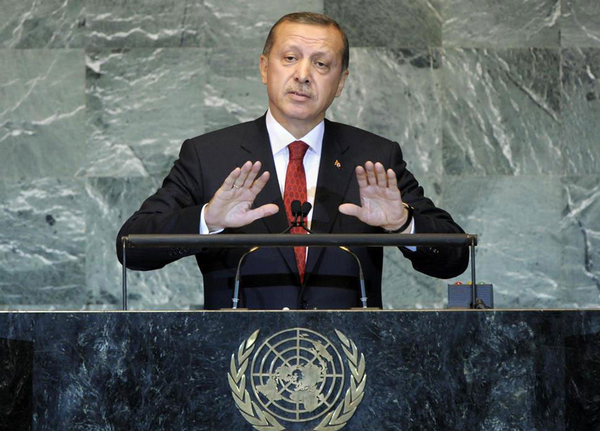 Turkey's President Recep Tayyip Erdogan now insists on a (Sunni) Muslim contingent in the UN Security Council. Pictured: Erdogan addresses the UN General Assembly on September 23, 2011. (Image source: United Nations)
It is true that the worst enemy of Turkey's Islamist President Recep Tayyip Erdogan is another Islamist who was Erdogan's best political ally for several years. It is also true that Erdogan, publicly or privately, feels hostility against a number of Muslim communities in the Middle East, including secular and Alevi Muslims in Turkey, the Nusairi (Alawites) in Syria and the Shiite in Iran, Lebanon and Bahrain.
It is not a secret, either, that Erdogan does not admire Jews, to put it mildly. But essentially, his strict adherence to political Islam often reveals his war of domination with non-Muslim Western civilization in a broader context. Erdogan fights anyone and anything outside the sphere of his understanding of Sunni Islamism.
by Denis MacEoin • October 26, 2016 at 4:00 am
The Palestinian "resistance" is not a struggle to create a Palestinian state next to the state of Israel.No group or leader within the "resistance" movement has ever considered that their goal. Their position is summed up in the slogan chanted by many students and pro-Palestinian groups, "Palestine will be free, From the river [Jordan] to the [Mediterranean] sea".

It is not, in fact, illegal in the slightest for the Jews to be in a country in which they have continuously lived for 3000 years. The only title to the land the Palestinians seem to have is that under the Ottoman empire, the land had been subject to Muslim governance; and if one applies Islamic law, rather than common law, any land that has once been under Muslim control must stay that way forever -- including of course "el-Andalus," all of southern Spain and Portugal.

Seamus Milne added that Palestinians in Gaza have the right to "defend themselves" and claimed: "It isn't terrorism to fight back. The terrorism is the killing of citizens by Israel on an industrial scale." No, the terrorism is the tens of thousands of rockets and missiles fired from Gaza into Israel for more than a decade.

Given that Gaza had long been unoccupied by anyone at that date and that Israel had never killed "citizens" on an industrial scale, we can see something at play totally at odds with reason, fact, and political knowledge. That something is creeping out from beneath an unpleasant rock, and that it has a deep connection with anti-Semitism, if it is not anti-Semitism in its purest modern form.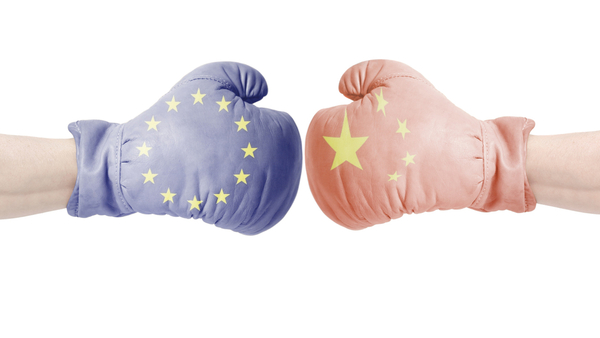 In 2009, Jeremy Corbyn (left) said: "It will be my pleasure and my honour to host an event in Parliament where our friends from Hezbollah will be speaking. I also invited friends from Hamas to come and speak as well." Pictured in the middle is Hezbollah leader Hassan Nasrallah. Pictured at right is Hamas leader Ismail Haniyeh.
A central feature of Labour's anti-Semitism is a staggering failure to understand the difference between traditional hatred of Jews from some religious and far-right sources, and modern expressions of that hatred through the medium of Zionism. The Labour enquiry into anti-Semitism entirely ignored several important definitions of anti-Semitism that included the singling out of Israel for condemnation, the use of double standards for Israel, and delegitimisation of Israel by negation of Zionism as the movement for self-determination of the Jewish people. The U.S. Department of State issued just such a new definition in 2010. Several of its clauses mention anti-Israel charges, including this: "Denying the Jewish people their right to self-determination, and denying Israel the right to exist".[1]
14 East 60 St., Suite 1001, New York, NY 10022