Khaled Abu Toameh

: Palestinians: Embattled, Weak Abbas Comes to White House

Bassam Tawil

: Palestinians: Does Anyone Here Care about Muslim Women?

Guy Millière

: French Elections: Emmanuel Macron, a Disaster
by Khaled Abu Toameh • May 1, 2017 at 5:00 am
The joke among Palestinians is that were it not for Israel is sitting smack in the middle, the two warring Palestinian states [the West Bank and the Gaza Strip] would be dispatching rockets and suicide bombers at each other.

Abbas is well aware that the Palestinian house is on fire. Instead of working to extinguish the blaze, however, Abbas spends his time spreading the lie that peace in our time is possible, if only Israel would succumb to his demands.

The story of Gaza -- which went straight to Hamas after Israel handed it to Abbas -- is not a tale Abbas likes to tell. The same scenario is likely to be repeated in the West Bank if Israel makes a similar move.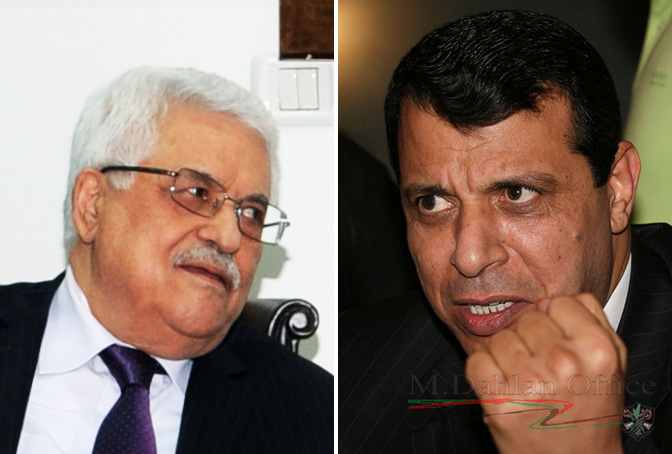 Palestinian Authority (PA) President Mahmoud Abbas (left) recently decided to slash by 30% the salaries of PA employees in Gaza. Abbas suspects that these employees, who are affiliated with his Fatah faction, have switched their loyalty to his arch-rival, Mohamed Dahlan (right). (Image sources: U.S. State Dept., M. Dahlan Office)
This week, Palestinian Authority (PA) President Mahmoud Abbas and US President Donald Trump will sit down together to talk. This is the first such meeting since the US presidential election, and it comes at a time when the Palestinian scene is characterized by mounting internal tensions, fighting and divisiveness. The disarray among the Palestinians, where everyone seems to be fighting everyone else, casts serious doubt on Abbas's ability to lead the Palestinians towards a better future. The chaos also raises the question whether Abbas has the authority to speak on behalf of a majority of Palestinians, let alone sign a peace agreement with Israel that would be acceptable to enough of his people.
Abbas, however, seems rather oblivious to the state of bedlam among the Palestinians, and appears determined to forge ahead despite the radical instability he is facing.
by Bassam Tawil • May 1, 2017 at 4:30 am
These are embarrassing truths that the pro-Hamas feminist, Linda Sarsour does not want to hear. The rights of women who are being oppressed by Hamas are the last thing on her mind.

Sitting in the comfort of the U.S. and other Western countries, Linda Sarsour and her colleagues are too busy inciting against Israel to remember the plight of women in most Arab countries, including those living under the Palestinian Authority (PA) and Hamas. Sarsour's claim, that Zionism and feminism are incompatible, is nothing but a grimy lie.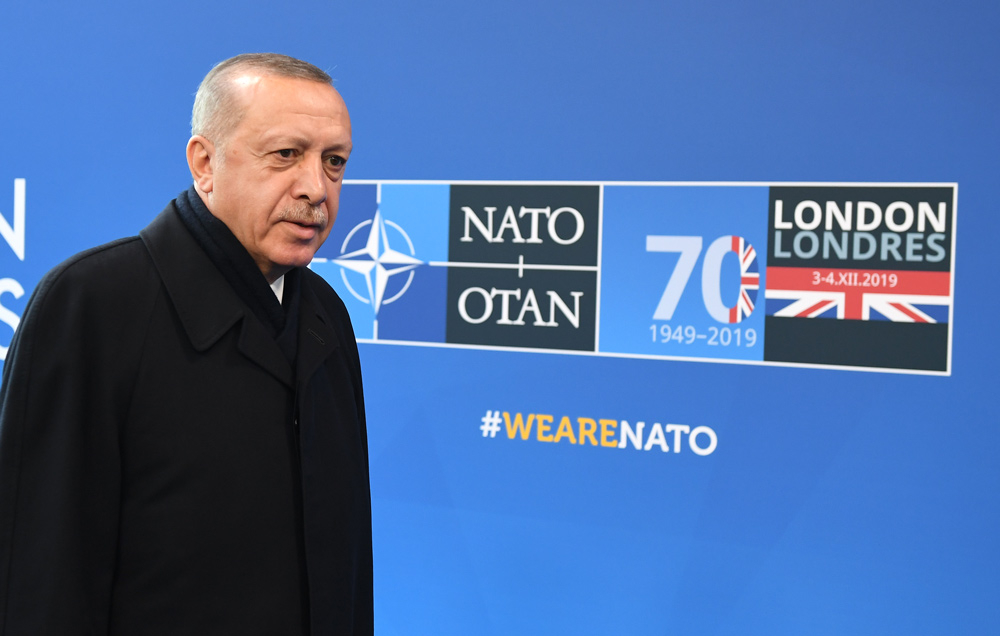 Prominent Palestinian-American feminist Linda Sarsour (left) demonstrates concern for women's rights only when she can blame Israel. Sarsour has not said a word to defend women like anti-corruption campaigner Najat Abu Baker (right), who was stripped of her parliamentary immunity and expelled from the ruling Fatah faction by Palestinian Authority President Mahmoud Abbas.
The Palestinian Hamas terror movement recently banned Palestinians living under its control in the Gaza Strip from celebrating International Women's Day. Hamas dismissed a decision by the Palestinian Authority (PA) government in the West Bank to give all civil servants a day off on this occasion, arguing that International Women's Day was a "Western and foreign" event that is incompatible with Islamic traditions and teachings.
The Islamic movement also issued a warning to all public and private institutions in the Gaza Strip, including schools and universities, to refrain from marking the occasion.
Hamas's decision drew sharp criticism from many Palestinians, especially women's groups and human rights organizations, as well as the Palestinian Authority. The critics maintained that the ban was a sign of Hamas's disrespect for women and their contribution to Palestinian society.
by Guy Millière • May 1, 2017 at 4:00 am
Anti-West, anti-Israeli and anti-Jewish diatribes were delivered to enthusiastic crowds of bearded men and veiled women. One hundred and fifty thousand people attended.

Emmanuel Macron promised to facilitate the construction of mosques in France. He declared that "French culture does not exist" and that he has "never seen" French art. The risk is high that Macron will disappoint the French even faster than Hollande did.

On the evening of the second round of elections, people will party in the chic neighborhoods of Paris and in ministries. In districts where poor people live, cars will be set on fire. For more than a decade, whenever there is a festive evening in France, cars are set on fire in districts where poor people live. Unassimilated migrants have their own traditions.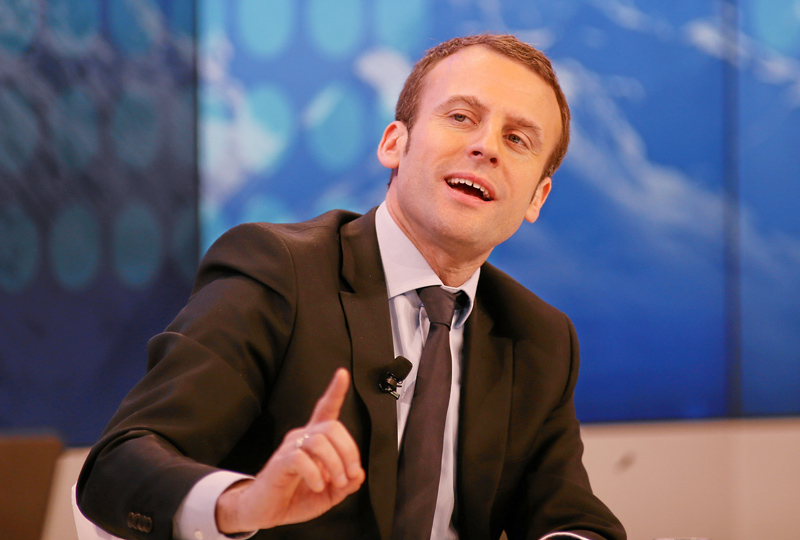 Emmanuel Macron, then Minister of the Economy, Industry and Digital Affairs of France, at the Annual Meeting 2016 of the World Economic Forum in Davos, Switzerland, January 22, 2016. (image source: World Economic Forum/Michele Limina)
Paris, Champs Elysees, April 20, 8:50 pm. An Islamic terrorist shoots at a police van. One policeman is killed, another is seriously wounded.