Bassam Tawil: Palestinians: This is How We Intimidate Journalists
Lawrence A. Franklin: The Pope's Pilgrimage to Al-Azhar
Majid Rafizadeh: Sanction Iran's Regime, Add IRCG to Terrorist List
by Bassam Tawil • April 27, 2017 at 5:00 am
In the world of the Palestinian Authority (PA) leadership, a journalist's loyalty to his leaders and their cause supersedes his loyalty to the truth. In a word, it is the truth vs. Abbas's security forces.

As the international media relies heavily on Palestinian journalists and "media assistants" in covering Palestinian affairs, this intimidation of Palestinian journalists heavily colors the reporting of Western journalists. The stories Palestinian journalists tell their Western colleagues are limited to ones that will not endanger their own lives. This censorship, whether by the Abbas's security forces or self-imposed, explains why one rarely reads or sees a story in Western mainstream media about negative things happening in the PA-controlled territories.

Even when their Palestinian colleagues are beaten and arrested by Abbas's security forces, these "journalists" fail to report such incidents. This makes some sense: should they open their mouths with the truth, Abbas and his cohorts might indeed stop inviting them to press conferences and banquets in the fancy restaurants of Ramallah, Bethlehem and Jericho.
Palestinian Authority police assault journalists at a protest in Ramallah, on March 12, 2017. (Image source: Roya News video screenshot)
Seven Palestinian journalists are the latest victims of the Palestinian Authority's (PA) continued crackdown on the media.
The repressive measures are aimed at silencing critical voices among the journalists and deterring others from reporting stories that reflect negatively on the Palestinian leadership in particular and Palestinians in general.
In the view of President Mahmoud Abbas and his PA, Palestinian journalists exist to write stories slamming Israel or praising PA leaders. Media, for them, is defined as a mouthpiece for Abbas, the PA leadership and the Palestinian cause.
Any journalist who dares to think outside this checkpoint is subject to severe punishment. Under Abbas and the PA, there is no room for an independent media.
The three major Palestinian newspapers -- Al-Quds, Al-Ayyam and Al-Hayat Al-Jadeeda -- are controlled, directly and indirectly, by the PA.
by Lawrence A. Franklin • April 27, 2017 at 4:30 am
During a meeting between the former Papal Nuncio to Cairo, Archbishop Jean-Paul Gobel, and Grand Imam Sheikh Ahmed el-Tayeb, the Grand Imam warned Gobel that "speaking about Islam in a negative manner was a 'red line' that must not be crossed." If there are any condemnations of violence against the Coptic Christians, they are likely to be articulated only by the Grand Imam and the Egyptian President.

If the Pope's humble bearing is excessive, however, it might be interpreted even by peaceable Muslims as a submission. If Francis is asked by the Grand Imam to pray at al-Azhar's mosque, that is a piety that el-Tayeb would not likely reciprocate in a Coptic Church in Egypt.

Facilitating the establishment of an Islamic-Christian relationship that excludes Judaism can only serve the Islamist goal of isolating Jews and Israel. Although relations between the Vatican and al-Azhar will improve in the near future, the honeymoon will not. The Grand Imam will doubtless protect his own theological power base and keep his distance from both the Vatican and the Egyptian regime.
Catholic Pope Francis greets Egyptian Coptic Pope Tawadros II at the Vatican, on May 10, 2013. (Image source: News.va Official Vatican Network)
The twin Palm Sunday bombings at Coptic Christian Churches by Islamic terrorists in Egypt, which killed 44 worshipers, draws attention to what is probably the principal reason for the upcoming visit of Pope Francis to Cairo on April 28-29. The Pontiff will likely seek the assistance of Egypt's Muslim hierarchy to help protect Egypt's Coptic Christians, the indigenous inhabitants of the country who now number about 9 million and constitute at least 10% of the population.
During his stay, Francis will meet with the Grand Imam of Cairo's al-Azhar Mosque, Sheikh Ahmed el-Tayeb. Al-Azhar's theological complex, which houses Islam's oldest university, is considered the most influential center of Sunni Islam.
by Majid Rafizadeh • April 27, 2017 at 4:00 am
It would seem that sanctions should be enforced and the Revolutionary Guards (IRGC) placed on the U.S. list of Designated Foreign Terrorist Organizations -- to show that the U.S. stands for human rights, protects the innocent and tries to save the lives of those sentenced to death by Iran's corrupt government.

Bills to sanction Iran that are being presented in Canada or other Western countries are, in fact, receiving scant attention. Canada has been talking about reopening its Iranian embassy, and pro-Iran advocates, such as the Iranian Canadian Congress, are pushing back against legislation that condemns Iran.

Would any modern Western country really wish to appear to be on the side of this barbaric regime, or in any way to assist it?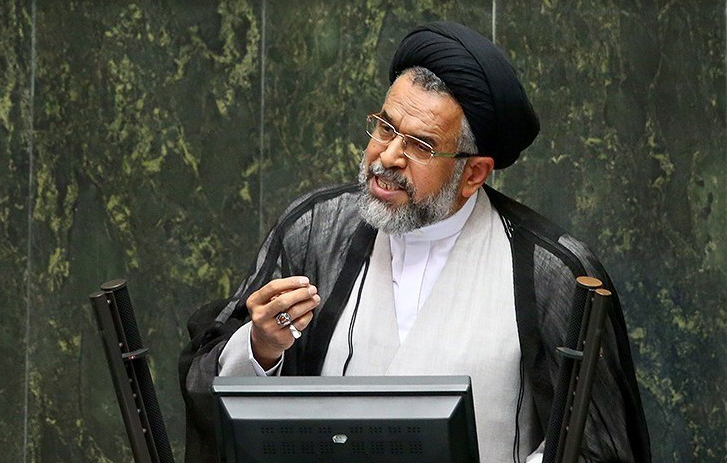 Mahmoud Alavi, Iran's Minister of Intelligence, recently stated that many Westerners with a dual citizenship "have a lobby group for the Islamic Republic of Iran... Many who live in Canada, London, or the United States [are devoted] to the [Islamic] revolution and the supreme leader." (Image source: Mohammad Ali Marizad/Wikimedia Commons)
A subtle, but dangerous force is spreading throughout the West. It has been seeping into the United Kingdom, Canada, Australia, the Middle East, the United States, South America and much of Europe.
They are pro-Iran regime advocates. They appear to be Westerners, but pursue a unique agenda. Under the guise of being average Western citizens, they have been infiltrating the social, political, economic and religious sectors of most Western societies.
These are not my words. They came directly out of the mouth of Iran's Minister of Intelligence, Mahmoud Alavi. In a rare, recent interview on Iran's state media, he stated that many Westerners with a dual citizenship "have a lobby group for the Islamic Republic of Iran."