Denis MacEoin

: Smokescreens in Islam: Confusing the Public about the Facts

Mohshin Habib

: Saudi Arabia's 'Lavish' Gift to Indonesia: Radical Islam
by Denis MacEoin • April 29, 2017 at 5:00 am
Qadri's admirable take on terrorism conceals another large elephant in the room. Islam has for centuries used violence against non-Muslims in what is considered a legitimate manner: through jihad. It is not simply that Muslim armies have fought their enemies much as Christian armies have engaged in war. Jihad is commanded in the later verses of the Qur'an, is endorsed in the Traditions and the biography of Muhammad, and codified in the manuals of shari'a law. Qadri knows this perfectly well, and at times inadvertently reveals as much in several ways.

Qadri does not just insist that Islam is a religion of peace and security. By tucking all references to jihad in footnotes in transliterated Arabic, he never has to explain what it is about and how it relates to his rulings on what is and what is not permissible.

It is hard to be a reasonably knowledgeable Muslim and not know that calls for violence pervade the Qur'an and sacred traditions, or that Islamic armies have been fighting European Christians, Indian Hindus, and others since the 7th century.

Islam, after all, conquered Persia, Turkey, North Africa and the Middle East, Greece, Spain and most of Eastern Europe -- until its armies were stopped at the gates of Vienna in 1863.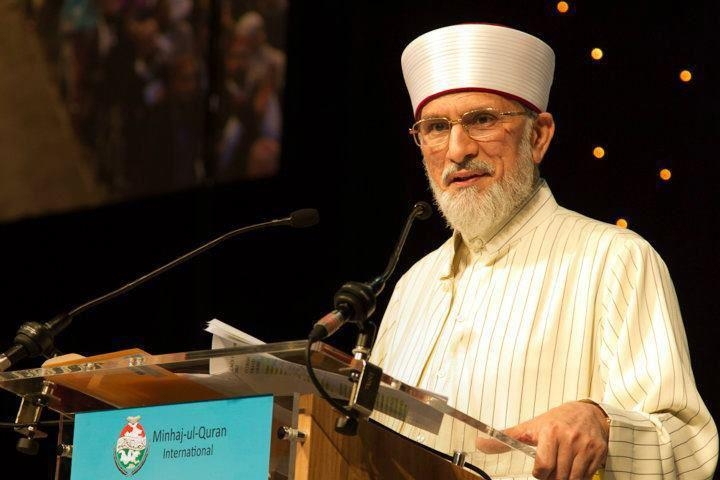 When Muhammad Tahir-ul-Qadri conceals important information and distorts Arabic vocabulary in order to drive home a narrative of Islam's deep connection to peace and security, he is engaged in setting up a smokescreen. (Image source: ServingIslam/Wikimedia Commons)
Following the terrorist attack outside Britain's Houses of Parliament on March 22, 2017, it was not surprising or wrong that many Muslims denounced the attack and declared it to be un-Islamic. Two days afterwards, Dr. Mohammed Qureshi, chairman of the Board of Trustees for the Shropshire Islamic Foundation, said:
We need to be united in this situation.
We should not give any religion a bad name and these people need to be dealt with in full force and there should be zero tolerance when it comes to dealing with them.
My heart goes out to these victims. And my heart goes out to the people's families and those who are injured. I pray they all have peace in their minds.
There is no place for these acts in the religion of Islam.
The people are being radicalised and the young and vulnerable people need to be protected.
We need to disassociate this with Islam, as Islam is a religion of peace.
by Mohshin Habib • April 29, 2017 at 4:00 am
Prior to Saudi Arabia's attempts to spread Salafism across the Muslim world, Indonesia did not have terrorist organizations such as Hamas Indonesia, Laskar Jihad, Hizbut Tahrir, Islamic Defenders Front and Jemmah Islamiyah, to name just a few. Today, it is rife with these groups.

A mere three weeks after the Saudi king wrapped up his trip, at least 15,000 hard-line Islamist protesters took to the streets of Jakarta after Friday prayers, calling for the imprisonment of the capital city's Christian governor, who is on trial for "blaspheming the Quran."

In a separate crisis, crowds were demanding that Basuki Tjahaja Purnama (known familiarly as Ashok) be jailed for telling a group of fishermen that, as they are fed lies about how the Quran forbids Muslims from being governed by a kafir (infidel), he could understand why some of them might not have voted for him. If convicted, Ashok stands to serve up to five years in prison.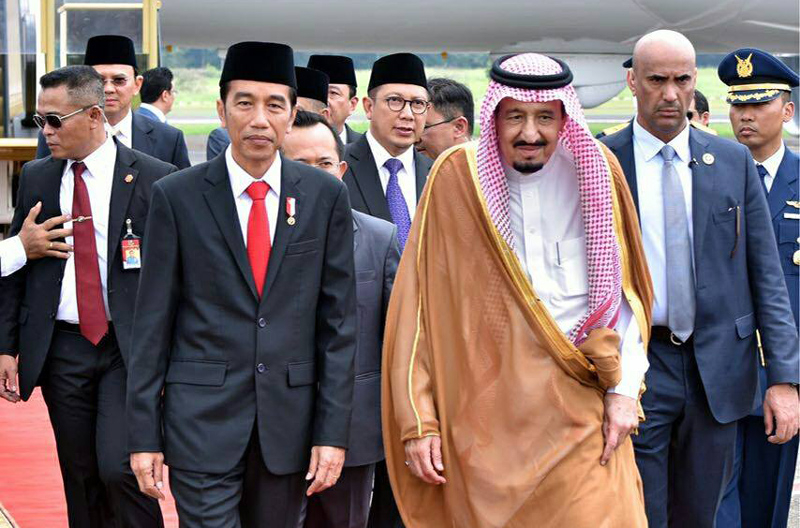 President Joko Widodo of Indonesia (foreground, left) meets with King Salman of Saudi Arabia (foreground, right), at Halim Perdanakusuma Airport in Indonesia. (Image source: Indonesian Presidential Palace)
Accompanied by a 1,500-strong entourage, Saudi King Salman bin Abdul Aziz arrived in Indonesia on March 1 for a nine-day gala tour. He was welcomed warmly not only as the monarch of one of the world's richest countries, but as the custodian of Islam's two holiest cities, Mecca and Medina.