Judith Bergman

: Jihad in Denmark

Jacobus E. Lato

: Indonesia: Free Speech vs. Treason

A. Z. Mohamed

: Will President Trump's Visit to Saudi Arabia Tackle Terrorism and Promote Religious Freedom?
by Judith Bergman • May 15, 2017 at 5:00 am
Danish Minister of Justice Søren Pape hopes to solve the issue by prosecuting the imam. However, Danish politicians appear to miss the critical fact that there is clearly a thirsty audience for sermons like this.

This sermon is a call to violence against Jews.

As the Quran cannot be changed, it is crucial to make more broadly known what is in it, so at least people can see the facts confronting them, to help them determine what choices they might care to make for their own future and that of their children.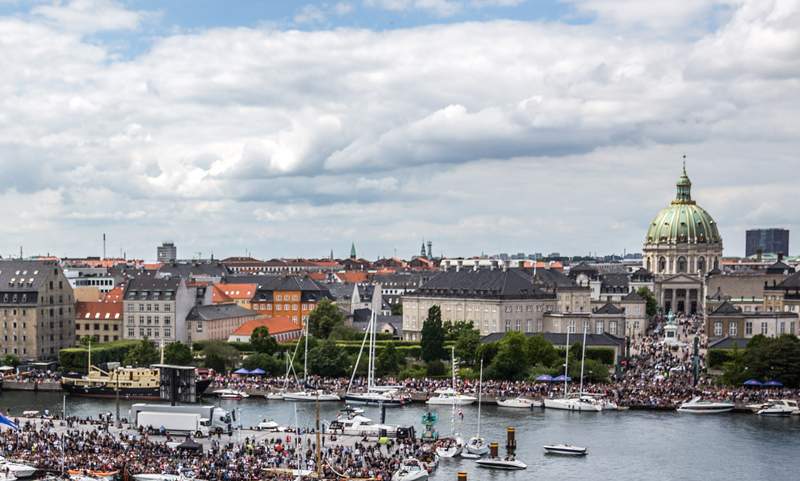 Copenhagen, Denmark. (Image source: Romina Amato/Red Bull via Getty Images)
In 2015, Omar El-Hussein listened to the imam Hajj Saeed, at the Hizb-ut-Tahrir- linked Al-Faruq-mosque in Copenhagen, decry interfaith dialogue as a "malignant" idea and explain that the right way, according to Mohammed, is to wage war on the Jews. The next day, El-Hussein went out and murdered Dan Uzan, the volunteer Jewish guard of the Jewish community, as he was standing in front of the Copenhagen synagogue. El-Hussein had also just murdered Finn Nørgaard, a film director, outside a meeting about freedom of speech.
Two years later, nothing has changed. A visiting imam from Lebanon at the Al-Faruq mosque, Mundhir Abdallah, is preaching to murder Jews:
by Jacobus E. Lato • May 15, 2017 at 4:30 am
On April 19, the campaign of Jakarta's radicals chanting, "We want a Muslim governor!" paid off, as Ahok was defeated in the gubernatorial election. Exit polls on election day indicated that religion was the main factor behind the voting.

On May 10, Indonesia's radicals scored a second victory, when Ahok was found guilty of blaspheming Islam and sentenced to two years in prison.

The verdict came as a surprise even to the prosecutors of the case -- they had requested only a suspended sentence for the offense of "inciting hatred".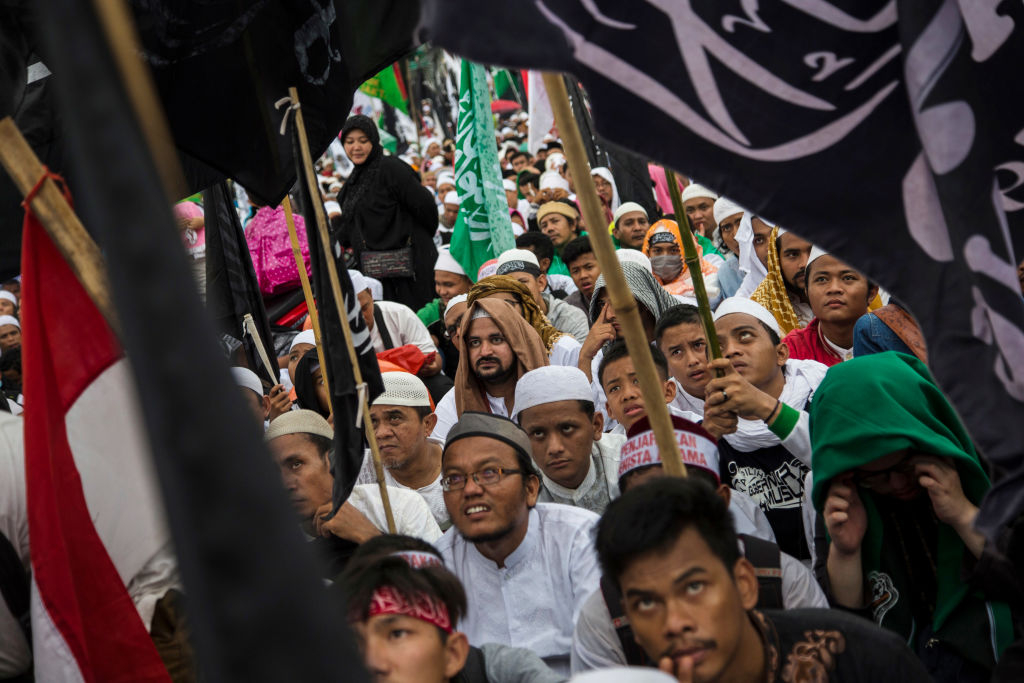 Indonesian Islamists listen to a speech by an imam during a protest against Jakarta governor Ahok, on March 31, 2017 in Jakarta, Indonesia. (Image source: Ed Wray/Getty Images)
In the two decades since the fall of Indonesian President Suharto's 32-year reign in 1998, the use of the accusation of "treason" as a governmental tool to quash political opposition gradually reemerged in the world's largest Muslim-majority country.
Today, however, those trying to overthrow the leadership are Islamists intent on unraveling the fabric of a pluralistic society.
This situation has led to the debate over freedom of speech and the separation of church and state -- or, here, mosque and state.
Four recent rallies in the capital city of Jakarta illustrate the nature of what has become a full-blown controversy. In each case, protesters gathered outside mosques after Friday prayers for what they claim are "spontaneous" demonstrations made necessary by their clerics' lack of financial resources to plan and stage such events. But evidence collected by Indonesian authorities indicates otherwise.
by A. Z. Mohamed • May 15, 2017 at 4:00 am
A number of recently published books on the history, culture and internal workings of Saudi Arabia cast doubt on the ability of the kingdom to undergo the kind of change required to tackle extremism when its chief aim is to preserve and enhance the power of the royal family.

The government in Riyadh neither believes in nor permits religious liberty and free speech for its own citizens or for Muslims elsewhere. Indeed, the kingdom's human rights record is abysmal at best.

Although Trump is right that America should not "dictate to others how to live," he needs to consider how he can "build a coalition of partners" whose entire way of life is indelibly linked to the cause and spread of the very extremism, violence and global terrorism that he aims to eradicate.
Saudi Arabia is ruled politically by an absolute monarchy and theologically by Wahhabism, both immensely radical. Pictured: U.S. Defense Secretary James Mattis (left) visits Saudi King Salman bin Abdulaziz Al-Saud (center) on April 19, 2017 in Riyadh, Saudi Arabia. (Image source: Jonathan Ernst - Pool/Getty Images)
As part of his first official trip abroad at the end of May, U.S. President Donald Trump will visit Saudi Arabia, Israel, Italy and Brussels, Belgium
According to a statement released by the White House, Trump's meetings with King Salman and other key figures "will reaffirm the strong partnership between the United States and Saudi Arabia and allow the leaders to discuss issues of strategic concern, including efforts to defeat terrorist groups and discredit radical ideologies."
The goal may be commendable, but it is hardly attainable in a country like Saudi Arabia, ruled politically by an absolute monarchy and theologically by Wahhabism, both immensely radical.
In testimony before the House Committee on Foreign Affairs' Subcommittee on Terrorism, Nonproliferation, and Trade, Georgetown University professor and Middle East expert Daniel Byman explained the "paradox" this presents: