Giulio Meotti

: France: Muslims In, Jews Out

Ruthie Blum

: Europe's Collusion in Palestinian Illegal Land Grab
by Giulio Meotti • November 15, 2017 at 5:00 am
Suburbs have become transformed into one of the most visible signs of the Islamization of France. Anti-Semitism is devouring the French Republic.

While Jewish symbols disappear from France, Islamic symbols proliferate, from burkinis on the beaches to veils in the workplace. Jews who have not fled France are trying to become "invisible".

France's suburbs are rapidly becoming apartheid societies. Hatred of Jews has become the gateway to "la France soumise" -- the submission of France.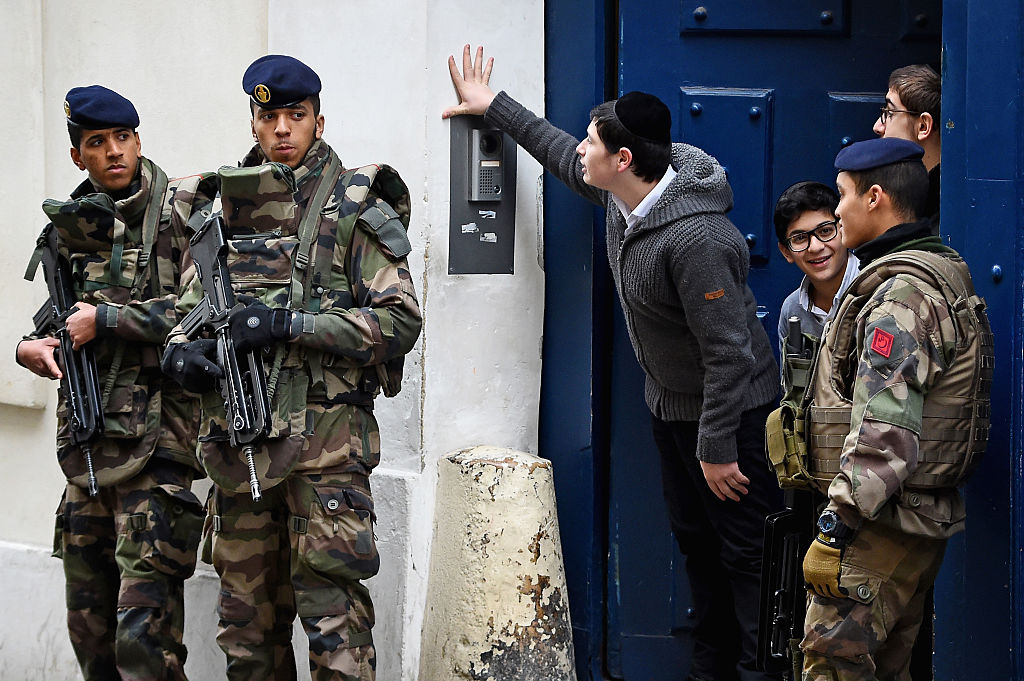 Pictured: French soldiers guard a Jewish school in Paris. (Photo by Jeff J Mitchell/Getty Images)
Suburbs ("banlieues") -- distant from the affluent boulevards and bistros of Paris -- form the "other France". They are the "peripheral France", ("La France Périphérique") as the geographer Christophe Guilluy calls them in an important book. They are where "living together" between communities has really been tested.
In the last 20 years, these French suburbs have not only become "concentrations of poverty and social isolation", but have gone from being some of France's most densely-populated Jewish areas to "lost territories of the Republic", according to the great historian Georges Bensoussan, in his book, Les territoires perdus de la République.
These suburbs have become transformed into one of the most visible signs of the Islamization of France.
by Ruthie Blum • November 15, 2017 at 4:30 am
It takes particular gall for European Union representatives to express "humanitarian" outrage at Israel for razing illegal structures in the West Bank -- while the EU is in league with Palestinian criminals who have been brazenly stealing Arab-owned land.

There has been massive "behind-the-scenes" Palestinian construction, the goal of which is "to create irreversible facts on the ground," and completely encircle Jerusalem. Once the buildings – which "do not meet even the most minimum standards required by engineers, architects and housing planners" – are erected, the apartments are sold cheaply ($25,000-$50,000), to guarantee they are purchased and populated quickly.

If there is any debt to pay here, it is not Israel's to Europe, but the other way around. Belgium and the rest of the EU should be embracing its natural ally, the democratic Jewish state, against all forces that support and perpetrate violence, while rejecting peace.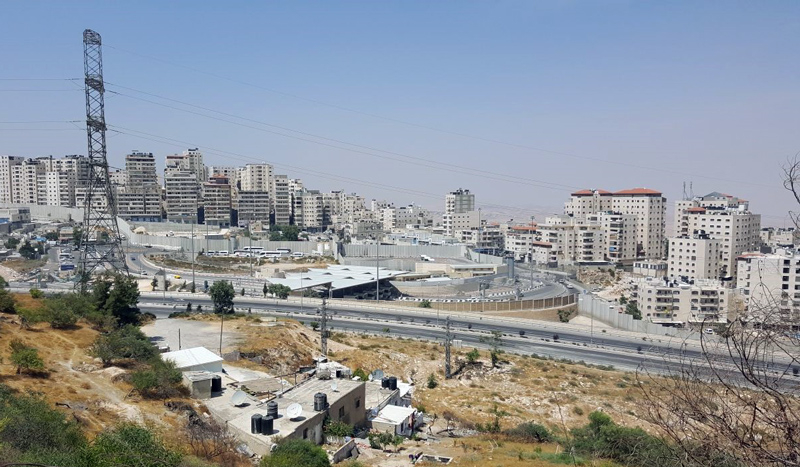 Illegal Palestinian construction in the Jerusalem area.
In what is being called an "unprecedented move," eight European countries -- members of an initiative called the West Bank Protection Consortium -- recently announced that they had drafted a formal letter to the Israeli government, demanding the reimbursement of €30,000. According to Belgium, France, Italy, Spain, Sweden, Luxembourg, Ireland and Denmark, this was the sum spent by the Consortium on materials provided for two structures (modular classrooms equipped with solar panels) erected for Palestinians and Bedouin in the West Bank, and dismantled by Israel at the end of August.